ユーキューホルダー! Manga Review
UQ Holder Volume 02
–> Purchase from RAKUTEN (formerly BUY.COM)
–> Purchase from BARNES & NOBLE
–> Purchase from RIGHTSTUF!
–> Purchase from Yes Asia! (Japanese tankoubon)
***SPOILERS***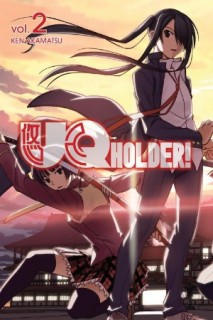 This volume covers chapters 7 through 17 (original reviews for chapters 7, 8, 9, 10, 11, 12, 13, 14, 15, 16, & 17).
Rereading volume 2, Akamatsu-sensei rapidly pushed things forward to get Touta powered up as rapidly as possible. I'm not saying this as a slam on the character, but as a simple statement of fact. It is pretty obvious to me now that Sensei had no wish to have Touta undergo a normal character growth period as happened with Negi in Negima. Instead, he wanted Touta to be up there and in the thick of it as soon as possible. In my mind, this is an unfortunate direction because Touta has no character development, but is given massive power jumps so that Sensei can do major action scenes with his hero and not wait. Indeed, I think this volume is the last one where we see anything about Touta's mysterious past, which has been shelved.
Speaking of things getting shelved, another disappointing development for me is Eva's character (Yukihime) getting put there. I'd rather hoped that as a carryover character from Negima, we'd get to finally explore her past. Alas, that's not to be.
On the positive side, there is the new character Karin, who is pretty awesome due to her "I ain't taking jack" attitude and her skills in combat.  We get some hints about her past, which is nice, but it is only crumbs.
Akamatsu-sensei also gives us the scoop on Kuroumaru's gender, or rather Kuroumaru's lack of gender. Unfortunately, that's all the development Kuroumaru gets.
As to the stories, the first one dealing with Kuroumaru's and Touta's initiation into UQ Holder (and their meeting with Jinbee…or "Jinbei" as it has been spelled for some reason) was just OK. The only truly interesting part was seeing the ruins of Al's old underground residence (from Negima).
The second story, which is not complete when the volume ends, is somewhat more interesting. There's a lot more action with Karin, Touta, and Kuroumaru defending a church in the middle of a slum. Karin and her brand of immortality are the highlights of things (did I mention her badarse attitude and fighting abilities?) for the story. We get some name-drop nods back to Negima, and Touta prepares to level up a lot, but otherwise, things aren't too special.
On the Kodansha Comics side of things, the Twins are handling the translations, so no issues there. There are no extras, including translator notes. Whatever margin notes the Twins wrote when the chapter was published on Crunchyroll's site are all there is. As to other extras, my understanding is that there were none in the Japanese release either.
The volume isn't bad as there is certainly stuff that is entertaining. However, it doesn't have the umph to make it a really good work. That being said, I don't regret buying it.