Fate/stay night: Unlimited Blade Works – 10 review
フェイト/ステイナイト [Unlimited Blade Works] – 10
SPOILER Summary/Synopsis: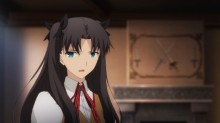 Rin has a dream whereby she learns how Archer became a Heroic Spirit. Before leaving for school, she's scolded by Archer for her alliance with the weak Shirou. She rejects his suggestion of allying with Caster, then blames him for her recent change in attitude. At school, Rin overhears a conversation between Issei and Shirou in the Student Council room. She confronts Issei, who confirms that Kuzuki-sensei is staying at the temple and that he has a fiance who's been living there for two weeks. Rin and Shirou meet, where Rin expresses her belief that Kuzuki-sensei is the other Master. Although reluctant, Shirou agrees to go with Rin to set up an ambush. Shirou briefs Saber, who agrees with the strategy.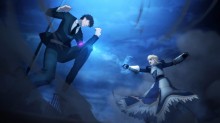 After setting up at an abandoned gas station on the only road to the temple, Kuzuki-sensei shows up, walking home. Rin fires a weak Gandr at Kuzuki-sensei, which does knock him down but does him no damage. Caster shows up, so Shirou reveals himself, asking if Kuzuki-sensei knew of Caster's actions in harming humans to gather mana. He did not, but says that he does not care. Rin attacks Caster while Saber attacks Kuzuki-sensei. Caster, having easily defended against Rin's jewel attack, sends a massive attack on Saber. Saber, being highly magically resistant, is unharmed by this to Caster's surprise. However, to everyone's surprise, Kuzuki-sensei catches Saber's invisible blade between his leg and arm.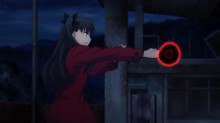 Kuzuki counter-attacks, causing Saber to bleed in the back of her neck. His magically-enhanced fists take Saber by further surprise, landing blows that she doesn't completely avoid.  He gets Saber in a choke hold, but before he can crush her throat, one final attack causes him to fling her hard away from him. Caster goes to deal with the unconscious Saber while Rin attacks Kuzuki. However, he dodges her Gandr attacks and punches her into a railing, where she's out. Shirou attacks with a reinforced bokken, but Kuzuki easily destroys it. Shirou also takes a hard punch and in desperation, realizing that if he fails, Rin and Saber die, uses his projection magic to create the swords Archer uses, which Rin sees as she comes to.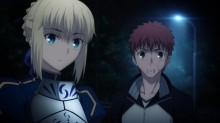 Kuzuki tries to stop him, but fails. Caster is distracted by this as Saber comes to, using the distraction to launch a blindside attack on Kuzuki. Caster is forced to race to his side to fly her Master to safety. In the air, Caster prepares to attack, but Kuzuki tells her to wait and to withdraw. She agrees and teleports them away. Saber comes to the injured Shirou's side as Rin walks up, unhappy that they didn't nail Kuzuki. However, she tells Saber she's not giving up. She scolds Shirou for not telling her about his projection magic. He says that his step-father always said it was worthless, and this was the first time he created something solid. Meanwhile, at the Matou home, Shinji meets with his new Servant, the blonde guy.
Thoughts/Review:
As usual, ufotable knocks another one out of the park.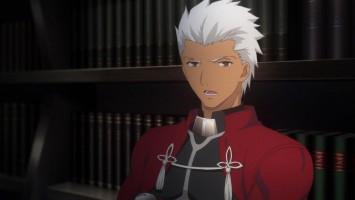 Now that it is officially revealed that Kuzuki-sensei is the fourth Master at the school, I gotta say that I loved Rin's, Saber's, and Shirou's  confrontation  of Kuzuki-sensei much better in this adaptation than in the original. First, having their ambush in the mountain on the only road Kuzuki-sensei would travel makes more sense than trying to ambush him in the city, where he could travel multiple routes.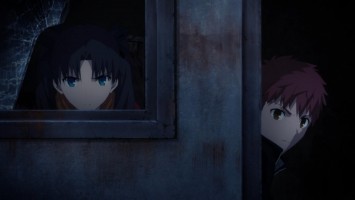 Second, the fight is much more impressive in this adaptation vs. the original. Granted, that's to be expected, but I'm not just referring to the animation. Kuzuki-sensei's throwing Saber like a rag doll and gut punching Rin so hard she slams into a rail and is knocked out makes him much more impressive as a fighting character.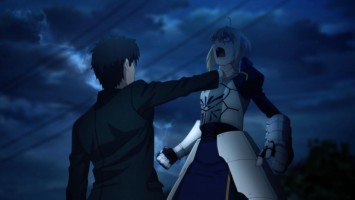 Thirdly, Kuzuki-sensei also comes off more honorably in a weird sort of way, especially when he stops Caster from attacking again after she rescues him from Saber.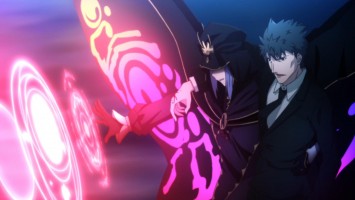 Watching this, I was reminded of why the pactio system was created in Negima. Although there is no card-artifact at play here, Caster and Kuzuki do play the role of powerful mage and defender. Caster uses her magic to buff Kuzuki up to the max so that he's able to battle Saber. Thus he keeps Caster safe from melee attacks to allow her to do whatever she needs to do.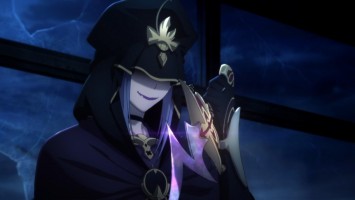 With Saber having taken a beating and defended against a magical attack from Caster, I was reminded of the fact that in the original anime, Saber's mana reserves were an issue, leading to the replenishment scene. However, for this adaptation, Saber's mana usage doesn't seem to be an issue.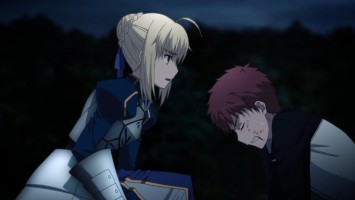 I think this episode is the first time that we've seen or heard about Shirou having projection magic. As such, it kinda comes off as a deus ex machina moment, which is unfortunate.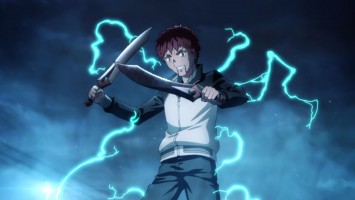 Rin seems to be putting things together regarding…
Spoiler
…Shirou and Archer being linked. After all, she's had the dreams and she's seen that Shirou is making Archer's favorite weapons.
[collapse]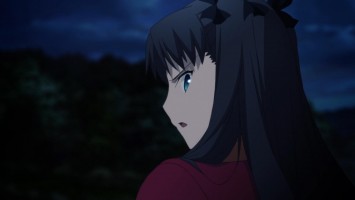 Finally, there's Shinji.
Spoiler
Heh. There's no doubt in my mind that Gilgamesh is manipulating Shinji, but to do what, I don't know exactly.
Also, when Shinji put his hand on Gilgamesh, I thought Gilgamesh would get angry about being touched in such a manner. I guess whatever he has planned for Shinji is more important.
[collapse]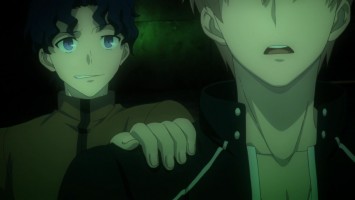 And man, the worm room. *shudder* Boy oh boy do I remember that from Fate/Zero.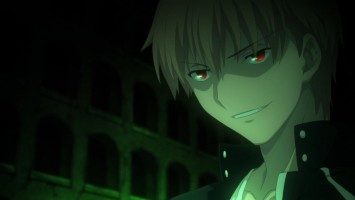 In the end, another great episode where we learn how Kuzuki-sensei was able to kill Rider earlier by witnessing how easily he handled Saber.