フェアリーテイル Manga
Fairy Tail Volume 41 Review
–> Purchase from RAKUTEN (formerly BUY.COM)
–> Purchase from BARNES & NOBLE
–> Purchase from RIGHTSTUF!
–> Purchase from Yes Asia! (Japanese tankoubon)
***SPOILERS***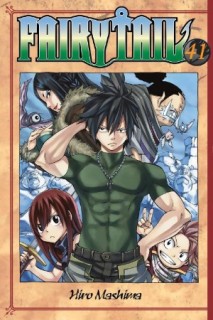 Erza, in child form, is encountered by Minerva, who has joined a new guild called Succubus Eye. Since Erza is considerably weakened in her child form, Minerva plans to get revenge on her. Natsu encounters Doriath (aka: Doriate) from Succubus Eye, but when he finds himself turned into a child, Natsu ends up fleeing. Two members of Sylph Labyrinth treasure hunting guild (Hiroshi and Lala) tail Lucy and Wendy, ending up battling them as the treasure hunters are assisted by their sniper guild mate, Drake. Flare comes to the aid of Lucy and Wendy despite having been a former enemy. After defeating the treasure hunters, Flare explains her connection to the Sun Village of the giants — the giants raised her.
Gray is turned into a child and encounters Doriath. After a battle where Gray learns to use trickery along with his weakened ice magic, he manages to cause Doriath to release his age-reduction power, returning Erza to her normal size in time to save her life against Minerva. A restored Gray now fights Doriath, who transforms and is revealed to be a demon from the Book of Zeref. This causes everyone to become a child, but Gray defeats him by transferring the power of the magic ice that has encased the Sun Village to Doriath. Everyone returns to normal, but before Doriath is eaten by another demon, he tells them they've open the gates to the underworld.
Natsu eventually defeats this second demon and in the process, the group discovers that the Eternal Flame that had protected the Sun Village was none other than the Fire Dragon, Atlas Flame. Wendy uses her magic to summon what's left of his soul. After he remembers, he warns them about END, the worst of the Book of Zeref demons, whom Igneel failed to kill. With his last, Atlas melts the ice and frees the giants. Minerva flees and rejects Erza's plea to abandon darkness.
Elsewhere, one of the nine demon gates of Tartaros named Absolute Zero Silver is sent for.
---
Well, we get to see some Fairy Tail members in their kid form. Erza's was the funniest (and cutest) since she was considering how in her child form, Wendy would try to be the oneechan, Gray and Natsu would try to fight her and actually win, and Jellal would no longer be romantically interested in her (but Doranbalt is hinted at being a lolicon since he's shown to be interested in Erza's child form in her imagination).
Mashima-sensei again goes to the redemption well, this time redeeming Flare. I just rolled my eyes at how she'd been an orphan, adopted by this village of giants, but hey, this is Mashima-sensei we are dealing with. I wonder if Flare joins Fairy Tail.
On the other hand, Mashima-sensei did not reform Minerva. I suppose he likes her too much as a villain character, but it wouldn't surprise me if she's not redeemed as well.
As to the fights, there's really not much for me to say here. As is usual for Fairy Tail, one character or other pulls everyone's bacon out of the fire. Here, it was Gray (in child form), then Natsu.
I was surprised to see Atlas Flame return, even if in spirit form. I suppose his encounter with Natsu puts him in the redeemed category as well.
Beyond that, this volume seems to be setup material for the next arc, since Mashima-sensei mentioned he's going into that with the next volume. Also, we had demons mention, including END that Igneel couldn't beat, which is obviously setup material.
On the Kodansha Comics side of things, the standard stuff is here — Japanese honorifics in the adaptation (save for brother/sister ones); Mashima-sensei's "Afterward" and jacket notes; Mysteries of Fairy Tail; fan art; fake cover art; translator notes; and a preview of the next chapter. There's also a couple of pages discussing the dark guilds Fairy Tail as faced and their relationship.
In the end, this is a fairly light adventure with a couple of character redemptions, some light humor, but mostly setup material for the next arc.