ユーキューホルダー! Manga Review
UQ Holder Chapter 63
SPOILER Summary/Synopsis: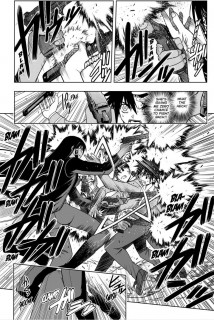 TATSUMIYA Mana introduces herself to Touta as a friend of his grandfather and decides that as his senpai, she can give him some pointers. Touta is reluctant, but he agrees to this as Ikkuu and Kuroumaru observe from a distance, Kuroumaru sensing that Mana isn't ordinary. Since Touta is immortal, Mana says she won't hold back.
She first puts some melee moves on Touta before brandishing a gun. Touta deflects the bullets with Gravity Blade, so she produces a second gun. Since Touta is well skilled in deflecting bullets, she praises him. Touta uses shundou to get close, but Mana uses that against him. Touta attempts to get a lick in when she runs out of bullets, but Mana deftly avoids the blow. Touta charges, thinking she's out, but she simply drops her guns as two more appear.
Touta tries to get distance, but Mana produces a rifle and shoots him, after which shes on him quickly, telling him that if she blows his head off, he's finished. He concedes defeat, but she tells him he passes, which confuses Touta.
Touta asks about how strong his grandfather is, so she tells him that he was 100 times stronger than she is. She fondly recalls Negi's skill, but hearing this depresses Touta. Mana likes this and thinks that Touta has a promising future, so she says she'll excuse his absence to point him in the right direction to develop. Touta, Kuroumaru, and Ikkuu follow her to the Headmaster's Office, where she tells them she's only the acting Headmaster as she's doing this job as a favor to an old friend.
Mana tells Touta about the Mahora Martial Arts Tournament, with the finals held at the top of the tower.
Thoughts/Review:
I could basically write, "Mana is awesomeness" and end this review right there because it is true and that's almost all that needs to be said. 😉

In terms of what Mana did in fighting Touta, there's nothing new there. That doesn't make her skills any less impressive though.
The questions I have are,
How did Mana know that Touta was Negi's grandson?
If she was the Headmaster, why wasn't she involved in the Sayoko case? After all, she's a half-mazoku exorcist with an eye that can see things.
Who is the old friend who put her in this job?
For item 1, I suspect that Eva and Mana have been in contact and that this is how UQ Holder was able to infiltrate the school so easily. As such, Eva would have given Mana the lowdown on Touta. That's how she'd know he wants to get to the top of the tower.
Further, when Touta expressed an interest in training to Eva (but not in getting stronger), she immediately sent them on this mission. So the goal may have been for Mana to test Touta after the mission was over and then help him get the training he needs.
For item 2, I can only surmise that Mana hasn't been schoolmaster that long, maybe a year or two.
For item 3, there's a chance Mana's friend who put her in this job is Eva, but I tend to suspect it will be someone else we know.
I find it interesting that Mana did not appear to recognize Gravity Blade.
As to the new martial arts tournament, I can't say I'm that enthused about it. I had my fill in Negima, and I'm not that interested in seeing another tournament. But, as I learned in Yu Yu Hakusho and then was reminded of in Negima, tournaments are were one can get stronger quicker.
Finally, I noticed that Akamatsu-sensei is trying to play up Touta as having lost. I got the feeling from this chapter that he's responding to complaints from fans who see Touta instantly master anything he sees and is trying to say, "Well, Touta's really still weak. Yeah, weak."  I also see this as a way for Sensei to have more powerful people that Touta can spank in the traditional shounen manga ways.
In the end, the chapter was a good one, but mainly because Mana is awesomeness.