Paradise Residence Chapter 08 Manga
パラダイス レジデンス Chapter 08
SPOILER Summary/Synopsis: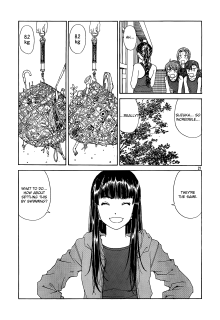 With the typhoon having past and school resumed, Hatsune and Suzuka run into "Mihomiho-senpai" (Mitsuho), who requests the pair come by the pool after school. They agree and after school, change into swimsuits. However, they discover the pool is filled with debris and is nasty. Hatsune calls it a swamp, to which Mitsuho agrees, saying it is the Tachibana Swamp thanks to the typhoon. Hatsune realizes that Mitsuho is wanting them to clean the pool, something Suzuka suspected would happen.
To address Hatsune's concern about only the three of them cleaning such a large pool, Mitsuho produces the leader of Dorm #2 and Nyuutabaru. Dorm #2 Leader is the head of the Swimming Club, explaining her presence, and she brought Nyuutabaru to help her and Hatsune get along better. The two girls engage in a verbal skirmish which ends up in Mitsuho revealing that she's the Swimming Club Manager, the lowest ranking member of the club.
After Mitsuho relishes in Nyuutabaru's insults of her rank and Dorm #2 Leader punishes Nyuutabaru for insulting a senpai, Mitsuho announces that they'll split into the groups with the winner being treated to an item from the Taka no Me store. Hatsune and Nyuutabaru immediately plan on winning Beef Monjayaki. The groups start gathering trash when Hatsune encounters a frog and leaves the pool in a panic. Nyuutabaru is amused by this, but when she encounters a rat snake in the water, she freaks out.
After Suzuka deals with the snake, the gathered trash is weighed and comes up the same. Mitsuho suggests that a swim competition in the now clean pool is in order. An annoyed Nyuutabaru suggests that Mitsuho participate since she didn't do any work. She agrees as Dorm #2 Leader attempts to talk Nyuutabaru out of the contest. As Mitsuho, Hatsune, and Nyuutabaru swim, Dorm Leader #2 explains to Suzuka that Mitsuho is actually an incredible swimmer, but she chokes in official competition. However, in a friendly competition, no one can beat her.
As such, Mitsuho easily defeats the other two girls. Hatsune's admiration is turned when she and Nyuubataru are forced to treat Mitsuho to Beef Monjayaki.
Thoughts/Review:
You know, I'm rather glad to see Fujishima-sensei provide a followup chapter to the typhoon story.
I'm also glad to see Mitsuho get a little character work. She was only introduced last chapter, so it was fun to learn a bit more about her. I know that team managers for sports clubs in Japan are little more than gophers for the club, but here, Mitsuho cleverly manages to get others to do the work for her AND win the prize at the end. That makes her a pretty awesome character, at least for this chapter.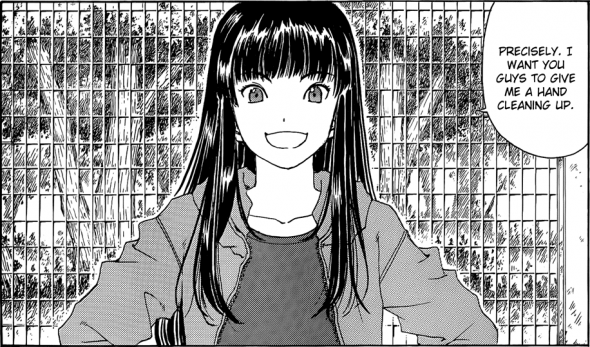 Fushishima-sensei didn't provide us the name of the leader for Dorm #2. I don't know why he does this at times. It seemed odd to me that Mitsuho didn't properly introduce her by including both her name and the fact that she was the captain of the Swim Club.
I found the girl's swimsuits a bit odd. Mitsuho wore a traditional one piece, but the other girls were wearing modest two piece swimsuits. I wasn't sure if these were even real or not, but they are.
On the fanservice front, no nudity this time out (no Steph either), but Fujishima-sensei did manage to get an underboob moment for Suzuka, a backside shot of Hatsune, and a "I've got a bikini wax" shot for the girl with the hime haircut, Mitsuho. I guess that's what made the modest swimsuits worn by the underclass girls to be a surprise to me.
Beyond that, not much to tell. The chapter was pretty fun for what it was. I do enjoy these longer chapters more than the shorts that originally came out. While nothing special, so far, Paradise Residence has been enjoyable.