ユーキューホルダー! Manga Review (Ch 64)
UQ Holder Chapter 64
SPOILER Summary/Synopsis: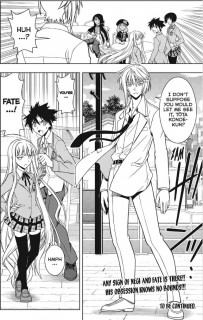 Mana explains the Mahora Martial Arts Tournament to Touta, Kuroumaru, and Ikkuu, showing images of past tournaments, including one where former Mahora students Ku Fei and Yue won. Mana further explains that the tournament will have 1-on-1, 2-on-2, and team battles. This excites Touta as Mana asks if he wants to participate. Touta expresses a concern over being an immortal, but since killing is forbidden, keeping his immortality a secret shouldn't be too hard.
Mana says that since this is the first tournament held since the world learned about magic ten years ago, there's no telling who might show up to participate. Further, demi-humans from "Inverse Mars" (the Magic World) will likely participate.
Touta's excitement grows, but Kuroumaru cuts him off, expressing concerns over Mana's motives for having Touta participate. Mana concedes the point and reveals that one of the applications received by mail was reportedly from Negi Springfield, Touta's grandfather who's reportedly dead, but whom Mana says is treated as a missing person. While there were fingerprints, DNA, and magic residue on the paper that were from Negi, it isn't sure that this application was in fact sent by Negi.  As such, Mana more options to deal with whatever this situation is, and Touta is perfect for that. Ikkuu and Kuroumaru are OK with Mana's further reasons for wanting him and Touta signs an application form.
Touta, Kuroumaru, and Ikkuu meet with fellow UQ Holder members Karin, Kirie, and Santa. Karin is not happy that Touta agreed to participate in the tournament without consulting Yukihime first. Yukihime, as her normal persona of Eva, shows up in a Mahora school uniform and gives her permission, citing her reasons for dropping by being because their mission had been so much more than expected.
Eva wants to see the Negi application, which Mana loaned him, but she's interrupted by Fate, who's also shown up, wanting to see this applicaiton.
Thoughts/Review:
The good news — this was a great chapter. The bad news — this chapter's greatness came from its very heavy Negima! connections.
I can't say that I was ever a Yue fanboy, nor was I a Ku Fei fanboy. I did like both characters (Yue more than Ku Fei), and Yue proved she could carry a manga by herself, as revealed both in her adventure on the Magic World and with her solo adventure as a magic detective at the end of Negima!  Had there been a Yue manga spinoff, I would have been on that big time because there's an awesome element to Yue.
In that light, I loved seeing the montage where Ku Fei and Yue are a team in the tournament. Not only are they a team, but they win, which is awesome in and of itself. And, they take on the traditional role of melee fighter defending the ranged mage artillery. Assuming the pactio system was still in place then, I could see the two having a pactio, but I do note that Ku Fei fought without any weapons, suggesting there may not have been a pactio.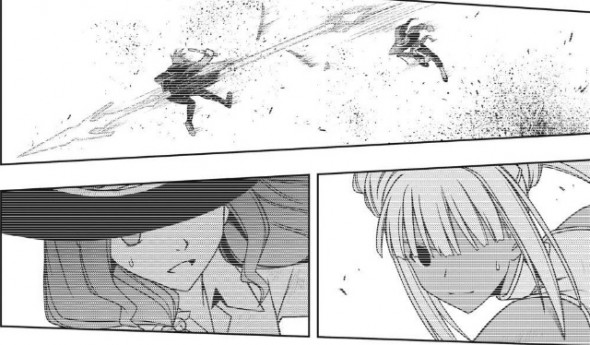 Akamatsu-sensei knows how to draw interest by having the alleged application from Negi in the mix with some supporting evidence that he might have sent it. I know people have done all kinds of speculation, but it wouldn't surprise me if this really were Negi and that he's doing this to draw out persons.
When the spoilers came out, ChaosProphet had asked me if I thought we'd get some arcs between now and the tournament, or would there be a few chapters followed by a time skip. I had speculated that it would probably be the latter, but now that I've read the chapter, I'm actually thinking we might get more than a few chapters.  For starters, Mana is personally taking over Touta's training. That's an interesting choice of trainer since I doubt she'll be teaching him gun techniques, save for maybe how to overcome them.
Secondly, there's Eva showing up in her school uniform AND showing up as Eva, not Yukihime. When I saw the spoiler image, I had wondered about Eva being in the school uniform. To visit the school, Eva doesn't need to appear as herself, and she certainly doesn't need to wear a school uniform. While her official reason for being there was because of the Sayoko case, I think she was there because Mana had already told her about the Negi application and she wanted to investigate that herself. Thus, she was there to join them in their undercover activities.
Even if I'm wrong in that theory, I think Eva is here to stay for this next arc. She can easily pose as a student with her fellow UQ Holder members. Not only that, but she can help with Touta's training, as can the others. Plus, Fate's arrival is only added incentive for her to stick close to Touta. It wouldn't surprise me if we see Fate showing up in his kid form to attend school.
Whether Fate shows up as a student or not, I do think he'd participate in the tournament if he really believed Negi was showing up. If Fate does that, then why not have the rest of his crew show up?
Now, will anyone else from UQ Holder participate? I think Eva might for the same reasons as Fate. Kuroumaru would likely participate just to be in the 2-on-2 with Touta. The other UQ Holder undercover members could be part of the team competition, if nothing else.
So the tournament arc suddenly has the potential to be much more interesting than I thought. If Eva sticks around as her Eva self, I'll be most happy indeed.
UPDATE! I totally forgot to mention this until I looked at the chapter again. On page 8 (technically page 7, but since Crunchyroll counts a blank page as page 1…), the person Yue is fighting I believe to be Tsukuyomi. For a start, there's the two swords. Secondly, her partner has six arms (and we saw such a guy in Fate's gang). Thirdly, I believe this is who Kuroumaru recognized. Everyone else is keying in on Yue, so when Kuroumaru expresses recognition, it is easy to shift that to Yue. But I think Kuroumaru was recognizing Tsukuy0mi based on her fighting style, which Kuroumaru knows well.