ユーキューホルダー! Manga Review
UQ Holder Chapter 67
SPOILER Summary/Synopsis: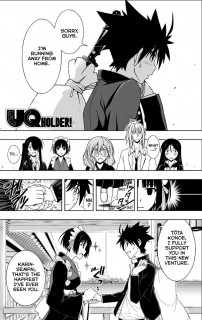 With Touta announcing his departure from UQ Holder, Karin encourages this. Kirie berates him for this, especially since he is a member of the Numbers, making him high in UQ Holder. Ikkuu tosses him the keys to the amphibious buggy, so Touta takes off, leaving Kirie frustrated with Ikkuu.
Touta arrives at the old slums and spends time at the church he'd previously assisted in helping. Sometime later, Touta travels on into the nice part of town, where he recalls Sayoko's words about not being complacent.
Leaving town and building a camp as it starts raining, Touta thinks of his grandfather and great grandfather before drawing Gravity Blade and expresses a desire to save the world, but then takes out his frustrations with himself on a nearby set of boulders. It is then that Gravity Blade begins to speak to him. Touta thinks it is a phone, but then gets very excited to learn that the sword really talks.
Touta asks Gravity Blade why it never talked before. The sword responds that Touta never addressed it, and its current setting only allows it to talk to Touta when they are alone. The sword reveals it was created by a wizard and given orders to assist anyone connected to 3A, which Touta doesn't understand. Touta is happy with the talking sword despite the fact that the sword has not accepted Touta as master.
Touta continues his journey, ending up in city areas again on the rooftop of a tall building. There, he discusses the situation between himself and Yukihime with Gravity Blade. As they chat, a bloodied man in an afro is knocked down near Touta's location on the roof, apparently under attack from someone or some people.
Thoughts/Review:
So, Touta leaves, and he goes on a solo journey. So no Kuroumaru nor Santa nor anyone else.
I did like that Touta stopped by the church to see the orphans again as he journeyed. That was a nice touch.
As to Gravity Blade's ever so convenient sentience…
I'm not really a fan of this kind of plot device. The sword claims that it was set to ONLY talk when it was alone with Touta. Further, it states that it never spoke to Touta when they were alone before because Touta never addressed it. Well, as best as I can tell, Touta never addressed Gravity Blade in this chapter either. But, Akamatsu-sensei needed a plot device and a companion for Touta, so a talking sword it is.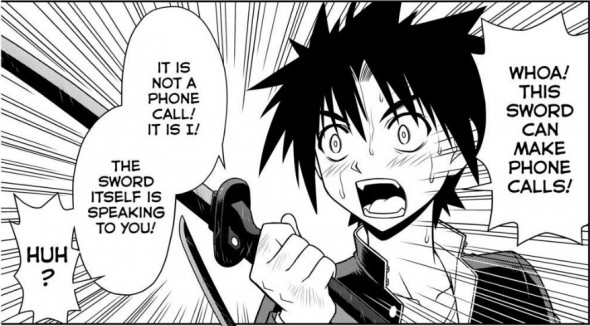 Now that we have this plot twist out of the way ('cause NO ONE would have guessed the sword would suddenly become sentient), there will be the standard "is this Al" question or the like. How would it know someone connected to 3A, which was the class that Negi was the homeroom teacher of? Does that mean the Jinbee is connected to 3A since he wielded the sword? 😉
I just can't get worked up over Gravity Blade having sentience though. Whether it is Al or whether it is something akin to the ensouling that Eva did to her Chachazero puppet-doll, I find I just don't care. The reason I don't care is because there was nothing setting up the sword as anything other than some magical sword that manipulates gravity and was probably made by Al.
So, who is afro-dude at the end? He doesn't appear to be UQH, so maybe his attacker or attackers are UQH. Or is afro-dude going to be some figure for Touta to level up on?
Now, as to the future is now tech that Touta was riding, that's a Gibbs Sports 4XD Quadski. So in reality, by the time frame of UQ Holder, this would actually be really old equipment. I don't normally say anything about the lack of technological advancement in UQ Holder, but since I was already in a negative mood, and since I was already aware of the Quadski from friends, I thought I'd mention it.  You're welcome. 😉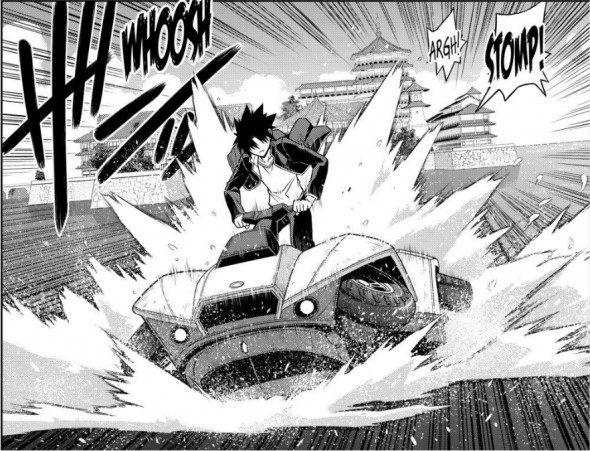 (It is a cool vehicle though.)
Oh well. We'll see what happens next. I do apologize for such a negative review that might be harsher than expected, especially since some of Gravity Blade's remarks and Touta's reactions could be considered funny.