Here is a SPOILER image and a bit of information for the upcoming UQ Holder chapter 67, courtesy of MK. (My review of UQ Holder chapter 67 should come out Wednesday.)
UQ HOLDER CHAPTER 67 SPOILERS
The UQ Holder chapter 67 goodness begins.^_^
The image from this week's chapter.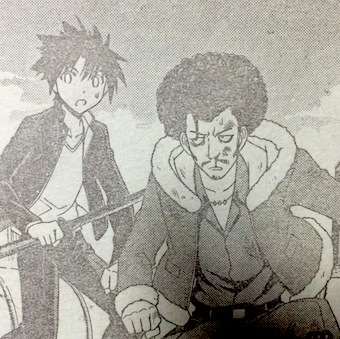 For some reason, the song "Afro Gunsou" is now in my head. *lol*
Anyway, until ChaosProphet (or someone) translates, it does appear that Touta does indeed leave UQ Holder HQ. It also appears that Gravity Blade is sentient, but I could be misreading that. Kuroumaru does not appear to come with Touta, nor does Santa. The afro dude in the spoiler image seems to show up at the end of the chapter.
Basically, it seems that Akamatsu-sensei is attempting to keep readers off balance by attempting to go places no one would predict. I'll reserve further comment on this until the chapter actually comes out.
I'll update if more information is provided or if more spoiler pics show up.
Update #1:
Here are a couple of more images from 2ch, one of which gives a better context to the earlier spoiler image.
Chapter comes out tonight on Crunchyroll.