ユーキューホルダー! Manga Review
UQ Holder Chapter 68
SPOILER Summary/Synopsis: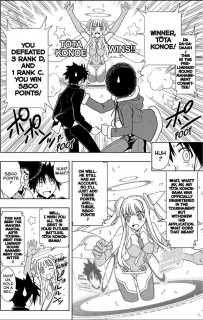 Touta sees a man in an afro being beaten by four thugs, so he intervenes, easily beating the four guys to the dismay of Afro. Gravity Blade compliments Touta on this easy win as a sprite from the Preliminary Round Management Committee appears, announcing that Touta has won 5800 points for defeating one Rank C and three Rank D fighters. Although Touta is officially withdrawn from the tournament, he still has an account, so the sprite grants him the points. Afro decides to take out Touta and loses, whereby Touta is granted 50 more points for defeating a Rank E.
Afro walks with Touta and explains that the entry fee of the tournament is ¥3 million. Afro is angry with rich people for this supposed injustice, then explains how that there are eighteen slots for poor people. The street fighting allows folks to earn points and gain rank all the way to Rank S, after which, defeating another Rank S person gets you into the tournament.
Afro takes Touta to an underground arena for Rank B fighters and above. There, Touta sees his first aliens (not counting the folks at UQ Holder), the demi-humans from Inverse Mars. While Earth is mostly ignoring this venue, it is hot stuff on Inverse Mars and though illegal on Earth, a lot of betting goes on.  Touta watches a fight between two demi-humans and isn't impressed since he's fought tougher folks and seen tougher folks. Afro formally introduces himself as Afro the Forever, a magic app developer, and offers a partnership with Touta.
Meanwhile, at UQ Holder HQ, it has been three days and Kirie is apparently moping around, leading Ikkuu to ask if she likes Touta.
Thoughts/Review:
Touta's sudden humility and "Oh, how I suck" comes off so hollow to me, more so in light of how easily he dispatched four folks at once. Even Gravity Blade is saying, "No, what you did was pretty impressive."
Of course seeing the tournament venue, Touta is thinking he could easily win. And of course, he could.  Assuming we get a traditional tournament arc here, there will be fights that take Touta by surprise, but he'll win it all.
As to Touta having an account for the not-Chachamaru sprite (for lack of a better term) to award him his points, in my mind, that would seem to lend credence to the theory that says that Eva is actually testing Touta now to see what he'd do. The theory is in keeping with Eva's persona and what she liked in guys (or people in general). I kinda hope that turns out to be the case.
Touta's already over half way to being Rank B, so I imagine another fight or so against stronger opponents will do it, thus getting Touta into this underground tournament.  I presume that fighting in this tournament will still award out points.
As for Afro, his magic apps may give him an edge, but otherwise I see him as weak. Plus, I think his real interest in Touta is getting a big payout in the illegal betting. Otherwise, there'd be no reason for the illegal betting to get mentioned, nor would there be a reason for Afro to want to team up with Touta.

I notice that Akamatsu-sensei had three arrows pointing to Earth, one from Mars, describing people who were coming in to fight. I wonder if this is were we get the payoff for revealing that Venus is where the mazoku (Zazie) live, and that there are other youkai-like creatures on other planets in the solar system.
Finally, there's Kirie, the tsundere. Well, if we make Kuroumaru a girl (which could happen by the time the tournament starts), then Touta could have a three girl harem of Kuroumaru, Kirie, and even Karin. Then have Ikkuu go into a female body for some real gender-bender action and well… 😉
In the end, I found myself a bit more interested in this tournament idea than I initially thought I would be. We'll see how it all pans out though.