ハヤテのごとく!/Hayate no Gotoku Manga
Hayate the Combat Butler Chapter 483 Review
SPOILER Summary/Synopsis: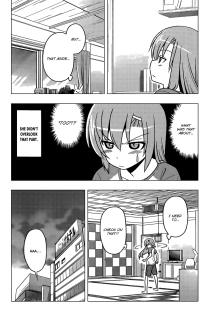 Hina sits in her room at Yukari-chan House and ponders witnessing Ayumu going on the romantic offensive with Hayate. Hina decides she need to find out whom else Hayate had kissed that caused Ayumu to ask for one.
Hayate is out on the streets of the city when a sad looking Konoha finds him. They go for a walk, where she apologizes to kissing him. Hayate decides to clear things up by saying he can't date her and apologizing. She smiles, says goodbye, and leaves by running away.
Hayate sits on a park bench as Hina comes up, having witnessed this. She asks why he rejected Konoha since Konoha liked him. Hayate says he doubts she truly liked him romantically ask no one would fall in love with him except by mistake. Hina proposes a hypothetical where she said she loved him. He confesses that he'd be happy if that happened as being loved by a girl like Hina would be a dream come true.
Hina decides she needs to go ahead and confess her feelings, but Hayate cuts her off by saying that even if she had feelings, he couldn't go out with her. She's stunned by this, so he explains that as a butler and as someone with a ¥150 million debt, he can't date anyone.
As he escorts her back to the apartment, Hina decides to come up with a plan regarding Hayate's debt.
Thoughts/Review:
Well, I think we saw the last of Konoha. She seems to have served her purpose in getting Ayumu and Hina stirred up.
Anyway, this chapter was all about once again going to the Hina x Hayate well, only this time, without the gag elements that often accompany this. (To be fair, Hata-sensei has previously done stories touching Hina's feelings for Hayate that haven't been gag-based.)  It was amusing to me that what stirred Hina into action was her realization that Hayate had apparently kissed someone and she wanted to get to the bottom of that.
Hina's and Hayate's chat was nice. Hayate said his usual spiel about being unworthy of a girl. At the heart of the matter is that Hayate won't go out with any girl as long as he's a butler with a ¥150 million debt. I wonder what Hina's plan is regarding this.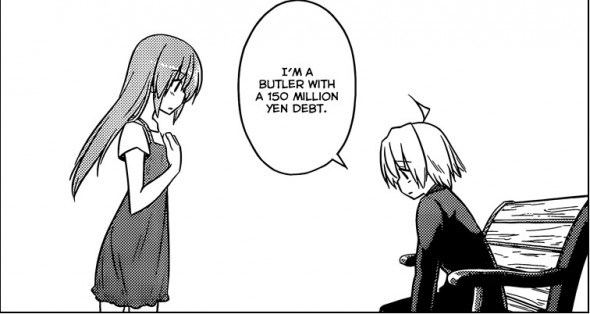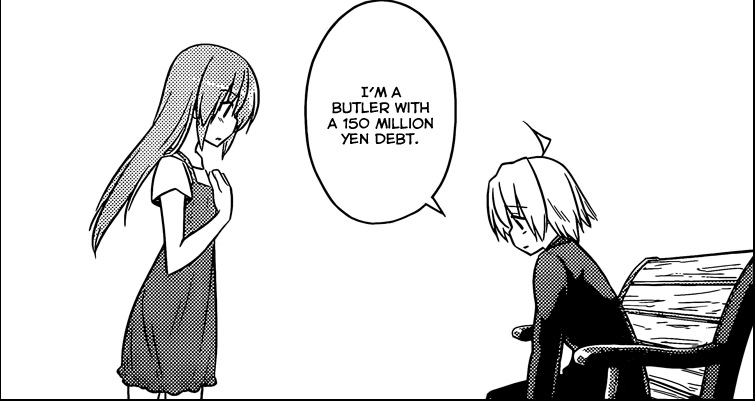 Even though I don't ship Hina x Hayate (not that I have anything against that pairing), I rather enjoyed her putting the idea out there of her confessing to him. This is about as close as it is going to get to her and Hayate being a couple until Hata-sensei deconstructs the harem. Regardless, it was nice seeing Hayate all down for the idea of dating Hina. I think they'd be a lovely couple even though I ship Athena.
No new chapter this week, so we'll have to wait to see what Hina decides to do. I'm rather looking forward to that.
Finally, the chapter's splash page, showing a young Hina being presented with a tiny cake by Katsura was pretty sweet.
In the end, this was a pretty enjoyable chapter, allowing Hina to actually take a step forward in her feelings for Hayate.