Fate/stay night: Unlimited Blade Works – 14 review
フェイト/ステイナイト [Unlimited Blade Works] – 14
SPOILER Summary/Synopsis: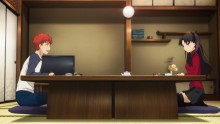 Rin bandages up Shirou and the two have dinner, where they discuss how to proceed since Saber won't be able to resist Caster much longer. Caster is frustrated by how she hasn't been able to find the Grail in the church. She recalls her first master, a rich mage who used technology to mass sacrifice young girls for small mana crystals. She is not impressed and wants it stopped, showing she can produce large crystals without sacrificing anyone. Her Master uses a Command Spell so that she's unable to use Rule Breaker on him. The rich mage goes to the church to complain to Kirei, who says another Servant can be provided.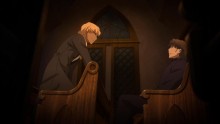 The rich mage then gives a contract that sells the right to dispose of Caster to Kirei for him to pass to the female Master of Lancer in case his own plans to dispose of her fail. Kirei smirks as the mage leaves. When the mage returns home, he finds his female lab assistants have been brutally slain and his lab is on magical fire. He uses his remaining two command spells on her to try to force her to kill herself, but she has used Rule Breaker on herself, severing their connection. She makes him experience a nightmare as she burns him to cinder. Lancer arrives and Caster barely escapes with her life. In the woods in the rain, she laments having failed again when she's found by Kuzuki, who takes her home and believes her story.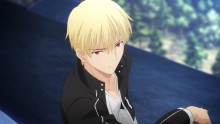 Elsewhere, Shirou and Rin arrive at the woods where Ilya's castle is. Ilya is aware of them and to her servant Sella's chagrin, Ilya wants to hear what they have to say. She orders Sella and Leysritt (Liz) to capture the two and bring them to her. As they leave the castle, Shinji falls out of the sky. Before they can deal with him, Gilgamesh appears. Liz attacks Gilgamesh, but is easily defeated, as is Sella. Though pierced with multiple blades, Sella still defies Gilgamesh, so he beheads her. Berserker busts through the castle wall with Ilya in tow. She's horrified at what has been done to her servants as Gilgamesh identifies her as the Grail vessel. Ilya orders Berserker to kill Gilgamesh. Gilgamesh is excited to have a fight to relieve his boredom.
Thoughts/Review:
Wow! ufotable manages to just have me floored with the shocking (and horrific) surprises in episode 14.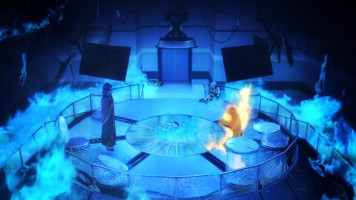 First, there was Caster's backstory of her first Master for this Holy Grail War. I knew from the first Fate/stay night anime (someone may have explained this) that Caster had originally been summoned by a mage from the Mage Association and that Caster subsequently killed her Master for unknown reasons before being rescued by Kuzuki-sensei. I just figured Caster was an evil witch (ha!ha!) who didn't want to be in this war, but changed her mind when Kuzuki-sensei found her and saved her.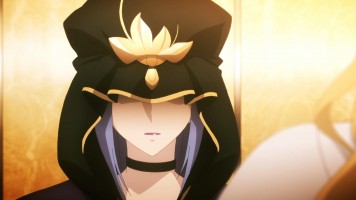 Of course, that was completely wrong thinking on my part. This mage, who appeared to be associated with Kayneth El-Melloi Archibald since the El-Melloi name was mentioned, was portrayed as a complete and total bastard. He had a literal harem and thought nothing of taking girls from other places and butchering them for their mana. Heck, he was proud of his combing technology with magic since he did in a short time what others would take ages to do. That alone makes him pretty darned evil.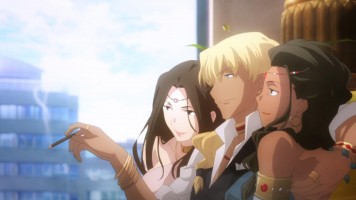 His evil continued since  he wanted Caster murdered so he could get another Servant. I was surprised that Kirei said that it would be possible for this evil mage to get another Servant. Once Caster was disposed of, would another Caster be chosen since the war had not officially started?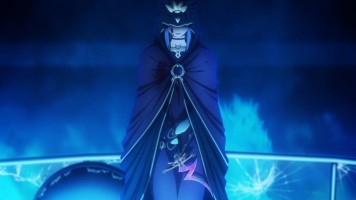 What surprised me about Caster was how she did not approve of him taking lives as he did and she wanted his lab gone. However, it explains a great deal about Caster and turns her from this cliched "evil witch" to something more tragic and sympathetic. Now that I think about it, has Caster actually killed anyone? She could have killed Taiga, but she didn't.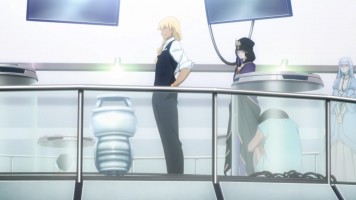 I do wonder how Caster survived her battle with Lancer. Caster is quite powerful, but alas, we were not shown the details of that battle, only that she escaped with injuries.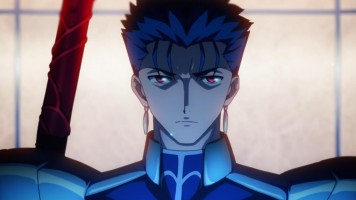 Because we don't know a lot about Kuzuki-sensei, it seemed like a stretch that he would so readily believe Caster's story. I hope we get to see more about him to explain this.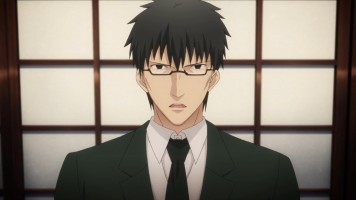 Having already hit me in the face with the casual, gruesome murders of a bunch of girls, ufotable then says, "OK, time to step things up a notch!" They do this in a way that is just unbelievable by having Shinji launched into the castle courtyard of Ilya's residence in a comedic way. That was totally disarming for the horrors that were to come.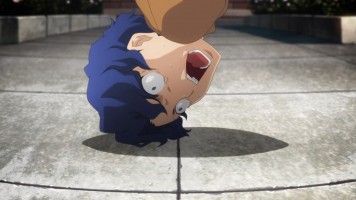 In the Fate/kaleid liner Prisma Illya series, I really liked Ilya's servants Sella and Liz. It was fun seeing them with actual parts, including Sella protesting her ojousama's decision to see Rin and Shirou.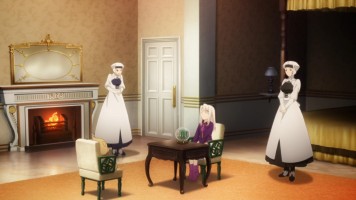 Then Gilgamesh shows up, and I just knew the worst was going to happen. When Liz launched herself at Gilgamesh to attack him, I thought, "NOOO! You're going to die!"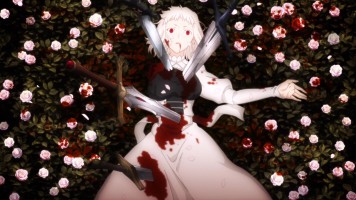 As horrific as it was seeing Liz's arm cut off, followed by her dead on the ground with lots of blades piercing her, seeing Sella on hands and knees, pieced with multiple blades, was even more horrific for me. I admired her devotion to Ilya in that her last act was to still defy Gilgamesh, even though it meant her getting beheaded.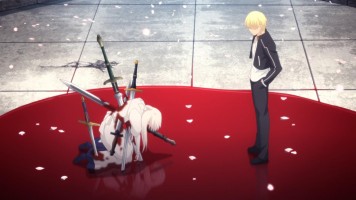 And then there's Ilya. I felt so badly for her because when she sent Liz and Sella to get Shirou and Rin, I felt she wanted to see Shirou as a member of her family and I knew whatever she planned wasn't going to happen. Then to see the horror on her face as she saw Liz and Sella slain was just heartbreaking to me.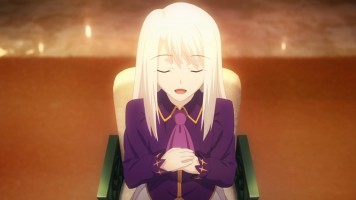 As the Grail, Gilgamesh would seem to be interested in capturing Ilya and forcing her to change. Berserker is very powerful, but honestly, I'd have to bet on Gilgamesh in a fight here. Even if Rin and Shirou make it through the forest, they don't have the power to stop Gilgamesh, even if Ilya isn't captured when they arrive. Based on how things have gone so far, I don't see good things happening for Ilya. 🙁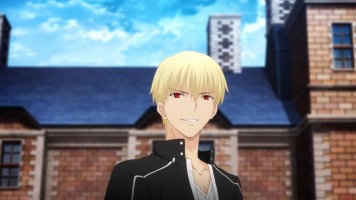 I'm still sitting here in shock at everything that has happened with this series. With dreaded anticipation, I look forward to the next episode.