ハヤテのごとく!/Hayate no Gotoku Manga
Hayate the Combat Butler Chapter 488 Review
SPOILER Summary/Synopsis: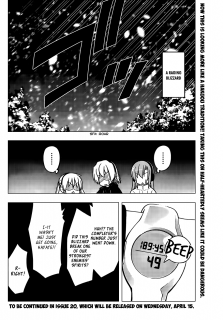 At lunch, the members of the Level 5 trip enjoy the enormous buffet spread in their own ways. While they eat, Nagi notes how there is no tension in the room despite there being a ¥150 million prize. The men in black enter, announcing that at 5pm, the skiing will end and they will head to the hotel at the base of the mountain.
At 5pm, everyone gathers as Director Kananiwa appears on a large TV, explaining that there is an optional orientation whereby those participating will go to the bottom of the mountain, with special prizes for the winners. When asked if this has anything to do with the ¥150 prize, Kananiwa says no, and that the orientation is optional, so people can take the bus to the hotel.
Hina volunteers to do the orientation, and to Hayate's surprise, so does Nagi, despite the fact that the can't ski. She reasons that this orientation is the key to the ¥150 million prize, even if it isn't officially tied to it, since doing the orientation will likely have long term positive results. A girl walks up and applauds Nagi's reasoning, introducing herself as fellow classmate TSUGUMI Ruri. Neither Hayate nor Nagi know her.
The men in black show the twelve who volunteered how to use their completer to point them in the direction of their goal. Since Nagi can't see, she has a sled made and hooked up to Hayate. When they exit the building, they discover a blizzard has formed. The completer number goes from 54 to 49.
Thoughts/Review:
Har! We all figured that Ruri was the girl introduced last chapter. This chapter confirms that by having her introduce herself to Nagi. I'm looking forward to seeing how her character turns out in the manga incarnation.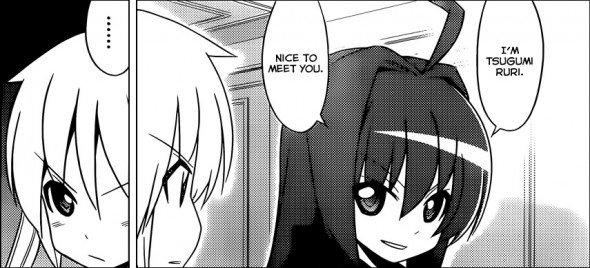 I was disappointed that no joke was made referencing CTMEOY, even vaguely. I figured there's be some kind of joke about seemingly knowing that girl (Ruri) from somewhere. Of course, with Hata-sensei, even jokes can have meaning, so maybe it is just as well things played out as they did.
It really does seem as if Kananiwa is training the students to do something. It is interesting that she didn't make the orientation challenge mandatory, but then again, if everyone wanted to, everyone could drop out immediately. It will be interesting seeing what her end game is.
Speaking of the orientation, what are the odds that Yukiji did it? I'm thinking we'll see her somewhere, since any prize would be a good prize for her.
I laughed at Nagi using Hayate as a sled dog. Well, it isn't the first time Hayate has had to do such a thing (the carriage ride(s)).
Finally, there was the buffet. I love to eat, so buffets are always "evil" for me. Now that I'm in an exercise class and working out for an hour or more a day, I can understand wanting to eat something good after a workout. I can't imagine a buffet that had tempura or the like. I'd probably want to chow down like Hina did. *lol*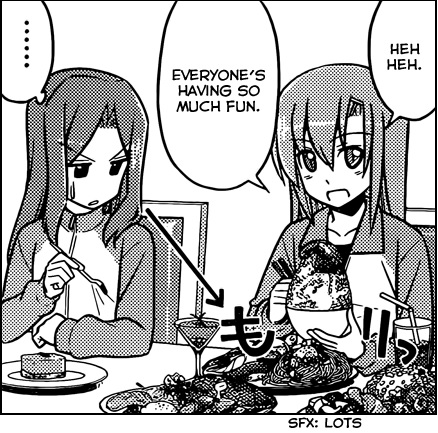 I continue to have a high interest level in this arc since it is trumping the events of Can't Take My Eyes Off You. I'm really looking forward to seeing what happens next.