Fate/stay night: Unlimited Blade Works – 15 review
フェイト/ステイナイト [Unlimited Blade Works] – 15
SPOILER Summary/Synopsis: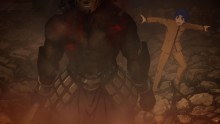 The blonde Spirit managed to "slay" Berserker, leading Shinji to celebrate. However, Berserker comes back to life. However, Berserker doesn't go on the offensive against his opponent, rather choosing a defensive stand to protect Ilya. As the battle rages, Shirou and Rin make their way to the castle while Ilya thinks back to when she was younger and awaited the return of her father, Kiritsugu, who never came. She was apparently abandoned by her grandfather and tormented by the evil that took the form of her mother, Iri.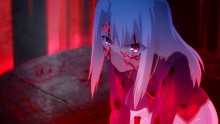 Sometime later, it is clear that Ilya is being modified and in the process, discovers that homunculi are being created and slaughtered for the Einzbern greater purpose.Some years later, Ilya is assigned the new homunculi servants Sella and Liz, whom she cares little for. Berserker has been summoned and is bound, so Ilya attempts to use her massive magic circuits to break him. Sometime later, she's tossed into the snowy woods and forced to make it to the castle in order to travel to Fuyuki, Japan. She's attacked by wolves when Berserker comes to save her of his own free will. Now that she understands him, the two work well together.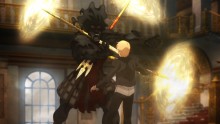 Back in the present, Rin and Shirou quietly observe the fight. Berserker is down to his last life and is told by the blonde Servant that if he abandons Ilya, he'd have a chance to win. Berserker refuses to do this and is apparently slain. However, he returns to life, only to be bound by the Chains of Heaven, which prevents Ilya's Command Spell to have Berserker return to her overridden. Berserker is again "slain" as the blonde Servant summons a small sword, putting out Ilya's eyes. Blinded, she tries to find Berserker and is stabbed in the chest. Falling to the ground, Ilya manages to touch Berserker and is comforted. The blonde Servant is about to kill her when Berserker breaks free and nearly reaches him, but three additional weapons from Blondie stop Berserker inches short. Shirou has had enough and reveals himself, getting a sword attack as a result as Ilya dies.
Thoughts/Review:
Gah! I knew things would not go well, but man, I didn't think things would go this badly.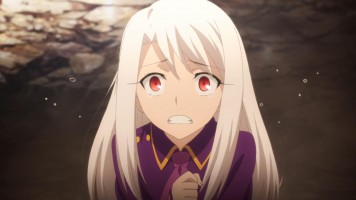 Because Ilya is the Grail, I thought Blondie would capture her. I was prepared for him to harm her in some way to disarm her, but I didn't think he'd slay her. I've no idea how this will affect the Grail and such.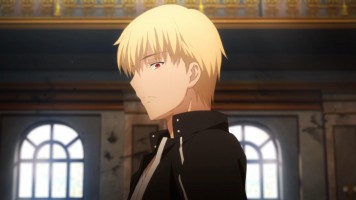 Of course the way Blondie puts out Ilya's eyes before stabbing her is done in a way to really induce rage on the part of the viewer. He didn't even take a scratch in his fight with Berserker, so one hopes that down the road, he really takes a massive beating and a half.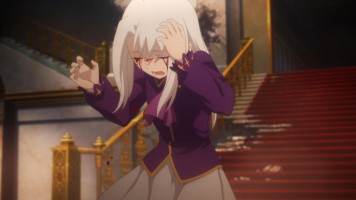 Having Ilya's tragic past explored helped add to the melodrama of the moment when Ilya is killed. Although there was a lot of stuff there, it felt very compressed to me. I'm guessing that this black goop with red in it that took the form of Iri was the corrupted Grail, but I didn't understand how it was appearing to her.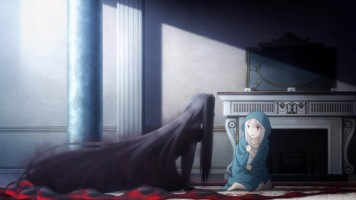 I didn't understand why Ilya was alone and apparently freezing in her room, then later, she was all bloodied and bandaged.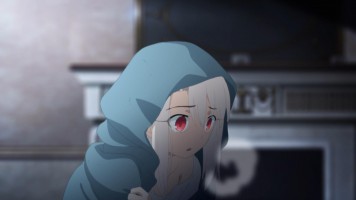 I didn't understand what all of the homunculi that were being slaughtered and disposed of where doing as part of whatever scheme the Einzbern were doing.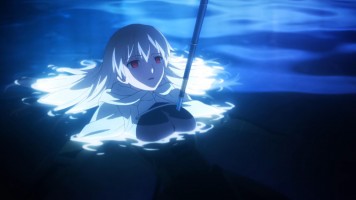 I was disappointed we didn't see Berserker being summoned. I know from other people telling me that he was summoned early, and one gets that impression from seeing how he's there, yet Ilya's trip to Japan is still some time away.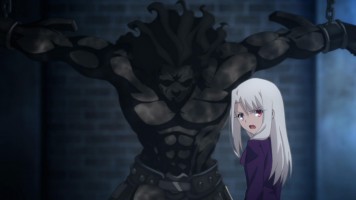 I liked seeing how Berserker and Ilya bonded. Berserker was Ilya's best friend after she understood him. I'd never really seen Berserker in a sympathetic light until this episode.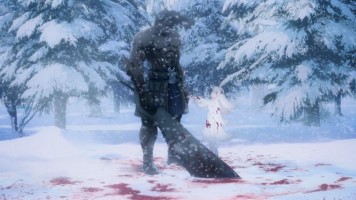 I guess it was Ilya bonding with Berserker that caused her to become more friendly with Sella and Liz, to whom she was so cold to in the beginning. It was nice seeing the pair of them again.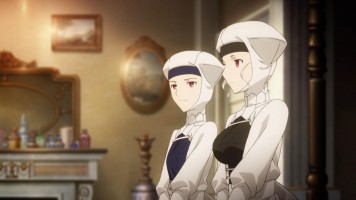 Finally, there was Shirou letting his emotions get the best of him. I remember in the original Fate/stay night anime, such antics by Shirou would irritate me. Here, having witnessed Blondie's brutality against Ilya made Shirou's rage understandable because I was feeling the same way. We'll see what becomes of him next week.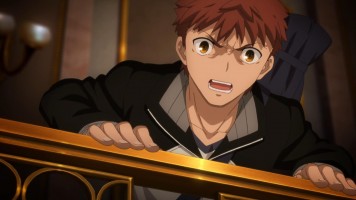 I subtitled my review "to kill a mockingbird" because this episode made it clear that Ilya was an innocent, half-human/half-homunculus being who had been brutalized since the end of the events in Fate/Zero. Having seen the first anime, I know she would have had a good life after the war. Now, she's been slain by Blondie, who so needs to receive a tortured death because of his actions.