Fate/stay night: Unlimited Blade Works – 16 review
フェイト/ステイナイト [Unlimited Blade Works] – 16
SPOILER Summary/Synopsis: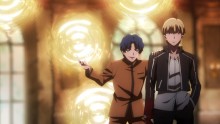 Gilgamesh rips the still beating heart out of Ilya's chest as Shinji introduced his new servant. Shinji threatens Shirou, who's emerged from the debris, leading Rin to emerge. Gilgamesh decides to retreat for now, telling Shinji that the other girl will suffice as a vessel. Shinji gets angry when Rin rejects his offer to join them. After Shinji and Gilgamesh leave, Rin and Shirou bury Ilya. Rin doesn't understand Shirou's living to help others and not living for himself while still helping people. He recounts how Kiritsugu saved him ten years ago and how he regretted not being able to help the others in that disaster. While Rin may be right, he doesn't mind living for others.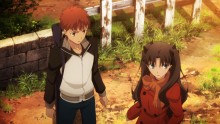 At an abandoned church, Rin and Shirou discuss Gilgamesh as the eighth Servant. Shirou has managed to determine that Gilgamesh's Nobel Phantasm is not the weapons he used, but the treasury that stores those weapons, meaning Gilgamesh has a weapon to deal with any Servant due to being the oldest heroic spirit. Their discussion is interrupted by Lancer's arrival. Rin and Shirou begin bickering over who should run off, leading Rin to threaten Shirou with an attack. This amuses Lancer, who'd come on behalf of his Master to form an alliance in order to take down Caster. After hearing Lancer out, Rin agrees. Shirou reluctantly agrees, but tells Lancer to not get to "close" to Rin, leading her to protest and become flustered. Lancer tells Shirou he's in for a tough time with her, which he acknowledges to Rin's irritation.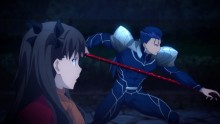 At Kirei's church, Archer pays Souichirou a visit where Souichirou opens up a bit about himself and why he helped Caster and that Caster's true wish is to go home. That night, Lancer, Rin, and Shirou have a strategy session on their forthcoming attack on the church. Lancer is going to take on Archer, but may have to deal with Saber as well. Lancer informs them that Assassin won't be a problem since he was summoned by Caster and thus cannot leave the Ryuudou Temple. They come to the church where Archer is waiting for them. He's surprised to see Lancer there and Lancer has a dislike of Archer due to his betrayal. Lancer promises Rin that he won't kill Archer so that Archer can get on hands and knees and beg Rin's forgiveness. Rin and Shirou enter the church, where Rin takes a moment to explain how there's only one pendant, not two. Outside, Archer and Lancer charge each other.
Thoughts/Review:
I got to say that after the heartbreaking, depressing episode last week, it was really good to have lighter moments in this episode, even if Ilya got one final round of abuse.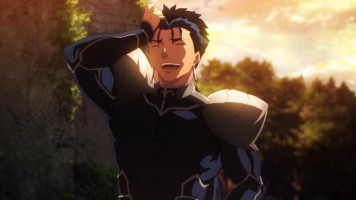 Well, we may as well get the terrible stuff out of the way first. Ilya was STILL alive when Gilgamesh ripped her heart out. Gah. What a complete an utter bastard he is. I'm actually glad they didn't have that moment in last week's episode because that would have been too much for me to handle. (Yeah, I know — these are fictional characters, but even if melodramatic, the writing has been very good so that I care about these fictional characters. And it doesn't hurt that I love Ilya's character in the Prisma Ilya series. 😉 )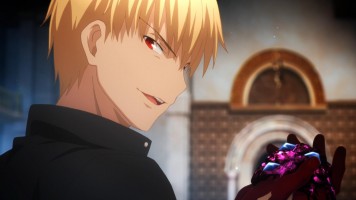 I'm kinda surprised that Gilgamesh didn't kill Rin and Shirou. Sure, Rin might have killed Shinji, but Gilgamesh is strong enough to easily blow away both Shirou and Rin without blinking. I can only guess that he still needs Shinji for some reason, and that having Ilya's heart (the Grail) is ultra important.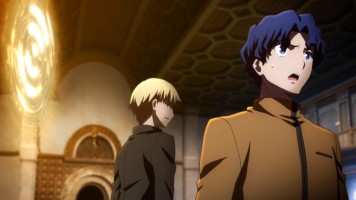 Since I know stuff from the Fate route and Fate/Zero, I'm going to wrap this next bit of thoughts in spoiler tags since it involves the other girl mentioned.
The other girl mentioned has to be Sakura. I know she was modified, and she's the only other girl available. (Taiga and the other girls at school don't count.) Oh man, PLEASE do NOT frack with Sakura. I don't think my heart could handle that after what happened to Ilya. But this is Gilgamesh, and he'd do it. *_*
[collapse]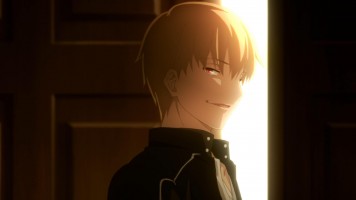 I was glad to see that Rin and Shirou took time to bury Ilya. I wish that there had been three graves instead of one. Surely, the bodies of Sella and Liz were still there and would have required burying too.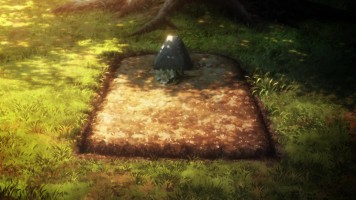 Now, onto the lighter moments, which were a welcome relief. I laughed out loud when Shirou engaged in a moment of pure teenage logic by laying down the alliance condition with Lancer that Lancer couldn't hit on Rin. As far as Shirou is concerned, Rin is his girlfriend and by George, some hunky Servant dude isn't going to come and steal his first girlfriend. 😆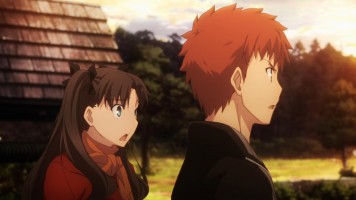 As to Rin, her reaction to Shirou's statements just made things funnier. Shirou was pretty much making a public declaration of them being a couple, and so she had to go tsundere just a bit to try to protest this notion of her and Shirou being a couple, even though as Lancer said, they'd been one for a long time.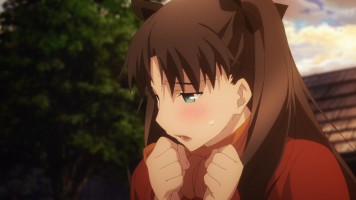 I loved Lancer in this scene. Man, when he was introduced at the start of this series, he was pretty hardcore in how he tried to kill Shirou, then having discovered he'd failed to do that, he tried to kill Shirou again. Now, he's a likeable guy who totally understands where Shirou is coming from when it comes to Rin, even to the point of seeing how having Rin as a girlfriend is more important to Shirou than him knowing who Lancer's Master is.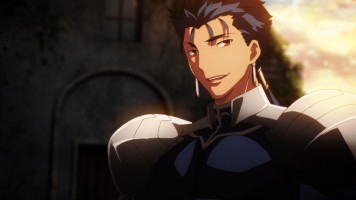 Further, Lancer helped stir the pot to push Rin's buttons, which was also a hoot. I don't remember Lancer being this much fun in the Fate route.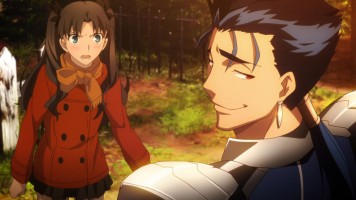 I liked Rin taking a moment to explain her pendant and how there weren't two of them. This is one of those instances where I understand why she didn't just spell it out for Shirou. I got the feeling that he understood her message. 🙂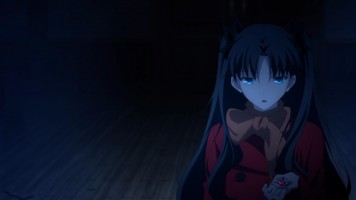 Now to some plot stuff. Why wasn't Rin more concerned about an eighth Servant? Surely she must know that in all of these Holy Grail Wars, there have only been seven Servants, not eight.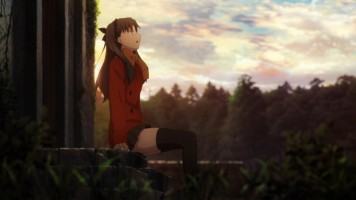 How come she didn't know about Gilgamesh being from the previous war?  Aren't there records of the Holy Grail War that can be consulted or are those classified? For some reason, I felt that Rin should know more than she does, based on the fact that she's from a powerful mage family, and her father was in the last war.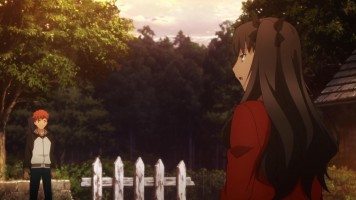 Finally, I actually got a bit of a shiver as I recognized the room that Archer went into to talk to Souichirou in Kirei's church was a set used a few times in the Fate/Zero anime.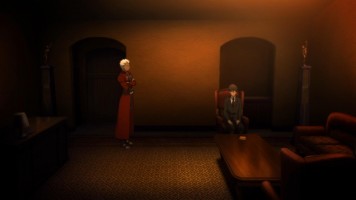 Next episode, we get to see Lancer and Archer duke it out. I'd like to see Archer defeated and forced to beg Rin's forgiveness, but I don't think that will happen.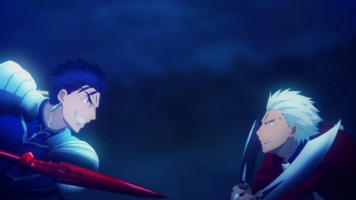 Regardless, this was a good episode, lifting some of the heavy darkness from the previous episode so that we can all take a breath, collect ourselves, and move forward to the resolution of this excellent story.