ハヤテのごとく!/Hayate no Gotoku Manga
Hayate the Combat Butler Chapter 490 Review
SPOILER Summary/Synopsis: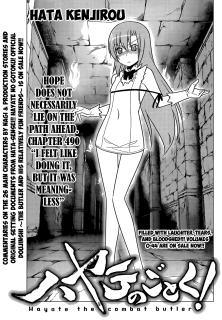 Nagi wants to know why Hayate will die if he wins the competition. Ruri explains that Hayate will quit as her butler and become a normal high school boy who likes to laze around. If he stays with Nagi in a non-butler way, he'll become a NEET or a deadbeat, and that he and Nagi will flirt all day long. After three months, Hayate will get bored and move onto another girl, then another girl. Then he'll be stabbed to death.
As such, Ruri tells Nagi that Nagi must win to save Hayate. Ruri confirms that Nagi is correct that the orientation winner will receive a prize to give them an advantage. Ruri provides a bag of clothing for Nagi as well as a snowmobile. Nagi tells Hayate she's heading out on her own because she doesn't want him to become a NEET.
Hayate heads to the building with the sauna, not knowing Hina is there. Hina sees him enter and panics, deciding to hide and wait Hayate out. Hina is on the verge of passing out when Hayate notices that a lot of people are dropping out of the competition.
Thoughts/Review:
Ruri's story of Hayate's life as a NEET who won the contest was pretty amusing to me. For some reason, it also amused me to see how Nagi's imagination ran away with her.
The question is, what reason does Ruri have to separate Nagi from Hayate? I'm not sure how many cues we can take from the Can't Take My Eyes Off You anime, but Nagi was targeted there so that Ruri and Dolly could get the kuro-tsubaki. That doesn't seem to work for the manga's storyline, but there might be something else that Nagi has which Ruri needs.
The stuff with Hina hiding in the sauna as Hayate relaxes inside is pretty much by the book. It made me smile, but no laughs.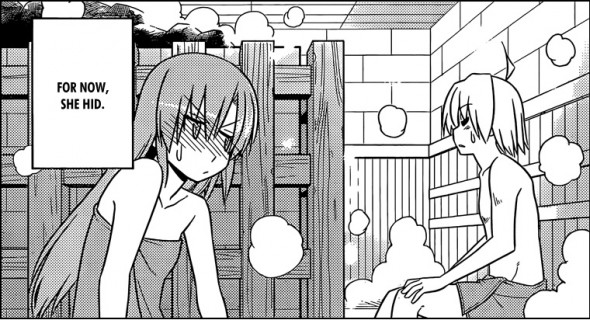 I think it is safe to say that all of the people dropping out of the contest has to be a result of the bus going to the prison.
Finally, there's Hata-sensei's tribute to DanMachi (aka: Is It Wrong to Try to Pick Up Girls in a Dungeon?), which has had a MASSIVE flood of like imagery for the character of Hestia with her string boob "support" (or whatever it is called).
Otherwise, not a lot to talk about here. Next week is a double issue for Weekly Shounen Sunday.