Magical Girl Lyrical Nanoha ViVid – 02
魔法少女リリカルなのはViVid
Mahou Shoujo Lyrical Nanoha ViVid episode 02
SPOILER Summary/Synopsis: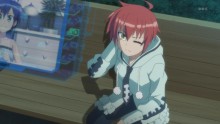 High Queen and Kaisa Arts Master Heidi E.S. Ingvalt challenges Nove to a fight. Nove accepts, then realizes that Ingvalt is not some slouch. She has her Intelligent Device, Jet Edge, activate her Inherent Equipment. Now in battle mode, the two clash again. Nove is defeated, but plants a tracker on Ingvalt. Ingvalt leaves, but collapses and passes out at some coin lockers. Nove has Subaru and Tia go to retrieve Ingvalt and take her to the Nakajima residence. There, Ingvalt, who's real name is Einhart Stratos, has a memory dream about a man who looks similar to her, named Claus, and a woman looking similar to Vivio, named Olivie.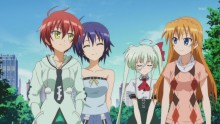 When Einhart wakes up, she's surprised by the friendly atmosphere where she's fed breakfast and taken to a Bureau Station for a medical checkup, where it is learned that she is related to the ancient Belkan royalty and contains genetic memories of her ancestors. Einhart is still obsessed with getting stronger, so Nove tells her a bit about her past as an angry punk. Elsewhere, Vivio trains hard with Chris keeping tabs. When Vivio returns home, she takes a bath with Fate, joined by Nanoha, as Fate is about to ship off on assignment. Later, Vivio, Corona, and Rio do research on Dominion Queen Ingvalt from history books because of Nove's sudden interest in the topic. Einhart also informs them Nove has befriended a new martial arts person for them to practice with.
Thoughts/Review:
With the way Einhart was introduced last episode, it seemed to me that she'd be the villain of this series, at least for a while. However, with her capture and acceptance by the Subaru, Nove, and Tia, it looks like I was wrong.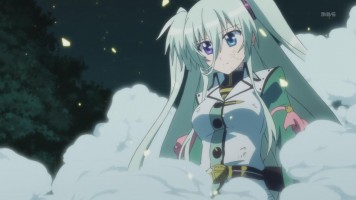 Of course, she may have some hidden trigger that causes the group to battle her in future, but for now, we are on course for her becoming friends with Vivio. (And there was much rejoicing.)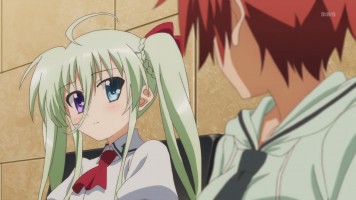 I have to say that I was amused by the high levels of testosterone in the fight between Nove and Einhart. It felt like it was right out of a shounen manga, even if the fight didn't last that long. (Magical Girl Lyrical Nanoha ViVid is not shounen, but it is a seinen title.) This is not a complaint, merely something I noticed.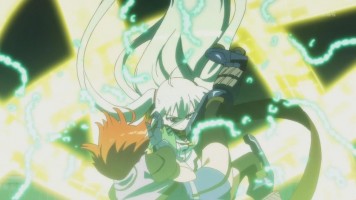 Only two old characters were introduced here — Tia and Subaru. It was nice seeing them both again, even though both characters didn't have much to do other than support.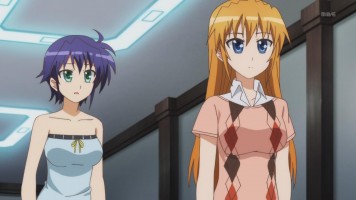 I realize Einhart's inherited memories are being done for plot purposes, but for some reason, this concept isn't jazzing me. I can't explain why because I honestly don't know. It might be the melodramatic way the first memory dream of Einhart's we was shown. This plot device may or may not grow on me.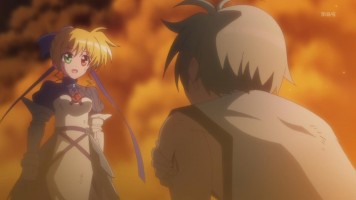 I remember liking the all of the training shown in the StrikerS series because it allowed the new characters introduced there (like Subaru and Tia) to be seen working at there craft so that when they went on combat missions, you knew they were ready. As such, when I see Vivio training hard by herself to become faster, better, and stronger, I fully approve of this because down the road, we are going to see Vivio having to go into combat without the support of Fate or Nanoha, and this daily physical training she does makes that eventual combat more believable.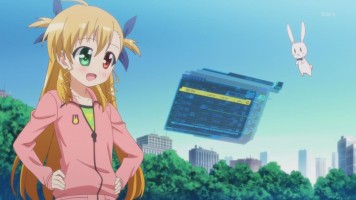 We get our juicy bit of fanservice here by having Fate, Nanoha, and Vivio all get into the bath together. On one hand, it is clear that this scene was partially done for the Fate x Nanoha shippers (whom I have no doubt had a collective "Big-O" because of this), but it was also done for the people who see Fate, Nanoha, or Vivio (or a combination of the three) as their waifu. There was also an innocent element to the scene after all three are in the tub (hard to believe, but true), but I could have done without it.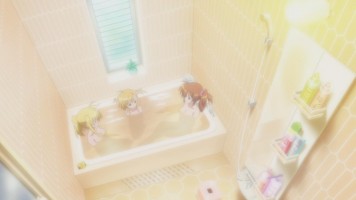 Other than setting the table, not a whole lot went on here. However, other than the fanservice, I found I still enjoyed the episode quite a lot.