ユーキューホルダー! Manga Review
UQ Holder Chapter 76
SPOILER Summary/Synopsis: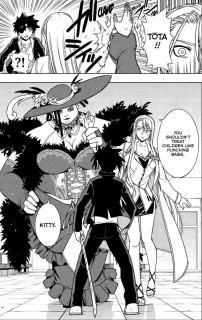 Touta loses fight after fight, but gains in popularity. He decides he needs a finishing move and since Kuroumaru seems to have an endless array of them, he asks Kuroumaru for help. Kuroumaru can help Touta because of Touta's ability to learn things quick, but since it takes years to master these techniques, it might not be of any help in the short term. Kirie points out that the weight of Gravity Blade (Kurobo) is practically a finishing move, but Touta doesn't want to do that 'cause it isn't his strength.
Touta and company consult Morborgran, who recounts Negi's finishing move, which was a spell combined with Magia Erebea. Touta, who has been unconsciously doing Magia Erebea thinks he may have found something, but since Crunchyroll couldn't be bothered to upload the next page, whatever he tried was clearly a failure, leaving Touta depressed.
Touta is out wandering and being depressed when he runs into Yukihime. He panics, apologizes, then she slaps him hard. She chastises him for his actions in leaving the UQ Holder building, citing their flight from the village in chapter one. He whinges about how she never told him anything and that he now knows he's a copy of Negi, which he learned from Hoodie. Yukihime doesn't say whom Hoodie is and Touta notes Fate nearby. Touta starts whinging again, so Yukihime is going to slap him again, but she's stopped by a very large woman with fangs, whom Yukihime calls Dana. Dana knocks Touta across the way for whining, then expresses an interest in Touta, asking Yukihime if she can take him with her.
Thoughts/Review:
So, as I write this, it is only Tuesday, but I've been working almost non-stop since Sunday. So I'm pretty exhausted. However, there's the new UQ Holder chapter out, so yay, right? Except Crunchyroll, who apparent thinks that there's no way in the universe that "QC" could EVER stand for "Quality Control," decides they can't be bothered to upload the entire chapter. As such, I'm writing this in a foul mood, so I'll apologize ahead of time for giving this chapter and series a beating that it so richly deserves.
Some of you awesome commenters (forgive me for not remembering who all discussed this) remarked on how odd it was that Touta didn't go to Kuroumaru to try to learn a finishing move. I figured it had to be something simple, based on Love Hina and Negima, and that the Shinmeiryuu techniques were still supposed to be restricted. However, this chapter showed I was wrong in my thinking and that the only reason Kuroumaru hasn't been training Touta any sword techniques is "reasons."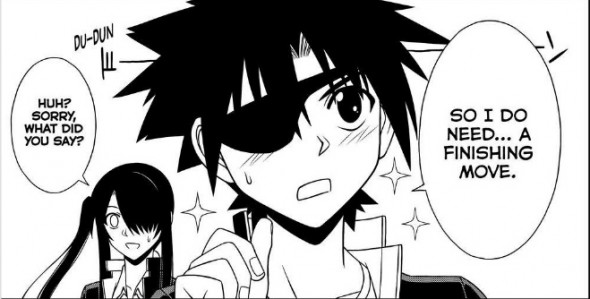 After never losing, now Touta never wins, and why? 'Cause "reasons."
Despite always losing in the tournament, he's still in the tournament 'cause "reasons."
("Well, you complainers were whinging on about how Touta was boring because he never struggled, so now that I'm making him struggle, your whinging about that?" Yeah, Sensei, it is because the story flow is not natural, which has been the problem since early on.)
So, Touta meets Eva. Ooops. She slaps him and starts nagging about how he didn't do right in running away. Yeah, Miss "Ever So Powerful Shinso Vampire Mage", why didn't you STOP him if you were worried about him. It shouldn't be that hard to force him to be restricted to HQ. After all, there's a WHOLE slew of people working for you that would have stopped him. Ah, but I forget, the reason you DIDN'T do this is "reasons."
Then there's the partial retcon of why Yukihime and Touta left the village. See, the bounty hunter was after Touta, which is why Yukihime had the bounty on her and not on Touta, and why the bounty hunter didn't know Touta from a whole in the ground, and why there was nothing the bounty hunter was going to do to have Touta captured. Yep, that's why that bounty hunter was going to kill all witnesses, Touta included, 'cause "reasons" which had nothing to do with going after Touta.
So now Eva and Touta are doing a road trip and having a jolly good time, even picking up a "boy without a winkle" 'cause "reasons" — no worries on being targeted or the like. Then 'cause "reasons," UQ Holder finds Eva and company brings them home.
While at UQ Holder, Eva is so afraid for Touta's safety, she dispatches him on jobs and even remarks on how pointless it would be to stop him 'cause of Touta's idiotic reason.
Yep, no matter what threat was faced, even when Eva had to deus ex machina to save Touta's bacon from being taken by Fate, she was never concerned about him being away from UQH-HQ, until this chapter, which was only because of "reasons." ("But there was the Lifemaker!" Yeah, the Lifemaker was always there as a potential threat, and yes, seeing the Lifemaker recently made things more real to Eva, but then she didn't say anything to Touta because of "reasons" and she really didn't even try to prevent him from leaving UQH-HQ because of "reasons.")
Now we come closer to the preset. Gravity Blade suddenly starts talking 'cause "reasons." Touta runs away 'cause "reasons." Eva won't tell Touta jack because "reasons." A few of Touta's friends find and join him 'cause "reasons." Hoodie tries to kill him 'cause "reasons." Hoodie decides to wait a year to kill him 'cause "reasons." Let's all jump down, turn around, and punch ourselves in the face 'cause "reasons."
Seriously, Sensei? I know you are desperate to try to recapture the magic of Negima with its mystery, its awesome story flow, and the fan adoration, but this isn't the way to do it. Further, I know you are desperate to prevent people from predicting what you are going to do with UQ Holder, but doing things, or not doing things, because of "reasons" is just crappy writing.  Sorry, but I had to say that.
*sigh*
And yet I'm still here and will be here for the next chapter, so what does that say about me? 😉
Anyway, now that I'm off the soap box (man, do I need some sleep), I am vaguely curious as to whom this Dana character is. It isn't Al. It might be a vampire that Eva met ages ago to whom Eva learned a thing or two. Should this be the case, I will say that my interest level will rise again since I want more of Eva's background explored.
So once again, I do want to apologize for going off, but hopefully some of you got a giggle out of it. Hopefully, I won't be so cranky next week (or whenever the next chapter comes out.)