ユーキューホルダー! Manga Review
UQ Holder Chapter 75
SPOILER Summary/Synopsis: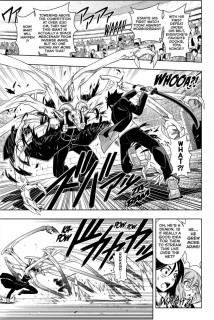 Touta, Kuroumaru, and Afro form Team UQ Afro and easily make it into the tournament as a result of winning points. Afro wonders if Touta should be doing this instead of training, but Touta wants to see how far he can go as well as getting a ticket into the tournament. Touta is worried about Hoodie, but Kuroumaru says that they've done all they can do by notifying the authorities and Basago at UQ Holder.
In the underground tournament, Touta goes solo and easily defeats the B-ranks, which causes him to be promoted to the A-rank. However, his first A-rank fight against the cat girl Karen sees him lose his first match as his use of Gravity Blade is not much help against Karen's martial arts skills.
His next fight is against the "demon" (mazoku) Morborgran, who recognizes Negi's moves in Touta, which confirms to him that Touta is Negi's grandson. Morborgran grabs Touta and tells him that he needs a finishing move.
Thoughts/Review:
I was a bit wrong on the tournament aspect of this arc. I thought Touta would be the only one of the UQ people participating and that Touta's only partner would be Afro.
Not that Kuroumaru had much to do here. Beyond the initial team match, Kuroumaru was like a girl wanting her senpai to notice her. I'm referring to the moment when Touta won his match to get him into the A-rank, Kuroumaru was there with a towel and cold beverage. *lol*
Akamatsu-sensei isn't wasting time getting Touta into the underground tournament and into the A-rank category. I get the sense that he won't waste a lot of time showing Touta training to learn a finishing move that Morborgran suggested he learn.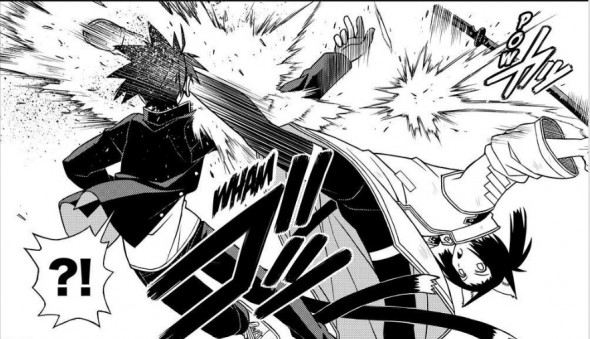 Speaking of Morborgran, I kinda got the feeling he'll be the Jack Rakan of UQ Holder and take over Touta's training. After all, he knows Negi and fought with Negi. He also seemed to know Touta ahead of time, unless Touta's been blabbing it about, which I don't think has happened.
As to the topic of finishing moves, NML brought up a point that in Negima, Jack was going to teach Negi one, but then the whole "finishing move" topic kinda petered out. Negi went with Magia Erebea and trained there as well as training to learn even more powerful spells. Since Negi was a battle mage, spells trumped finishing moves for him. So I agree with the notion that this is Akamatsu-sensei attempting to pick up that story element since Touta can't use spells.
Kirie and Santa being the ones designated to sit on the sidelines and watch resulted in a couple of amusing moments. I chuckled when Santa told Kirie that he didn't enter the tournament because he could beat everyone without touching them. Considering his rather unique psionic abilities of phasing, phasing others, and telekinesis, he probably could go quite far.
The other humorous moment was when Touta lost his first fight, which angered Kirie and caused Santa to discover that Kirie had been betting on the matches. Well, there is a reason she got rich. I'm surprised she doesn't reset so she doesn't lose.
Finally, Akamatsu-sensei swept the cloud of Hoodie under the rug with Kuroumaru's throwaway lines regarding having notified the authorities and Basago. It is interesting that Eva is now in space, presumably with Fate. However, the message here seemed to be, "Yes, I introduced Hoodie and raised a lot of questions about it, which you want answered. I'm not going to answer them, so you can just put Hoodie aside for now."
Oh, one more thing — did Touta lose an eye?
Well, we'll see what happens in the next chapter.