ユーキューホルダー! Manga Review
UQ Holder Chapter 77
SPOILER Summary/Synopsis: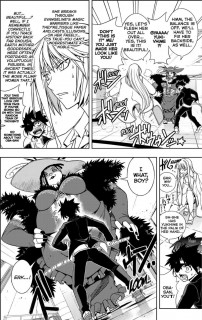 Yukihime identifies the large woman as Dana Ananga Jagannatha, whom Fate knows as the Witch of the Rift, a noble (aristocrat). He asks why one such as her is on the human world since they have no interest in humanity. When Touta asks what nobles are, she says that they are fake vampires and that nobles are the true, shinso vampires (High Daylight Walkers). Dana doesn't like being compared to nobles, who've mostly become living corpses since they've lost interest in everything.
Yukihime asks why Dana is there, so Dana says that it is her (Eva). She notes Yukihime's chest and decides to make it bigger. Touta says he's not interested in that, so Dana makes them bigger and bigger. Fate is astonished at how Dana is not stopped by Yukihime's (Eva's) barriers and forces new illusions on Eva. Eva is forced to return to her true form.
Dana asks why Touta wants to get stronger. He says it is to defeat Fate. The answer amuses Dana, but she then gets serious and says that it isn't possible for a knockoff like Touta. Touta is initially dejected by this, but as he starts his comeback, Dana stabs him with her finger, killing him.
Touta wakes in a nice bed in an unknown castle. Touta cannot see outside the castle windows, but he sees a young girl hurrying away. Touta pursues but stops and hides in fear when a large, magical beast walks by. After it walks away, Touta makes his way out to a large platform apparently in the sky. He finds the girl at the far end of the platform. In a foreign language, she asks who Touta is and if the old hag brought him there too. He asks if she's Yukihime.
Thoughts/Review:
Dana. I don't mind the fact that we are introducing a new, shinso vampire here. There had been an indication in Negima that Eva wasn't the only High Daylight Walker/shinso vampire. Negi had stated once that shinso vampires were created via magic, not through the normal vampire means.
So Dana is a member of this aristocrat (or "noble" as it is being called now for some reason), shinso vampire race. They are very powerful, immortal, and I guess they feast on the living if they are vampires.
What bothered me is that this chapter appears takes Eva down to "fake" level. Throughout Negima, Eva was the most notorious shinso vampire and High Daylight Walker. She had a massive bounty on her head. She had incredible powers, both magical, physical, and vampiric. Now, Eva's saying, "Yeah, we are fake vampires and Dana is the real thing."
So, we are either about to get a retcon of Eva, or this is another example of how we've shifted timelines. Assuming the retcon route, Akamatsu-sensei will have to make it that Eva was trained by Dana on how to survive her conversion, then when Eva set out, she took on the title of High Daylight Walker/shinso vampire even though she wasn't a real one.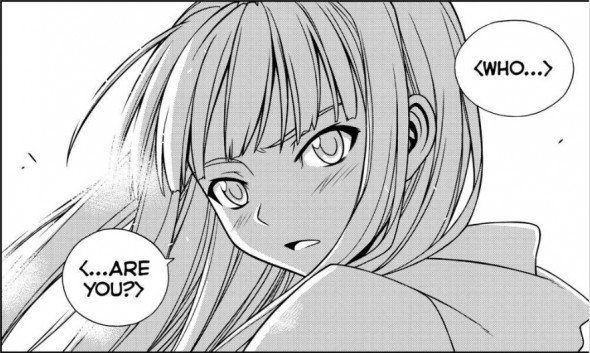 (And yes, it is a retcon as far as I'm concerned since Eva was made a vampire by the Lifemaker, and Negi identified shinso vampires as ones created in the way Eva was, via magic.)
So, is this place that Touta woke up in Lebenschilt Castle? It is very similar to the castle that Eva "packed up" and placed into a diorama sphere. There are some minor differences from what little we saw, but Eva could have made some modifications later…or we are in a different timeline and this is how the castle looked in this parallel universe.

That leads me to the next question — did Dana actually send Touta to the past?
I suspect not. Dana is mega powerful, and assuming that Eva learned magic and the like from Dana, then the phantasmagoria powers that Eva had (whereby Eva forced Setsuna into this realm; whereby faux-Eva in the scroll forced Negi into for his Magia Erebea training) likely came from Dana. The fact that Touta couldn't see out of the castle windows could suggest that he's not in a real place.
So I suspect that Touta is in a phantasmagoria realm created by Dana, depicting Eva sometime after her conversion (note that there's no Chachazero, but she's wearing the rags she wore when she first got Chachazero).  The purpose of this will be to cause Touta to understand the hardships that Eva went through, why she created Magia Erebea, etc. In understanding Eva, Touta may understand himself better.
Also, this may be a way to train Touta in how to use his own Magia Erebea by seeing Eva at the beginning when she created the technique.
As to the magical beast, if we are in a phantasmagoria, then it could be a representation of Magia Erebea. Then again, this castle could be in the Magic World, or the Vampire Realm, or something, in which case this may just be a vicious, magical monster.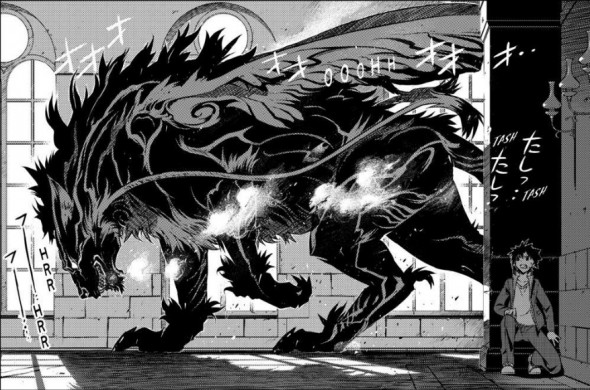 Man, I do hope we get to see Eva's past explored, INCLUDING Chachazero's creation. Seriously, if Akamatsu-sensei does this, and doesn't rush it for the sake of rushing it ('cause this current arc has been as random as heck, apparently speeding to a major tournament if things are to be believed), he'll buy a lot of love from me. 🙂
As to Dana as a character, she is amusing, even if the "make the breast bigger" joke was already done twice before in Negima. The way she easily handled Eva even gave Fate pause, and no doubt, Dana could spank Fate based on the little we saw of her here.
Dana also seems to know about Touta for some reason by identifying him as a knockoff. That brings up the question, "What is she doing here?"
So while I smell retcon coming, I also think the retcon could be done in a way that makes me OK with it. I just hope that Akamatsu-sensei's constant efforts of late to add random events doesn't continue and ruin what could be a good sub-arc.
(Oh…looks like no chapter next week…bummer. And bloody Crunchyroll STILL hasn't uploaded the missing page from last week's chapter. 😡 )