Fate/stay night: Unlimited Blade Works – 17 review
フェイト/ステイナイト [Unlimited Blade Works] – 17
SPOILER Summary/Synopsis: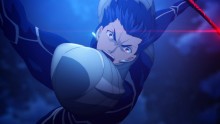 As Lancer battles Archer, Caster inquires of Souichirou's desire. He gives a brief account of when he had to kill someone, then says there's something he'd like to return to its proper place. Shirou and Rin enter, where Rin lays down her challenge. Shirou knows that Kuzuki-sensei has figured out their plans against him and Caster. As they begin their fight, the battle between Lancer and Archer heats up. Archer reveals he knows Lancer's identity, Cú Chulainn. Lancer launches his Gáe Bolg at Archer, who in turn produces Rho Aias as a multi-layered magic shield. Lancer is surprised that such a thing can stop Gáe Bolg, and Archer is surprised that Gáe Bolg slowly breaks every barrier. Gáe Bolg returns to Lancer as Archer is defeated but not killed. Having done his job, Lancer leaves.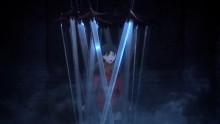 Inside the church, Rin battles Caster as Shirou battles Kuzuki, even though Shirou knows there's no way they can win. Caster is impressed that Rin's magic is able to stop every one of Caster's attacks. However, Rin is running out of mana gems and thus running out of time. She goes on the offensive, but Caster easily stops it. Caster praises her, but Rin has a surprise, causing a gem to blind Caster, allowing Rin to physically attack her. While getting four blows onto Caster, she's stopped by Kuzuki. Caster is going to finish Rin off when Archer attacks Kuzuki. Caster takes the hit instead and dies happily in Souichirou's arms. Kuzuki them makes a suicide run at Archer and is killed. Saber is freed, but now Archer turns his attentions on Shirou. He traps Rin in a wall of swords as Saber stands to defend Shirou.
Thoughts/Review:
Well, things are never dull in Fate/stay night.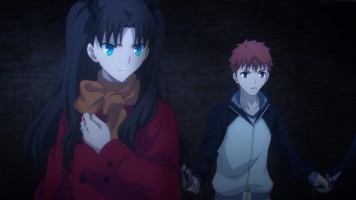 The battle between Archer and Lancer was pretty cool. Archer has always amused me since he's usually seen as a dual-wielding sword fighter. So it was nice to see that when Archer was forced to put distance between himself and Lancer, he switched to his bow and fired a volley at Lancer.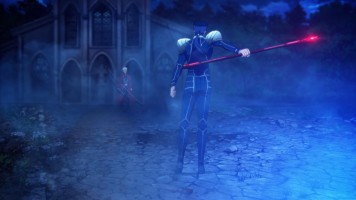 I get that Archer's Rho Aias is supposed to be a shield. Showing this as a multi-layered barrier allows for a cool effect as Gáe Bolg shatters each layer. However, since Archer produces physical artifacts, shouldn't Rho Aias have been a physical shield as well?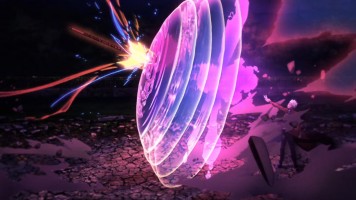 I was surprised that after Lancer defeated Archer, he just left. I don't know why (maybe it is because I'm so tired from the long hours I've been working of late), but I thought that Lancer would go in and Rin dispose of Caster. I thought that was what they were biding their time for.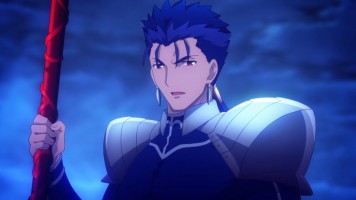 Well, it does appear that Lancer realized that Archer's plan was just to get Caster's gaze off of him so that he could do the needful and kill Caster. However, I still would have thought that Lancer would have gone in.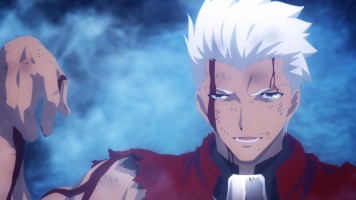 As to Rin's battle with Caster, I liked that Caster offered Rin praise. However, for some reason, I would have thought that Caster would have remarked on the flaw of needing mana-filled gems to cast spells. Caster had made remarks earlier about modern era mages vs. mages of the past.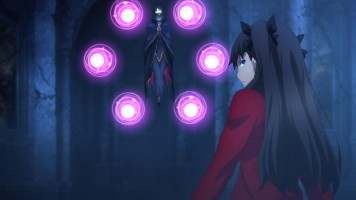 Still, it was nice seeing Rin switch to melee mode after blinding Caster. In doing this, Rin revealed the one weakness of mages of old — they need a protector to defend them while they bring their "big guns" (powerful spells) to bear. Rin may be magically limited in casting powerful spells by the number of gems she has (I presume her magic circuits are why she can fire Gandr spells like bullets), but her physical combat training certainly proves useful, as Caster found out.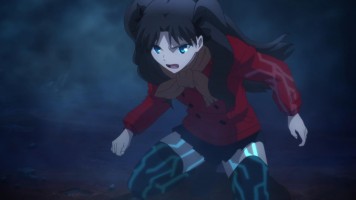 I'd remarked in a previous episode or two that Caster was being shown in a more sympathetic light so that when she died, it would affect the audience. The icing on that case was seeing Caster without her head garb. She was no longer the cold, calculating witch, but a lovely lady who just wanted to be loved and appreciated. Oddly enough, she achieved that with Kuzuki (Souichirou) and laid down her life for him.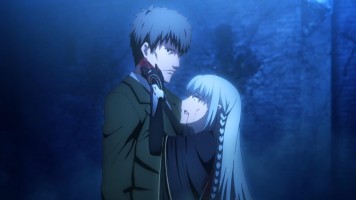 I've never asked this before, but why does Caster have elf-like, pointy ears? Don't get me wrong, she looks adorable, but she's supposed to be human, so the pointy ears don't make any sense to me.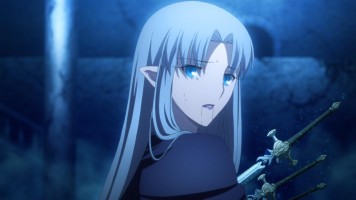 As to Kuzuki, I figured we'd learn something about his past, but we didn't learn as much as I would have liked. OK, so he killed someone, trained alone, and took responsibility for his choices. However, I was kinda hoping to see why he became a teacher, but that would have derailed the episode too much, I suppose.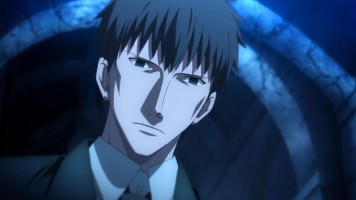 It is good to see Saber back, looking lovely as ever. However, just as Archer's ties to Rin were severed, Saber's ties to Shirou were severed. With Caster's death, it would seem that the clock is ticking for both Saber and Archer before they vanish as neither currently has a Master. Obviously, Saber could recontract with Shirou (I base this on the fact that we've seen Servants passed from one Master to another), but Archer wouldn't allow that. So the only decent path I can see happening is that Saber kills Archer, or otherwise forces him to bow to Rin. If it is the latter, I imagine that will be one funny scene.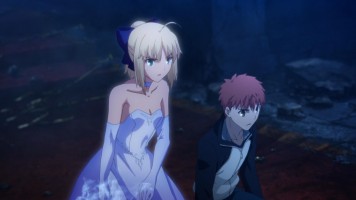 Finally, there was Shirou noticing that Archer used Shirou's "trace on" ability. I guess it is here that Shirou might start to suspect the impossible is going on in regards to Archer's true identity.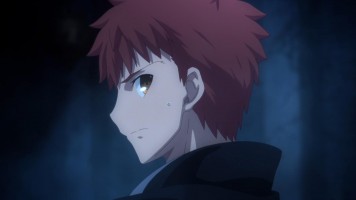 So, another good episode comes to an end. I'm really hoping that in the years to come, ufotable produces more in the Fate franchise because they've shown they can be trusted to do the franchise right.