Magical Girl Lyrical Nanoha ViVid – 05
魔法少女リリカルなのはViVid
Mahou Shoujo Lyrical Nanoha ViVid episode 05
SPOILER Summary/Synopsis: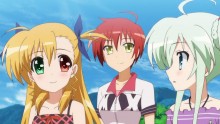 Lutecia pulls the book "Hegemon Invalt" from the library, which is about Einhart's ancestor, to lend it to Einhart. Outside, some distance from the residence, Einhart opens up to Vivio about the strong memories of Klaus Ingvalt that she has. She recounts how things were then, and his friendship with Olivie Sägebrecht, who is Vivio's ancestor and one of the most powerful combat mages ever known. The two walk back to the house and are met by Nove. They head to the training grounds, where Einhart witnesses a sample of how powerful Nanoha is. Nove explains that the different girls (and Erio) belong to different teams. Vivio offers to spar with Einhart, which she happily accepts.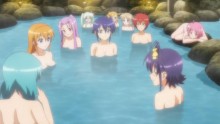 Lutecia lets Corona know that the intelligent device she made for Corona has been completed. Back at the house, Sein arrives from the church to gather eggs and vegetables. That evening, Lutecia announces the opening of the large onsen on the lodge property. Suddenly, the girls become aware of something in the water touching them, which turns out to be Sein. Sein ends up grabbing Rio from behind, leading Rio to emergency activate her intelligent device and kick Sein's butt. Everyone scolds Sein for her actions, but she ends up turning it back on the girls. Lutecia says she'll be forgiven if she cooks dinner and breakfast for everyone, something Sein is happy to do. Einhart learns that they are having a two-team battle simulation tomorrow and is excited about that.
Thoughts/Review:
Despite this episode mostly being an excuse to see naked babes in an elaborate onsen, I did like it a lot, and not for the fanservice.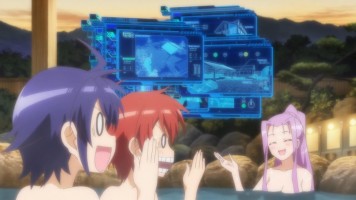 I liked that Einhart is opening up to Vivio. It has always been evident since we learned of Einhart's genetic memories that the events of Klaus and Olivie weighed heavily on her. However, in her opening up to Vivio, she admitted how much these memories are starting to overwhelm her, which is sad.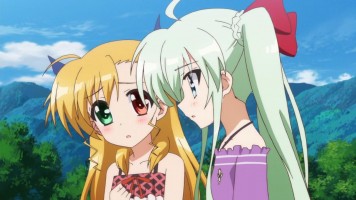 Seeing Nanoha and company in the cityscape training grounds reminded me a lot of the training Nanoha supervised in the StrikerS series. Even though Nanoha as limiters on her powers, they still can't touch her. 😉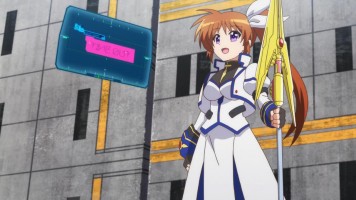 Still, this is a pretty impressive training ground that Lutecia built, just for the purpose of a long weekend visit. I got the feeling at times that this place of Lutecia's and Megane's will become some kind of paid resort at times in addition to being a farm.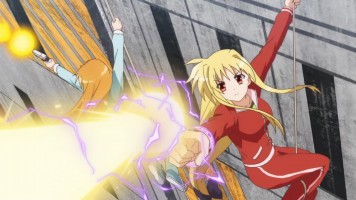 Sein's mischief in the onsen made me think of Chamo's introduction in Negima. For a brief moment, I wanted this to be Yuuno, since Yuuno can shape-shift to a ferret. Of course Yuuno would never do that.  I hope we get to see Yuuno again.  Arf too.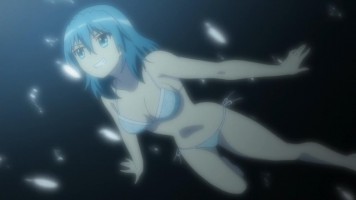 While on the subject of Sein's mischief, this was used as an opportunity to showcase Rio's mage abilities, including the fact that she too can assume teenage form. I'm not sure what the deal is with having these young girls suddenly appear as teenagers in order to fight.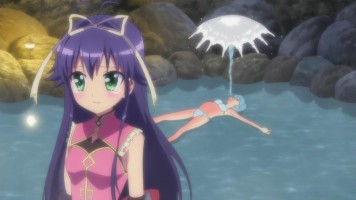 I note with some interest that Fate, Nanoha, and Megane did not get into the onsen. (Erio not being there is understandable since he's the only guy in the group.) I would have figured that they would have joined the group with that cliched, "the more, the merrier" mentality. But I guess there's a limit on how much fanservice can be done, so we'll have Fate and Nanoha planning the battle simulation, and Megane doing whatever Megane does.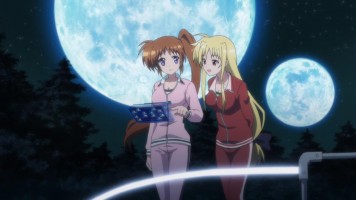 So, another fun little episode comes to an end. There may not be a lot to this series, but I like it just the same.