ハヤテのごとく!/Hayate no Gotoku Manga
Hayate the Combat Butler Chapter 491 Review
SPOILER Summary/Synopsis: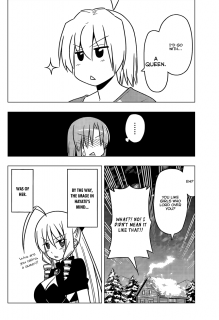 While in the sauna Hayate notices people are dropping out of the competition like crazy. Hina passes out, thus revealing she was hiding, so Hayate gets her out and to a couch, covering her up. Despite the fact that he's wearing a blindfold, she panics that he saw her nakedness, though he unconvincingly denies denies having seen it. She decides it could have been worse since it was Hayate who saw her.
Realizing they are alone together, Hina asks where Nagi is. Hayate explains that Nagi took off to win the orientation so that Hayate wouldn't become a NEET. Hina figures that if Nagi left Hayate here, she's trying to stop him from paying off his debt.
Hina decides to ask Hayate what kind of girl he'd date if he had no debts. Hayate says he'd date a queen. Hina asks if Hayate wants someone to lord over him, which he denies, having thought of Athena. He explains that he is attracted to a girl with confidence in herself. Hina interprets this to mean that he may like Nagi.
Hina then asks how Nagi left since she can't ski. Hayate responds by telling her that Ruri lent a snowmobile to Nagi. Hina doesn't know this person, and Hayate is surprised that Ruri isn't a student of Hakuou as she claimed to be
Meanwhile back at the prison, Rika, Aika, Chihharu, Izumi, and Risa are horrified by the conditions of having only bread to eat and only a blanket to sleep. Then men in black show that those who quit are back at the luxury hotel having a grand old time. Kayura says that with ¥150 million on the line, things could be a lot worse.
Thoughts/Review:
As expected, the prison part of the story element was to weed out everyone except the core group of girls and possibly Kotetsu. So the question then becomes, "What is Kananiwa attempting to achieve with those who don't quit?"  She may be wanting to put people through enough suffering to open the gate to the Royal Garden, but that doesn't feel totally right. I guess we'll have to wait and see.
As for Ruri, she appears to have her own agenda and having played on Nagi's fears, is seeking her own objective via Nagi. Whether Ruri and Kananiwa are allied still remains to be seen.
The rest of the manga was the comedy stuff revolving around Hayate having seen the naked Hina in the sauna. I laughed at Hayate wearing a blindfold and attempting to deny having seen Hina's goods.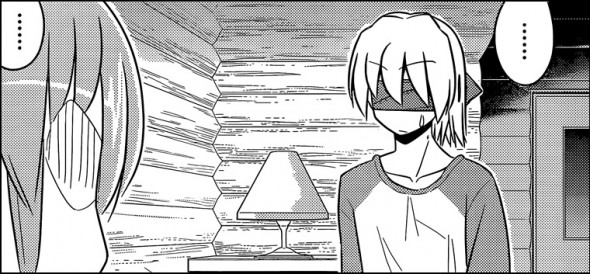 I was also amused by how Hina kept derailing herself during the course of the conversation making her think of Nagi, then asking about Nagi.
Finally, being an Athena x Hayate shipper, I am glad to see that Hata-sensei acknowledged that Athena was the one who sprang to Hayate's mind when Hina asked him what type of girl he'd date. While I still believe that Hata-sensei will try to have a Hayate x Nagi ending, the story to date has shown that Hayate is physically attracted to girls like Hina and Ayumu, but his heart is still with Athena.
That being said, I also think that Hata-sensei is trying to create the path for his Nagi x Hayate ending. By having Hayate say he's attracted to someone with confidence in herself, and by having Hina immediately think of Nagi, I think that Hata-sensei is attempting to lay the groundwork for the ending he wants. It has to start somewhere, 'cause to date, there's been nothing to suggest Hayate is romantically interested in Nagi.
In the end, a pretty fun chapter that manages to push the current arc forward a bit. It will be a couple of weeks before we get another chapter, but I suspect we may see Hina and Hayate go after Nagi.