Magical Girl Lyrical Nanoha ViVid – 06
魔法少女リリカルなのはViVid
Mahou Shoujo Lyrical Nanoha ViVid episode 06
SPOILER Summary/Synopsis: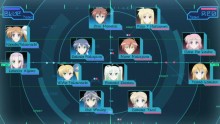 Its Nanoha's Blue Team against Fate's Red Team. Vivio (Blue) squares off against Einhart and loses again, though Vivio managed to get a counterstrike on Einhart before going down. Vivio is forced to withdraw to Lutecia's support position to heal up. Fate (Red) battles Erio to a draw. Rio (Blue) faces Corona and after a tough fight, wins. Tia (Red) battles Nanoha, who easily holds her own against Tia. Subaru (Blue) battles Nove in a draw fight. Tia orders Einhart to attack Nanoha. Nanoha is surprised by Einhart's skills, but captures the girl. Einhart breaks free, shocking everyone, but Nanoha puts her down, forcing her to withdraw to Caro's position to heal. Tia launches a major attack on the Blue Team as she and Nanoha prepare to take each other out.
Thoughts/Review:
With no enemy to fight, the only way to get some action is to have the girls (plus Erio) duke it out. I have no problems with that, even if it is mostly for action service.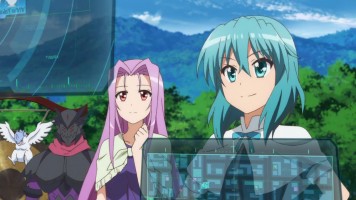 It isn't surprising that Vivio continues to lose to Einhart. Einhart has superior skills and training. However, it was nice to see Vivio get to use her magic in combat. No doubt that before all is said and done, Vivio will be as good as Nanoha and Fate.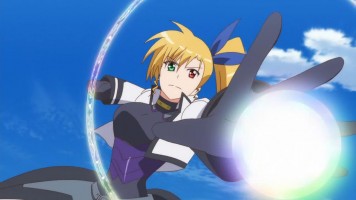 I was a bit worried that the writers would have Einhart beat Nanoha in this episode. I would have been annoyed had that happened because this is freaking Nanoha we are talking about. I didn't have a problem with Einhart being good enough to break free of Nanoha's trap, but I wanted her to take a beating at the hands of the ultra powerful Nanoha. When Nanoha spanked Einhart with the Strike Stars spell, I cheered. Nanoha had to get a little serious, and Einhart got what she wanted to.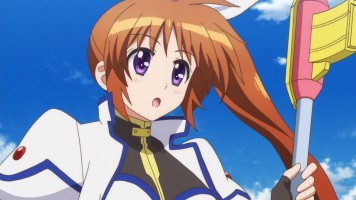 I'm still a bit worried that they'll still find a way for Einhart to beat Nanoha, which I don't think should happen, at least not for a LONG while. Nanoha and Fate are the most powerful mages at this training camp, and they have battle experience going back for over ten years. Regardless of the training and ancestral memories Einhart has, the best she should be able to do is cause Nanoha to not hold back as much on her.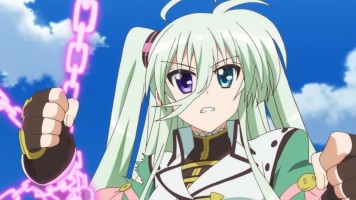 Ultimately, I'd love to see things wind down with a fight between Nanoha and Fate since they are the top dogs here. It would be a nice nod back to Magical Girl Lyrical Nanoha, when the two were nine years old and opponents. And, I imagine that Einhart would really enjoy seeing that fight more than anyone else. Well, we'll see what happens.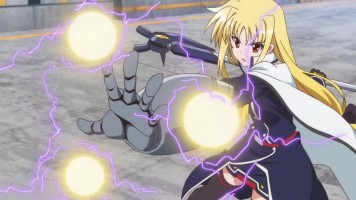 I got a bit of a chuckle over Corona summoning a golem she names Goliath. I couldn't help but think of Ilya and Berserker for some reason.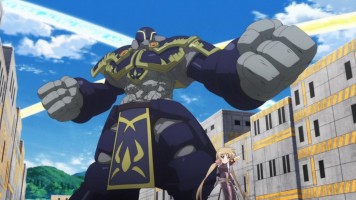 Normally, this kind of training episode might bore me, but this is the Nanoha gang we are talking about, and my fondness for them all causes me to give a mindless episode like this a giant pass.