Here is some SPOILER info for the upcoming UQ Holder chapter 79, courtesy of 2ch. (My review of UQ Holder chapter 79 should come out Friday.)
UQ HOLDER CHAPTER 79 SPOILERS
The UQ Holder chapter 79 goodness begins.^_^
This looks to be chapter 79's spoilers.
スパルタ修行

かくてダーナの下で鍛えられることになった刀太たちは厳しい体力訓練
やってられるか!と帰ろうとするキリヱだが(ここで駄ぱんつ)
ダーナの許可なく空間を出られず

あえてダーナはキリヱに手出しせず
九郎丸の胴から下と刀太の上半身を粉みじんにする
そして再生までの時間を計り、遅い!と一喝
ダーナは腕一本なら0.1秒、全身木っ端微塵でも0.5秒あれば
衣服込みで完全再生してみせる
このあと三太は浄化魔法を喰らい成仏しかけた

こうして、殺害され続けること196回
刀太は自室に帰る気力もなくぶっ倒れる……

■再び現れた幼き雪姫!!寝首をかきに来たのか…!? 25号につづく
It appears as if this is a training chapter for Touta ("Sparta Training" as the spoiler title says). I think Kirie discovers that you can't leave without Dana's say. Touta may get killed 196 times, but I'm not totally sure about that. As usual, we'll have to wait for those with actual Japanese knowledge to enlighten us. 🙂
In the meantime, I'll keep an eye open for spoiler images. Should there be any images, additional info, or translations, I'll make an update.
Update #1: This time Cube gives us a translation.
Warning, my Japanese reading is still at a very basic level, but with that out of the way…

スパルタ修行
Sparta Training

かくてダーナの下で鍛えられることになった刀太たちは厳しい体力訓練
And so, under Dana, Touta and company undergo strict endurance/physical training
やってられるか!と帰ろうとするキリヱだが(ここで駄ぱんつ)
Can they do it!? And uninterested Kirie wants to return home (something about panties?)
ダーナの許可なく空間を出られず
You can only leave with Dana's permission

あえてダーナはキリヱに手出しせず
Dana lets Kirie interfere on purpose
九郎丸の胴から下と刀太の上半身を粉みじんにする
Kuromaru and Touta are split apart, from Kuromaru's lower torso and Touta's upper body
そして再生までの時間を計り、遅い!と一喝
And so, they measure the time until they revive, slow! (Someone) screams (I'm assuming Dana)
ダーナは腕一本なら0.1秒、全身木っ端微塵でも0.5秒あれば
Dana can a single arm in 0.1 seconds, even the whole body from being blown apart in 0.5 seconds
衣服込みで完全再生してみせる
I'll show you a perfect rebirth, including clothes
このあと三太は浄化魔法を喰らい成仏しかけた
After this, Santa gives exorcism magic a try and goes to Nirvana (???????)

こうして、殺害され続けること196回
With this, the murders continue 196 times
刀太は自室に帰る気力もなくぶっ倒れる……
Touta returns to his room, without energy he passes out

■再び現れた幼き雪姫!!寝首をかきに来たのか…!? 25号につづく
Once more, the apparition of a small girl Yukihime!! It came to (Touta's?) sleeping body…? Continued in chapter 25.
I think that's issue 25 Weekly Shounen Magazine. I'm not sure what issue the last chapter was in (it was a double issue), so I'm not sure if this means another break or not. Regardless, thanks to Cube for this!
Update #2: Spoiler images, courtesy of MK.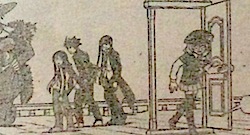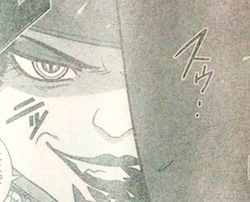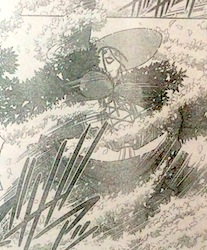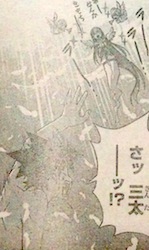 Man, I hope that's just a gag about Santa passing on. Well, I guess we'll find out Tuesday evening (my time).