Pretty Guardian Sailor Moon Crystal – 21 Review
美少女戦士セーラームーンクリスタル
Bishoujo Senshi Sailor Moon Crystal
SPOILER Summary/Synopsis: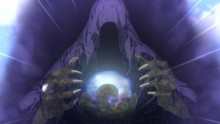 Usagi wakes in a strange place after having a dream that an adult Chibi-Usa stole Chiba from her. She's in a massive room where in the center, a hologram of Neo Queen Serenity is active. Prince Demande appears and explains how his Black Moon group were not happy with life on Earth and were contacted by Wiseman, subsequently taking up his offer to go to planet Nemesis. He further explains that upon their attack on Crystal Tokyo, Neo Queen Serenity's emergence to help Chibi-Usa caused Demande to become infatuated with her. He attempts to enthrall her as he'd done to Sailor Moon, but the Legendary Silver Crystal grows to encase Neo Queen Serenity and protect her. Once Demande realized Sailor Moon was the same person, he took her instead. To that end, Demande kisses Usagi.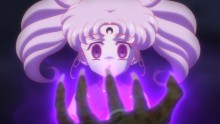 King Endymion assists Sailor Venus and Tuxedo Mask as they plan a rescue mission for their comrades. Meanwhile, Usagi is depressed, more so since she can't transform. Her thoughts of Sailor Jupiter, Sailor Mars, and Sailor Mercury causes Mako, Rei, and Ami to awake. However, their attempt to transform fails and they pass out again, but not before Usagi touched their minds. Elsewhere, Chibi-Usa recalls how she was picked on by other students and stole the Legendary Silver Crystal. She then recalls how she met Sailor Pluto for the first time and how they became friends. She goes to see Pluto, only to discover she's happily talking with the image of King Endymion. Feeling abandoned, Chibi-Usa sets out, accidentally leaving her space-time key behind, where she's then found by Wiseman and goes with him.
Thoughts/Review:
It figures that after liking last week's episode more than any other in the series, this week's episode would mostly be eye-rolling for me.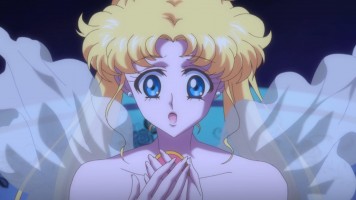 This episode provided a fair amount of exposition in the form of flashbacks to explain things. First up is Demande. So far, he has no ties with Usagi from the past, but in the 30th Century, after his attack, he sees Neo Queen Serenity and goes, "Man, I've got to have me some of that cake." Since he could have the 1000 year old Usagi, then go for her 14 year old self.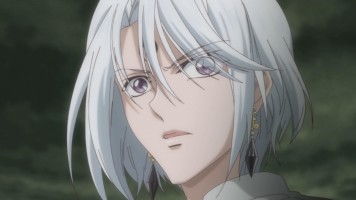 I rolled my eyes at the fact that Demande got a free snog on Usagi. While she was dumb enough to willingly let him kiss her (she made no effort to not be kissed), at least she didn't open her mouth and play tonsil hockey with him before becoming repulsed.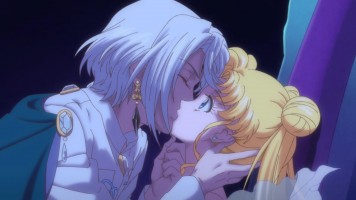 The second pile of exposition is for Chibi-Usa's past. Making her the target of being made fun of didn't make a lot of sense to me. I only saw it as a forced attempt to make Chibi-Usa a lonely girl. There's no way in the world those school boys didn't know she was the princess. But hey, we need her to be lonely and ostracized 'cause the plot demands it. (Or maybe she it was because she appeared to be wearing a non-standard uniform.)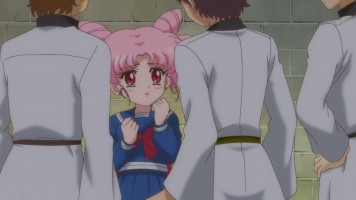 Her encounter with Sailor Pluto came off stupidly to me. Sailor Pluto treated Chibi-Usa kindly when she entered the door to Pluto's domain because of Chibi-Usa's identity (and I'm cool with that). However, when Sailor Moon comes in an earlier episode, she and her crew are immediately attacked because apparently, the master of time and space cannot detect that her king and queen from 1000 years ago has just arrived.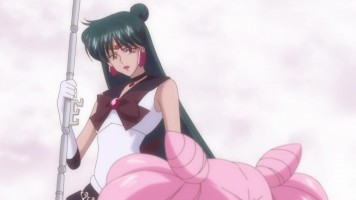 Continuing the eye-rolling experiences with "because the plot demands it" moments, Chibi-Usa's feeling abandoned by Sailor Pluto also felt forced just because she saw that Sailor Pluto would have born King Endymion a child if he asked. Apparently, hearing Sailor Pluto praise her didn't have any affect on Chibi-Usa.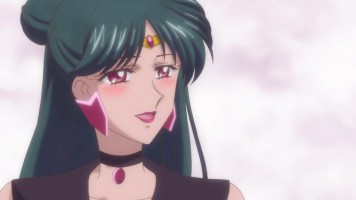 So now Chibi-Usa goes to the dark side. No doubt, Usagi's dream about Chibi-Usa being an evil adult will now come into play since King Endymion gave some bogus excuse for Chibi-Usa having ceased to grow, but she would grow and her powers would activate so that she could rule Earth. So now's the perfect time for her to become the evil Queen Metalia. Yeah, that's the ticket!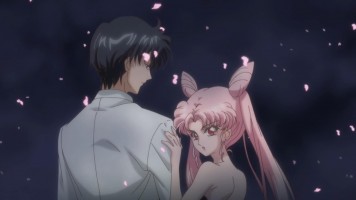 Finally, how about the Sailor Jailbait who'd been captured and finally came to after hearing Usagi? Ah, but as usual, they suck, so back down they go. So much for nakama power there, eh? 😉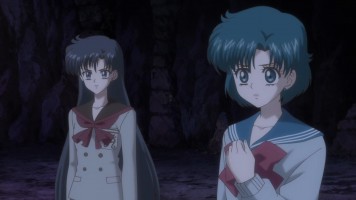 In the end, a lot of eye rolling was done by me. However, I will truck on whenever the next episode comes out.