ハヤテのごとく!/Hayate no Gotoku Manga
Hayate the Combat Butler Chapter 497 Review
SPOILER Summary/Synopsis: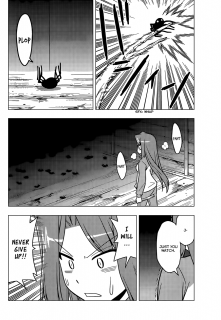 Hina notices that someone has given up, leading Izumi and Risa to believe it has to be Aika. Aika slaughters the spiders in the cabin, but then hears a loud animal noise outside.
Hayate has Kotetsu bound, promising to let him go once Hayate has finished his task. Nagi asks if he's really going to do this, which Hayate confirms. He knows which floors have the survivors and which ones have the dropouts. As such, he's going to start with the two other survivors on their floor — Azumamiya and Chiharu.
Hayate uses the ventilation to get into Azumamiya's room. He finds the guy sleeping, so he takes his hand to push the button on his completer when Azumamiya wakes up. Hayate knocks him out and pushes his completer. Hina notices the survivor number drop again and realizes that someone is pushing other player's buttons.
Hayate enters Chiharu's room, where he discovers she's not sleeping. Looking for something to watch, she does the free, short time porn trial. She gets worked up and so has to take a shower. Hayate realizes he's in a dangerous position since she could call the cops. Hayate decides he'll leave the room and try again later. Before he can escape, Hina drops by for a visit, looking for the person pushing the button on the completer.
Thoughts/Review:
Har! I couldn't help but laugh at Aika slaughtering spiders. Well, that's the only way to take care of a problem like that.
So now we see Hayate's plan, which wasn't to end the contest per se, but remove all the other contestants. I got a laugh out of Hayate's encounter with Azumamiya.
Hayate's encounter with Chiharu was amusing, since he had to keep hidden as she decided to look at the porn previews and take a shower.
Then there's Hina. It isn't surprising that she figured out that someone was pushing other people's completer buttons. I presume the only reason she went to Chiharu's room was because Azumamiya is on the same floor as Chiharu. I figure she suspects Hayate because he and Nagi are also on this floor.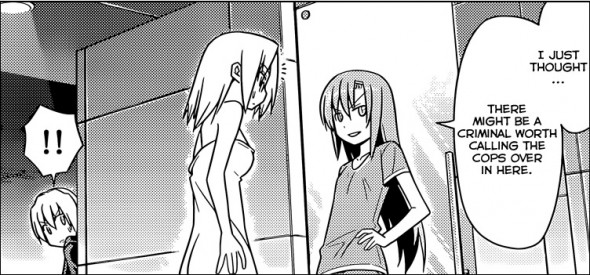 So, does Hayate use a trick to get Chiharu and Hina out of this by pushing their completer button? I figure that Hina would use the threat of the cops against Hayate to stay in the contest, but she will help him knock out other competitors.
Finally, I note that the hotel they are staying at in South America is SANZENINN. Even though this hotel is in South America, it is using the kanji for "san" as its logo (三). That strongly implies that Nagi's family owns the hotel, which would make sense as I think this trip is tied to the main plot.