Here is some SPOILER info for the upcoming UQ Holder Chapter 84, courtesy of 2ch. (My review of UQ Holder Chapter 84 should come out Tuesday or Wednesday.)
UQ HOLDER Chapter 84 SPOILERS
The UQ Holder Chapter 84 goodness begins.^_^
This looks to be Chapter 84's spoilers.
キティの希望と絶望

刀太は偶然にも、ダーナの異次元送りを反射してしまう
あくまで偶然なので、その後のキティの氷結魔法は直撃した

助けなどいらない、それでも助けになるというなら殺してくれ、と
キティに言われた刀太はそんなこと言うな、この先好きな男もできる、と
キティ「で… その男というのが貴様ということか?」
刀太「あんたが好きになるのは俺なんかよりよっぽどかっこいい赤毛の男だぜ」

などと話していると空がひび割れ、異形の形相で腕を増やしたダーナが
刀太に迫り……(初心者)卒業証書を授与
ダーナ「……さて キティ」

■卒業証書の渡し方、怖すぎ!!
As usual, we'll have to wait for some gracious person to come along and translate. 🙂 Chapter appears to be Eva (Kitty), Touta, and of course, Dana. I guess Touta passes one element of his training and so levels up again.
There's more to it than that, but I am nearly sleep walking at this point. (The joys of me at the moment. 😉 ) More updates when they appear, including spoiler images.
Update#1: DerGilga comes in for a translation. 😀
キティの希望と絶望
Kitty's hopes and dispairs

刀太は偶然にも、ダーナの異次元送りを反射してしまう
Coincidentally/unexpectedly Touta manages to reflect Dana's 'different dimension sending of'.

あくまで偶然なので、その後のキティの氷結魔法は直撃した
Because it was so coincidentally/unexpectedly, thereafter a direct hit by Kitty's freezing magic happens.

助けなどいらない、それでも助けになるというなら殺してくれ、と
'She doesn't want any help, but if he says he becomes her help, she asks him to kill himself.'

キティに言われた刀太はそんなこと言うな、この先好きな男もできる、と
Touta, who was told this by Kitty, says this with emotion, 'her former beloved man could do this too'.

キティ「で… その男というのが貴様ということか?」
Kitty: 'Who is this man you/kisama spoke of?
// kisama is a very negative address

刀太「あんたが好きになるのは俺なんかよりよっぽどかっこいい赤毛の男だぜ」
Touta: The one you will be loving, more than someone like me it will be a very an attractive redhead!

などと話していると空がひび割れ、異形の形相で腕を増やしたダーナが
While they're talking about all this, the sky crackes, Dana, who increased her abilities with a fantastic/grotesque expression,

刀太に迫り……(初心者)卒業証書を授与
(puts) Touta on a stage elevator…. and gives him his (beginner) graduation certificate
// google 迫り

ダーナ「……さて キティ」
Dana: and now Kitty

■卒業証書の渡し方、怖すぎ!!
the way the graduation certificate was given, too scary!!
Well, I did think that Touta leveled up again, and he apparently has. And it does appear that Eva's falling for Nagi and Negi is based on her meeting Touta. The circle is now complete, for better or for worse.
Anyway, thanks to DerGilga for the translation of the chapter 84 spoilers. 😀
Update #2:  A bit of a correction from DerGilga.
Due to Hata's helpfull feedback, there may be a big error in the translation. Better to correct that.

助けなどいらない、それでも助けになるというなら殺してくれ、と
'She doesn't want any help, but if he says he becomes her help, she asks him to kill himself***.'
//There is no object to kill, so I inserted 'himself', but given the ambiguity it could also mean, that Kitty is asking to kill her or Dana.
Thanks DerGilga.
Update #3: MK's images.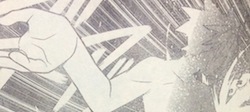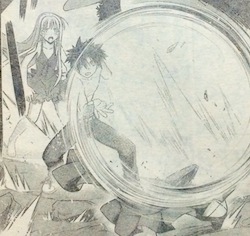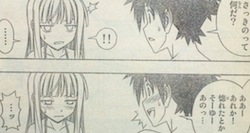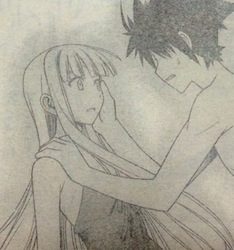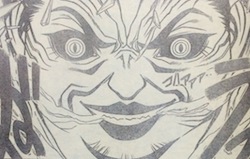 The scary side of Dana, eh?  😉
Oh, and 2ch had a couple of images as well.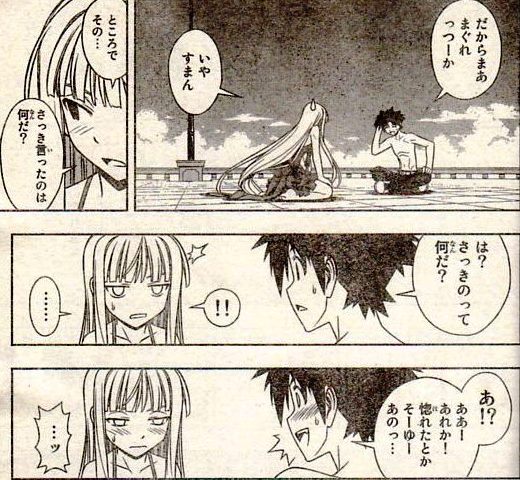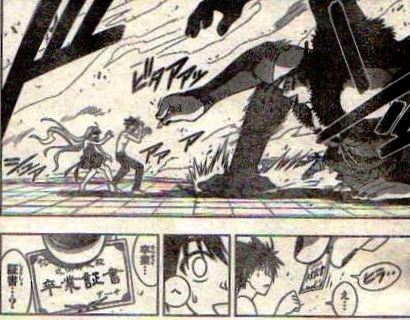 I guess that's Touta getting his diploma.