Pretty Guardian Sailor Moon Crystal – 23 Review
美少女戦士セーラームーンクリスタル
Bishoujo Senshi Sailor Moon Crystal
SPOILER Summary/Synopsis: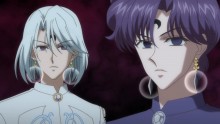 Sailor Moon is determined to go after Chiba and Chibi-Usa, so Sailor Pluto reluctantly takes them into the time storm until Sailor Moon passes out. On Nemesis, Prince Demande and Saphir wake in the Chamber of Darkness, where they find Rabbit (the adult Chibi-Usa) there. She takes them to the place in space and time where Wiseman resides. When Saphir inquires about Rubeus, Rabbit tells him Rubeus was killed for rebelling against Wiseman. When Saphir and Demande question Wiseman, he punishes them and forces them to submit to his will. Rabbit announces a new attack on Crystal Tokyo to force Neo Queen Serenity out, and reveals she has what she wants — Endymion.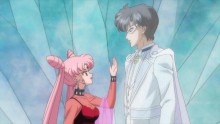 Usagi wakes at home, surrounded by her comrades. Her mother's memories have been altered and they explain they returned to the present until Usagi woke up. Usagi is determined to return and save Chibi-Usa and Chiba, so the others are with her. In the future, King Endymion frets and is comforted by Diana. Back in the present, Usagi's comrades leave, but when Usagi drops the space-time key given to her by Sailor Pluto, things start happening. The girls return to Usagi and transform to return to the future. They see the Black Moon attack on Crystal Tokyo as Rabbit enters the Crystal Palace and is challenged by the shocked Kind Endymion. Sailor Moon arrives, so Rabbit attacks her, but is stopped by Neo Queen Serenity's power. The other Sailor Senshi arrive, so Rabbit introduces herself as the Queen of Darkness, Black Lady.
Thoughts/Review:
This episode is further proof of why bimbos make poor magic girls.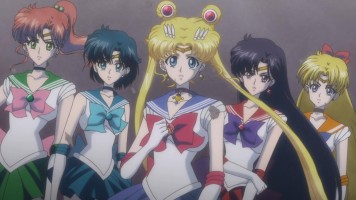 Seriously, Sailor Jupiter, Sailor Venus, Sailor Mars, and Sailor Mercury are all worthless. Their only purpose in life is to look hot in their sailor magic girl outfits and act tough before getting "bitch slapped" (pardon the vulgar term there) and put in their place, which is usually unconscious on the ground. Despite this, they are every so optimistic that THIS time, they will succeed.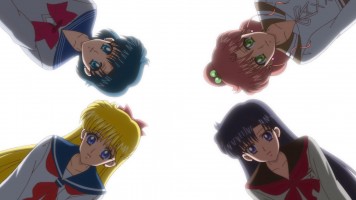 Pardon me while I laugh.  BWAH!HA!HA!HA!HA!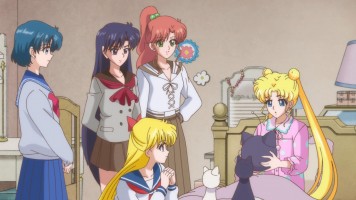 Of course Sailor Moon isn't any better.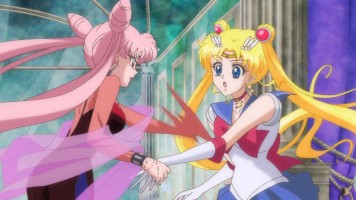 The only one with any amount of common sense is Sailor Pluto, but in the end, she ended up giving in to the stupidity of the others.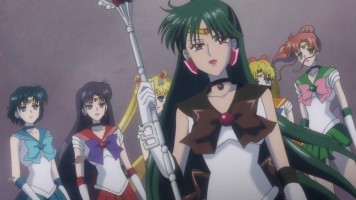 I like this new Chibi-Usa, aka: Black Lady. For some reason, I just want her to lay the smack down on everyone, including Wiseman, and say, "Up yours!" Obviously, that won't happen (at least, not completely) as we have to get her back to her "good" self.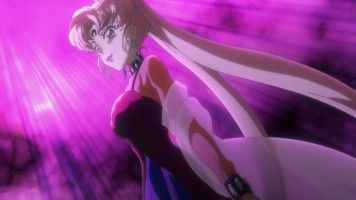 I say I like Black Lady, but there is one aspect I don't like about her — her incestuous desires for Chiba. Ugh! Seriously? She wants to bang her own father? I don't care if he is from the past or not. One's parent is one's parent, even if it is from a time when they were young and hot (assuming they were even considered "hot" to begin with).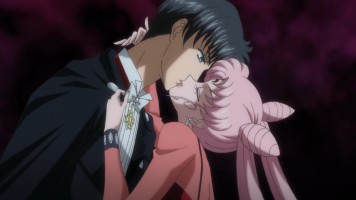 Oh well. It isn't like I expect much from this series. I certainly don't get much, and this episode was no different.