ユーキューホルダー! Manga Review
UQ Holder Chapter 82
SPOILER Summary/Synopsis: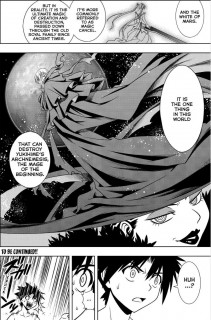 Dana sends Kuroumaru to defeat a massive dragon in a week in Kuroumaru's own homeland, even though it would take five Shinmeiryuu masters to do such a task in a week. Santa is sent to Inverse Mars, where he has to battle a hoard of giant, magical spiders that eat spirit matter. Kirie is sent to a library to become the best of the best mages in a week, meaning she will have to kill herself multiple times to relive the week and get all of the learning in to pass Dana's test.
Kuroumaru and Santa have lowered their regeneration times to 26.4 and 23.7 seconds respectively. Dana kills Touta several times and teaches him more about regeneration and bluffing.
Touta is put back on the hoops and ball, impressing Dana. She has him look down, where he see's he has created the ying and yang symbol. As a reward, Dana tells Touta that the black magic of Venus in him is Magia Erebea, a forbidden spell which was created by the Mage of the Beginning/Lifemaker. It is this mage who turned Yukihime immortal in one of the mage's experiments. It is Magia Erebea that made Touta immortal.
The other is the white magic of Mars, Magic Cancel, which is more accurately called the ultimate magic of creation and destruction. This is the magic which can destroy Yukihime's nemesis, the Mage of the Beginning.
Thoughts/Review:
Well, we are either retconning, or we are in a timeline that was not mentioned in Negima.

Eva's origins in Negima were such that it was implied she came from an important European family. I never thought she was royalty, but I did think she might be from a titled family, or a very wealthy family. After all, we were shown a castle, and then the room where Eva was apparently transformed. The implication is that Eva lived in that castle and that she was in said castle. Well, that might be true, but now, Eva was just a peasant girl. So if she did live in that castle, I guess she was just a servant girl.
Magia Erebea was supposed to be a technique that Eva created, which gave her a boost in power far exceeding her normal powers. Eva then (conveniently) recorded this in scroll, inhabited by a piece of herself. Later, Dunamis (Dynamis) noted ME when Negi used it and said it was similar to the Mage of the Beginning's power. That didn't seem to take away from Eva's discovery. Back then, I saw Eva as having created a technique that used the dark powers of MotB to give herself a huge boost until she no longer needed it.
However, coming right out and saying, "The Lifemaker created Magia Erebea, and it is a dark magic spell" does take away from Eva's discovery in my mind. Now, it isn't a technique invented by Eva, but rather Eva lucking into using a spell from MotB for her own, after which she recorded it because it needed recording as a technique, even though it was a spell.
So, why would the powerful MotB need a forbidden magic to boost their own power? How would "I can't use magic boy" suddenly be able to use this dark magic spell? As a technique, I could buy Touta being able to somehow use ME through genetic memories. As a magic spell, I call BS.
Then there's Magic Cancel. When Asuna was alive and kicking, it was something unique to her. Arika didn't have Magic Cancel, but she did have Royal Magic which worried some to the point of attempting to execute her. However, Weapon-X Asuna was apparently not even seen as a human being, but a weapon component, forcing Nagi and Ala Rubra to come rescue her during the war. She was so unique, her memories had to be purged to protect her as she was then hidden on Earth in plain sight.
According to this chapter, Magic Cancel is just the common name for the ultimate white magic of Mars, that the magic of creation and destruction. This magic was apparently passed down by members of the royal family to their descendants. Except Arika didn't get it, and though Asuna had it, she was apparently put on ice until needed as a weapons component.
In the end, it is playing very loose with the continuity of Negima, and thus is retconning if we are truly connected to Negima. However, if this is ultimately another timeline that had not previously been seen (as I have speculated), then Akamatsu-sensei can retcon as much as he wants and say, "Another timeline."
It appears that Kuroumaru, Santa, and Kirie were all sent to their level caps so that none will be able to stand up to them. I can see it now, Kuroumaru's entire clan comes up to destroy Kuroumaru, but Kuroumaru sneezes and destroys the entire clan. Santa farts and purifies magical monsters. And Kirie becomes a mage so awesome, Negi and Nagi combined look like bumbling ignoramuses in comparison.
Of course, our main character isn't far behind. Touta's being set up to become god of the universe, making his every word law.
The one thing this chapter does is make me think that Akamatsu-sensei might be just tired of it all and is getting ready to wind it down. You get all your characters here to their level cap, then have them go out and smoke Hoodie, then Mage of the Beginning. After that, Nagi and Negi encourage Touta to hook up with Eva. Kuroumaru becomes a lovely girl, Kirie decides she'll also be with Mr. Incompetent, and Karen decides that sleeping with the man that sleeps with Eva is good enough as an indirect relationship goes. And Touta lives happily ever after, until the end of time.
I've written a ton for a chapter that left me disappointed. Next week, I'll have mostly forgotten whatever I'm feeling now as new things will distract or irritate me.