Fate/kaleid liner PRISMA☆ILLYA 2wei Herz! Episode 01 REVIEW
Fate/kaleid liner プリズマ☆イリヤ 2wei Herz!
Fate/kaleid liner Prisma Illya 2wei Herz! – 01

SPOILER Summary/Synopsis: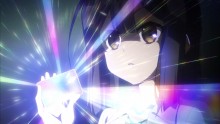 School is out for summer, so Ilya, Miyu, Kuro, Mimi, Natsuki, Suzuka, and Tatsuko head out to buy swimsuits for their upcoming beach trip, courtesy of a credit card with a massive limit on it from Luvia. Natsuki, Suzuka, and Tatsuko cause a commotion in the store and have to be scolded by an employee, leading them to try to speak like adults. Kuro informs Ilya that she's low on mana, so the two go to a stairwell to do the mana transfer. Mimi follows as Ilya is not happy about having to kiss Kuro. Kuro explains the other transfer methods, leading Ilya to freak out. Mimi freaks out, seeing Kuro and Ilya kiss and is caught by Miyu, who's attitude about the kissing seems quite mature to Mimi.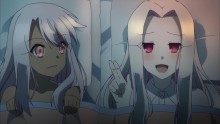 Kuro, Ilya, and Miyu walk home and assure Miyu that it is OK to spend the night, since Luvia's house is being reconstructed. Seeing Miyu's blushing reaction to Shirou, Ilya warns him not to touch Miyu. At dinner, Shiro helps make tempura and as they eat, Iri teases Shirou about having a harem, leading Sella to scold him, Liz to call him a lolicon, and Ilya to warn him again about Miyu. After the three girls take a bath, Kuro tries on Miyu's negligee to show off for Shirou, leading to more teasing. That night, he's teased again when he goes to check in on the three girls and Iri, whom are all sharing a bed as Iri wonders if he should be castrated. The next day, Shirou escorts the girls for their beach trip.
Thoughts/Review:
It sure is nice to return to a world where Sella, Liz, and Ilya are alive and will. Unfortunately, things were way too ecchi for my tastes, even if there was humor from some of this ecchi content.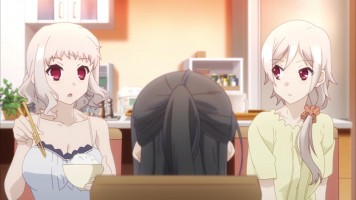 I really could do without the ecchi content. I didn't need to see an extended scene of Ilya and Kuro playing Battle of the Tongues. The whole scene was primary for otaku titillation purposes, with the minor secondary purpose of having Mimi freak out over it for comedy's sake. I just cringed the whole time this was going on. I swear, I kept expecting this to shift to a loli, hentai scene.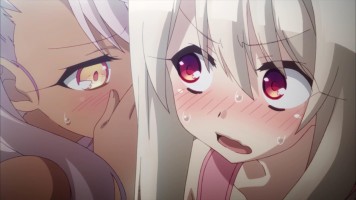 Of course that and some swimsuit scenes weren't enough, so lets get Ilya, Kuro, and Miyu naked after a bath. Of course we have to get Kuro showing off the negligee and Miyu showing up in only a towel.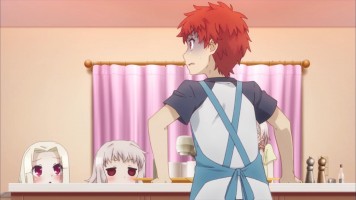 That being said, I couldn't help but laugh whenever Iri initiated the teasing of Shirou regarding him having a harem, or how he shouldn't "attack" the girls when they are sleeping, or how she might have to castrate him if things get out of hand. I admit that all of that was pretty darned funny.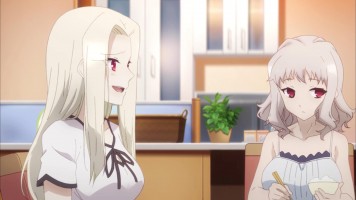 Having Tatsuko go out of control at school and at the store was sort of amusing. She's one of those characters that could get on my nerves real quick.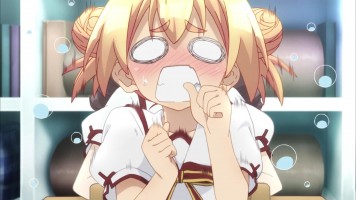 I was pretty amused at how Tatsuko, Natsuki, and Suzuka did their version of "we're not worthy" to "Miyu-sama" upon her revealing the glowing credit card that could buy the whole store. That was iced with Miyu's cold response back, which was also amusing (though I hope she does start accepting the others as friends).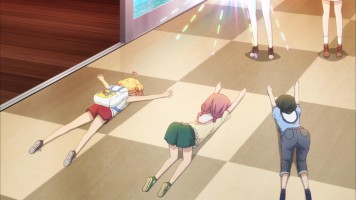 There was only one actual plot element in this episode, where Rin and Luvia discuss how the location of the eighth card is somewhere in the ocean.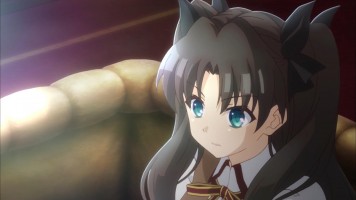 In the end, this was a very ecchi episode, but the massive amount of humor generated by Iri teasing Shirou helped me get passed this. Next episode is the beach episode, so I figure no let up on the ecchi content. We'll see though.