ユーキューホルダー! Manga Review
UQ Holder Chapter 88
SPOILER Summary/Synopsis: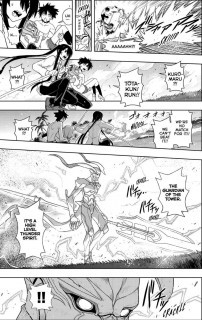 Despite his bragging, Touta soon becomes exhausted running on the water and has to be towed by Kirie before he gets eaten by a giant fish, forcing Kirie to kill the creature that ate him. When they reach the jungle on the opposite shore, Kirie forced Touta to promise to tell her the whole story behind why he wants to get to the ruins so quickly.  The two discover things are not going to be easy as they attempt to elude the various magical beasts.
After three and a half days, they reach the ruined castle. They see a flash from one of the towers, leading Touta to think that Kuroumaru, Santa, or both have already gotten here. Kirie puts a hand on Touta to stop him when they find themselves back at the library where Kirie made her save point, meaning they just died. Touta is not happy, but is reminded by Kirie that they now have the full four days again and that this time, the trip should be easier.
After three days, Kirie and Touta arrive back to where they were killed. Kirie uses telescope magic to check the tower where they'd seen the flash where she finds a humanoid there before it disappears. Kuroumaru suddenly appears to knock them out of the way as there is a massive explosion. Kuroumaru tells them to run since they can't beat it, identifying the creature as the Guardian of the Tower, a high level thunder spirit.
Touta has Kirie in his arms as she grabs Kuroumaru just before the Guardian kills them. All three show back up in the library. Kuroumaru identifies their opponent as Ruin Ishkur, a monster as powerful as Negi Springfield.
Thoughts/Review:
This part of the training arc is very similar to when Negi and Chachamaru were making their way through the Magic World before hooking up with Chisame in Negima! Well, they probably are on Inverse Mars, which would explain all of the magical monsters they are encountering.
This chapter continues to show that Kirie does like Touta. Her intense curiosity about the girl Touta is supposed to meet and her blushing reaction to Touta liking some girl betrays her.
It is always so frustrating when Touta gets all stupid. He wants to do something and since he's Super Touta, he can do anything, brags about it, then fails. After all he's been through, anyone with half a brain should have picked up on the pattern here and made adjustments accordingly.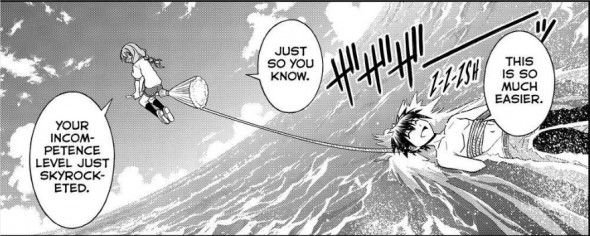 (As an aside, considering that on their second run for the ruins, Touta had his shirt but by the time they got to the castle, he'd lost it, I'm going to take that as a sign that Touta's stupidity caused him to lose said shirt.)
For Kuroumaru to see and save Kirie and Touta just in the nick of time, Kuroumaru had to be somewhere where Kirie and Touta could be easily seen. However, in order for Kuroumaru to know what kind of danger the two of them where in, Kuroumaru had to be able to scout the area, spot the Ruin Ishkur, and then notice that Kirie and Touta where in the area to save them. It smacked as a little convenient, but I like Kuroumaru, so I'll go with it.
I'm going to assume that Kuroumaru knows of a Ruin Ishkur because the knowledge came from Kuroumaru's tribe. As such, since they can't beat it, the goal must then become to elude it. I figure that's what Kuroumaru was attempting to do before noticing Touta and Kirie.
Although they picked up half a day on the second trip to the ruins, it would seem that they'd have to use this time to come at the castle from a different point to try to keep themselves from being discovered. In doing this, I can also see them running into Santa.
I suspect Santa will be the key to the success of this operation, at least to get into the ruins. While it is unclear if Santa's phasing ability would be able to withstand these instant kills by Ruin Ishkur, Santa should be able to move through the ground undetected. I can see him being able to cause a distraction that allows the others to get in without being slain.
It is a long shot, but to pick up time, since they know where they are going, I suppose Kirie could try to find some teleportation spell to get them there quickly (likely having to die after getting it and at least be able to recite said spell, allowing them to go back to the save point, teleport in, and move out from there). To me, this would allow Akamatsu-sensei to do the Adventures in the Ruins story that we didn't get to see in Negima! (featuring Setsuna and Kaede).
In the end, this was an interesting chapter. We'll see where things go.