境界のRINNE ep 15
Kyoukai no RINNE – 15

SPOILER Summary/Synopsis: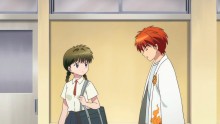 Rinne wants to clear misunderstandings up between himself and Sakura, but he keeps getting interrupted. Ageha makes Rinne a huge bento in a three layered bento box from her home. On her way to give it to Rinne, she's attacked by Tsubasa. After learning she's a Shinigami who wants to save Rinne from his poverty, Tsubasa becomes her huge supporter as it means he can have Sakura to himself. She delivers the bento to Rinne as a thank you, so he accepts. However, he takes it home so Sakura won't get another misunderstanding. After failing to talk to Sakura a few more times, at lunch, Tsubasa talks to him, telling he met Ageha and tries to set them up. When Rinne says he neither likes nor hates her, Sakura hears that he doesn't hate Ageha, causing another misunderstanding.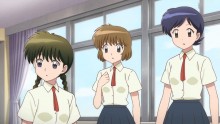 Rokumon brings Ageha's bento to class, causing the situation Rinne hoped to avoid. Outside in a tree, Ageha wonders if Rinne is eating lunch when she gets word that the bento box she used it cursed. Back at class, Rinne is desperate to talk to Sakura alone, so the evil spirit (Konjikiou) in the bento box grants his wish, creating a barrier around the classroom and forcing everyone outside of it. The Konjikiou takes the form of a octopus (tako) shaped sausage and gives Rinne two more wishes. Rinne wants the Konjikiou to shut up, which counts as wish two. With the third wish, Rinne's soul goes to the Konjikiou. After being tempted by the Konjikiou, Rinne realizes this is an evil spirit. Ageha gets through the barrier, thanks to Rokumon, and attacks, turning this giant octopus shaped sausage into a lot of tiny ones.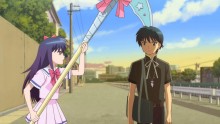 Ageha tells Sakura to stay away from Rinne, and is shocked when Sakura asks "why". Sakura's attitude makes Ageha think that Sakura and Rinne are already dating, making Ageha the unwanted party. Ageha leaves depressed, but gets a call telling her that the Konjikiou is still alive and its tiny forms have to be exterminated. She saves Tsubasa from temptation, then discovers a heartbroken girl being tempted. She saves the girl, then hears the girl's story and realized they both are KYP. Hearing the girl's positive attitude about being falling for someone who was in love with another girl gives Ageha hope. So Ageha goes to hire Rinne to hunt down the remaining Konjikiou as Rinne is attempting to again set things right with Sakura, causing another misunderstanding.
Thoughts/Review:
I did remember this tako sausage story from the manga. I don't know how much was added or subtracted from it though.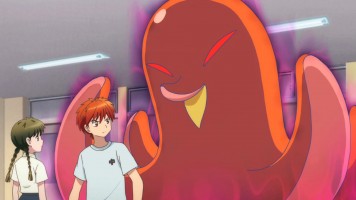 Before I get into the story, I do have a couple of quibbles. First was something that bothered me in the translation. Whenever the Konjikiou (in its tako sausage form) would say, "Tako ja nai!" after being attacked, it was translated as, "I'm not a wiener!" instead of "I'm not an octopus!" I'm not sure why the official translation went with "I'm not a wiener."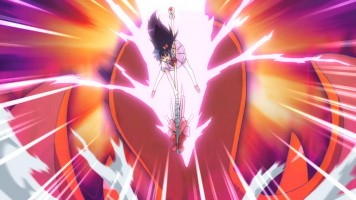 The second was Ageha using the acronym KYP. The Japanese will sometimes use English letter acronyms for the romaji spelling of Japanese words. However, without a translator note (which I REALLY wanted), who knows what KYP means? Well I do after researching this, courtesy of Patches, who's discussing Viz's manga adaptation.
The original acronym that Ageha used was "KYP", which referred to what she called herself in the previous panel, "Kuuki no Yomenai Piero" (空気の読めないピエロ)…  The acronym "KY" on its own is Japanese slang for "kuuki yomenai", and refers to a person who "can't read the mood", ie behaves inappropriately for the situation due to not understanding what's going on.  "KYP" is just Ageha's own rendition of it.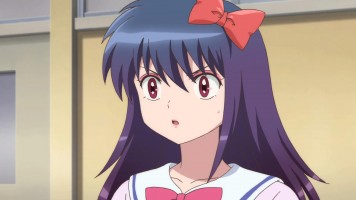 So now I know what that means, and so do you. (That's service for ya! 😉 )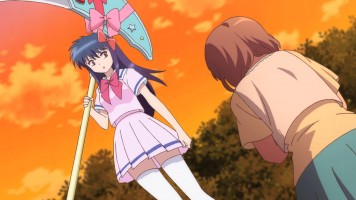 As to the story, normally, these kinds of misunderstanding stories would irritate me. I think they were starting to bother me in the manga. However, Brian's Base did a good job of not making things annoying. Indeed, they actually had me chuckling a few times, even though I knew that Rinne was never going to clear the air with Sakura. (That's an ugly trait on the part of mangaka Takahashi-sensei — she LOVES those misunderstandings in her manga.)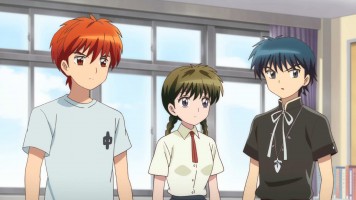 I also got a chuckle out of Tsubasa trying to encourage a Ageha x Rinne hookup. I figure Ageha and Tsubasa will hook up at the end of the manga (this is based on having read only nine volumes of the manga).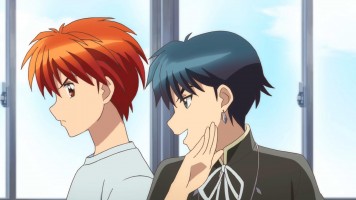 I liked how Ageha was treated in this episode. She's a bit tsundere, but her misunderstanding of Sakura's and Rinne's relationship is understandable, seeing how difficult Sakura is to read as a person. I liked how she recovered from her depression and didn't act delusional toward Rinne, but instead hires him to do a job, just so she can spend time with him. I don't know if I'm making sense here, but the bottom line is I like how she came off here.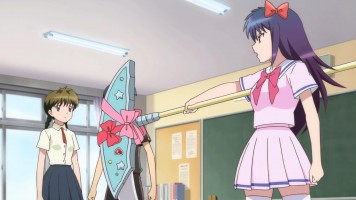 As to Rinne, you can't help but feel badly for him. He can't read Sakura, so he has no clue about her feelings. It always sucks when you like a girl who's so difficult to read.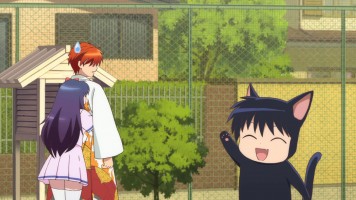 Finally, Sakura is a cold fish to a degree. Nevertheless, I did like that she didn't want to stay away from Rinne after being warned away by Ageha.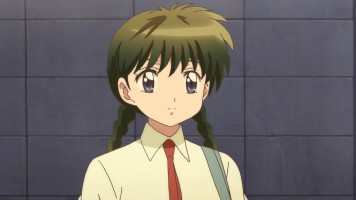 In the end, this was a pretty humorous and fun episode. I really am enjoying the anime adaptation of Kyoukai no RINNE.