ユーキューホルダー! Manga Review
UQ Holder Chapter 86
SPOILER Summary/Synopsis: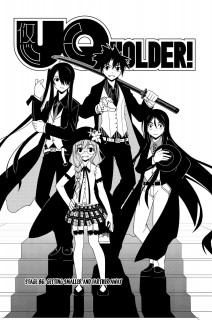 Touta wakes, remembering his last conversation with Kitty where she says goodbye and that even if they were to meet again, she'd be 66. Despite knowing she's not going to be there, Touta goes to the balcony anyway. On one of the tables, he finds an inscribed message from Kitty, telling him that in four days (287 years for her), he should meet her there.
Dana summons Kuroumaru, Touta, Santa, and Kirie, but Touta's thoughts are only of Kitty and how could she possibly remember him after 287 years. Dana brings Touta back to reality by calling his name and telling him she has a finishing move for him to defeat Fate or to stand with his grandfather and great grandfather. Touta realizes Dana is tweaking him a bit because of Yukihime, so he reminds her that he did such a move on her. She retorts that he has no knowledge of what he did or how to consciously use it. Touta responds that she hasn't taught him anything yet, which she agrees with.
She produces a notebook with instructions for a finishing move for Touta. She has also made up books for the others — for Santa, it is a message from Sayoko; for Kuroumaru, it is a book of secrets; for Kirie, it is a book of her embarrassing secrets. Dana seals all four notebooks in a box, then hurls the box over the side of her floating castle. She says that below is a castle ruin with vicious monsters, and they'll have to find the box in those ruins. Only the first one to reach the box gets the contents inside. However, she has no intention of letting them jump down, but instead, hurls them far and wide.
Touta is flung 500KM from Dana's floating castle, using a shundou to stop himself once he hits the ground of this tropical environment. Dana gives them a month to reach their objective, meaning they can take their time if they want. Touta realizes he won't be able to see Kitty, so he asks Dana telepathically how long the mission would really take. When she responds two weeks, she smirks at Touta's dismay and says that the minimum it will take is four days. However, she doesn't think he has it in him to do that. Touta is about to shundou out of there when he's stopped by Kirie, who happens to be near him. She offers to help him get to the destination quickly, though in reality, she wants the prize to burn her book of embarrassing secrets.
Thoughts/Review:
I'm going to have to rant about Crunchyroll and their complete and total ineptness and lack of quality control when it comes to their simulpub manga titles, but that's another post. (UQ Holder chapter 86 was available, then made unavailable due to "whatever" reasons last night.)

While I will NEVER ship Eva x Touta, I can absolutely understand Touta's strong desires to see Eva every morning. I had thought about it to a degree last week, but when Touta got up to see Eva again, hoping against hope that somehow she'd be there when he knew she wouldn't be there, I was reminded of when I was a young teen on some trip, meeting some really cute girl my age, and then meeting with her repeatedly until one of you have to say goodbye and it is over. You might come back at some future date, but in all the places you met said girl, she's not there, even though secretly, you hope that maybe somehow, you'll run into her and reconnect.
In Touta's case, he got renewed hope in that he was told he'd get to see her in four days. But as things go, he's probably not going to be able to meet her in four days. No doubt, Dana set this up with Eva ahead of time, just to give Touta that extra bit of incentive to get the job done. There's nothing like the thought of getting to see a girl you really like to propel a guy forward. 😉
But I'm STILL not shipping Eva x Touta! 😉
Now, as to this latest part of the story, Dana's scatter drill is pretty much a more impressive version of Fate's crew doing the forced relocation spell. She seemed to fling them all in the same direction, so I guess we could see Touta and Kirie encounter Santa and Kuroumaru.
Of the foursome, it is interesting the only Kirie's book appears to be something negative about her. So for Santa, Kuroumaru, and Touta, the "first come, first served" rule would likely only see them choose their own books when they arrive. Kirie, on the other hand, is afraid the others will choose her book (or her book in addition to their own), so I suspect this was Dana's method for motivating Kirie, who might otherwise slack off.
So now Touta has to try to cover ~311 miles in four days on foot. Now we have two weeks to wait and see what "fun" is in store.