Fate/stay night: Unlimited Blade Works – Final Thoughts (Review)
フェイト/ステイナイト [Unlimited Blade Works] Review
***MILD SPOILERS***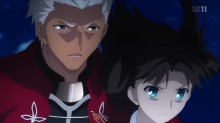 Having started my journey into the Fate/stay night franchise by watching the first anime series back in May of 2009, hearing that the series was being redone by a new animation studio (ufotable) and that instead of following the original visual novel's "Fate" route with bits of the other routes mixed in, this new anime adaptation would follow the visual novel's "Unlimited Blade Works" route, I naturally was very keen on watching this. Having watched this new anime adaptation, my enjoyment of this franchise was taken to a new level, thanks in no small part to ufotable stepping up to the plate and doing a very impressive job of bringing this story to life.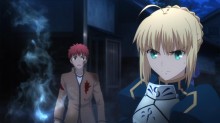 In brief, Fate/stay night centers around the Shirou, a high school boy with weak magical abilities to fix and strengthen things, somehow summons a powerful Servant named Saber and becomes an ignorant participant in the fifth Holy Grail War. While the "Fate" route was all about Shirou hooking up with Saber as they attempt to win the fights against other mages and their Servants, the "Unlimited Blade Works" route is about Shirou hooking up with his respected classmate and fellow mage participant in the Holy Grail War, Rin. As such, even if you've watched the original Fate/stay night anime, the Unlimited Blade Works anime is a completely different animal, even though it is still telling the story of this round of the Holy Grail War.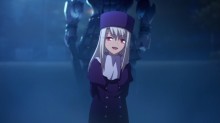 Because ufotable isn't attempting to pull elements from all three routes, as Studio DEEN did with their adaptation, ufotable is able to have a story that flows much better. In addition, ufotable also takes the time to produce a double-length prologue episode (taken from the visual novel), thus giving an introduction to this amazing anime that is almost never seen in any other anime, whether as an adaptation or as an original story. For the most part, ufotable is able to get all of the things from the visual novel into their anime adaptation, though some things (like character thoughts) aren't always included.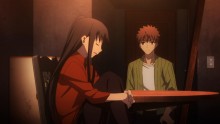 Plus, when all is said and done, ufotable gives the series an amazing aftermath episode showing what happens to Rin and Shirou two years later, which I absolutely loved. Too often, non-comedy anime titles don't have proper aftermath episodes to wrap things up. Thankfully, ufotable doesn't go down that route. Further, I felt that their aftermath episode was so well done, I would love to see Nasu-sensei, the author of the Fate/state night visual novel, write a story about Rin and Shirou in college for ufotable to adapt. It wouldn't have to have quite the serious nature of the three Fate/stay night story routes, but it could tell an excellent story and add comedy as well.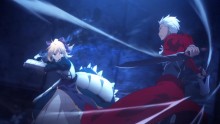 On the animation front, ufotable does an amazing job, so much so that people started jokingly calling the series "Unlimited Budget Works." The battles between the various Servants were often very amazing. ufotable really brought to life the speed and incredible power these Servants have. Not only that, ufotable showed how impressive mages could be. We got to see Ilya using her magic abilities in battling Rin, and we got to see Rin's magecraft and magically enhanced physical abilities for the first time. If one has only watched the original anime adaptation, these changes will seem amazing, but this is how the characters truly are, which makes them and their abilities all the more impressive.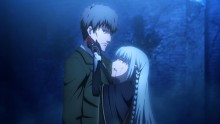 For the most part, the Unlimited Blade Works story works pretty well. I really liked getting to see Caster's backstory since it helped explain her character and also turned her from just a 1 dimensional evil character to a more sympathetic character who's doing things for a specific reason, even if those things are evil (and still not justifiable). I was torn up when one of the mage's suffered a cruel death. And I loved the progression of the romance between Rin and Shirou. The only thing that didn't work for me is when Rin saves one of the other mages at the end of the war, when this mage's body was turned into a massive flesh mass. Even in this world of magic, this mage's rescue didn't feel believable.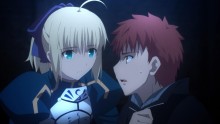 In the end, Fate/stay night: Unlimited Blade Works is an amazing anime with a very engaging story, interesting characters, and great animation. Because of ufotable's great work here, I am really looking forward to them adapting the Heaven's Feel route, which they will do in a movie (or series of movies). I honestly hope that ufotable will also also adapt the Fate/hollow ataraxia story and then move on to adapting other Type Moon visual novels. Based on their work with Unlimited Blade Works, I'm sure future adaptations will be just as great.