境界のRINNE ep 18
Kyoukai no RINNE – 18

SPOILER Summary/Synopsis: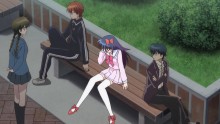 Ageha is hunting Damashigami when the Shirushigami Kain slams her for ruining his operation. When Kain learns of her connection with Rinne,  he targets Rinne for massive debts owed to Kain, courtesy of Sabato. As such, Kain breaks Rinne's scythe, takes his haori, and takes his life flame. Kain leaves Rinne's body and tells Ageha, Tsubasa, and Sakura that they have until 10:00 the next morning to find the Damashigami Company or Rinne dies, as Kain will sell his Life Flame and haori. Rokumon arrives after Kain leaves and assumes the worst of the group. Rinne's spirit emerges to pursue Kain. He wants the others to stay behind, but instead, they take his body to the abandoned club room he calls home and leaves his body there.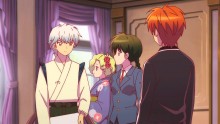 Traveling to the netherworld, the group head to the Shirushigami building, but Rinne is pulled toward the Rinne no Wa. After Rokumon rescues him, other Shirushigami emerge, seeing living humans that shouldn't be there. The group flees as Kain observers, realizing they don't know where the Damashigami Company is. They are saved by woman in a kimono, who takes them to her mansion, which has no electricity. It turns out to be Kain's mother, and when Kain discovers them in his home, he's not happy. Out of his mother's earshot, he explains how his mother has been constantly conned by Sabato for money. She has "love letters" from him monthly, which are actually requests for more money. He attacks Rinne, puts Rokumon, Tsubasa, and Ageha to sleep, then throws them and Sakura into a storage room and locks it. Inside, Sakura finds a box with Rinne's name on it.
Thoughts/Review:
I recall Kain from volume 6 of the manga, but thankfully, I wasn't annoyed with the anime story as I apparently was with the manga story at the time.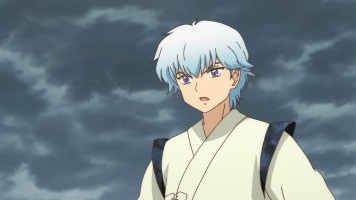 To get things started, let me quote myself.
I am LONG past being tired of Rinne's father, Sabato.  It is always going to be the same thing EVERY TIME HE SHOWS UP!  Rinne gets accused of something, Sabato is to blame, Sabato has conned folks, Sabato has forged Rinne's signature to do more bad things financially, Rinne is stuck with the bill, Sabato gets away, lather, rinse, repeat endlessly.  Sorry Takahashi-sensei, but seriously, don't you get tired of doing these same old tired routines after all these years?  All of your major manga series have a character like Sabato and you ALWAYS bring them back over and over and over to do the same things over and over and over again.  *_*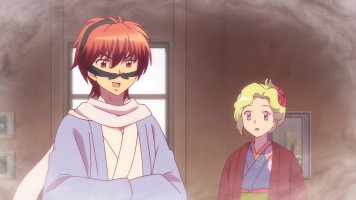 Although Sabato is still an annoying character, I do appreciate that Brain's Base is at least attempting to make his irritation factor as small as possible.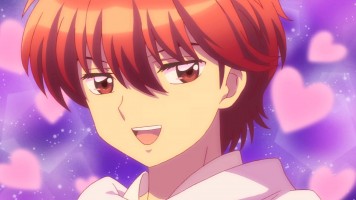 One element I enjoyed about the episode was the teamwork of Tsubasa, Sakura, and Ageha. While it was humorous to see her run to Rinne after Kain put her down, I liked that we didn't have any misunderstandings or the like. Instead, the group gathered outside of the classroom to discuss Ageha's problem, which then escalated into the Kain problem.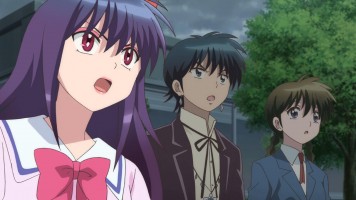 I like how Sakura is coming off here, especially in light of the recent misunderstandings where she gave Rinne the cold shoulder. However, in light of Rinne's life being threatened, Sakura is not a happy camper and is going to do whatever it takes to protect him, including not addressing Ageha with an honorific.  😀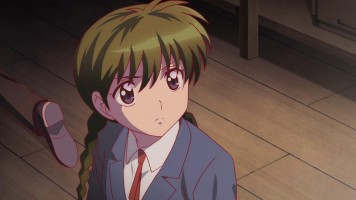 As to Kain (and I still want to call him "Cain" rather than "Ka-i-n" in the Japanese manner), he's certainly a punk brat who's misdirected his anger from Sabato, whom he can't get, to Rinne. I don't remember how the manga story resolves the current conflict with Kain (I made sure not to read my old manga summary, just to make sure I wasn't spoiled), but I do seem to recall that even after they resolve this situation, Kain is still a problem.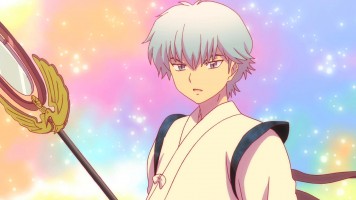 On the humor front, I got a laugh out of Rokumon thinking that maybe Sakura, Tsubasa, and Ageha had killed Rinne. I guess there's where the misunderstanding stuff went. 😉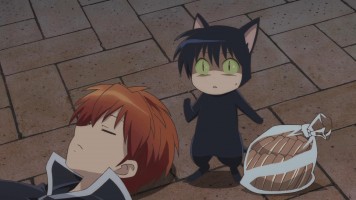 I'll have to wait for the next episode to see how things go, but in the meantime, I can say that I did enjoy this episode.