Fate/kaleid liner PRISMA☆ILLYA 2wei Herz! Episode 03 REVIEW
Fate/kaleid liner プリズマ☆イリヤ 2wei Herz!
Fate/kaleid liner Prisma Illya 2wei Herz! – 03

SPOILER Summary/Synopsis: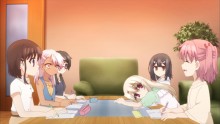 Mimi keeps dreaming about having witnessed Ilya and Kuro snog as well as Kuro having French kissed her. While at a study session with her friends, she has an inspiration to change Ilya, Kuro, and Miyu into male characters, where she then writes a yaoi story about them, which Suzuka seems to be aware of. When Suzuka comes home, her older sister is in a terrible state, demanding that Suzuka produce a 12 page manga manuscript since Suzuka's sister's partner accidentally destroyed what they had earlier created. Suzuka thinks this is impossible, but then remembers Mimi writing and invites her over for more studying. There, the sisters read Mimi's stories and are impressed, getting her permission to publish them at a doujinshi event.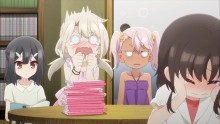 Later, Suzuka comes to Ilya's house to tell her, Miyu, and Kuro about how Mimi is now a fujoshi and used them as characters for her BL writings. The girls don't understand terms like fujoshi, BL, and yaoi, so they go to Suzuka's house. Mimi arrives, so Suzuka throws them in the closet with a BL doujinshi and a flashlight. Mimi is hyper-excited about the BL manga Suzuka lent her, while in the closet, the trio get a crash course on yaoi/BL. They accidentally reveal themselves to Mimi, who's embarrassed, but can't help that she likes BL. Suzuka's sister helps explain things in a way that the girls overcome the awkwardness. Suzuka is happy to have a fellow BL friend, but when Mimi expresses no interest in heterosexual relationships, everyone but Miyu decides to leave.
Thoughts/Review:
This episode was very, very wrong, but at the same time, was very, very funny. It also made me feel sorry for Mimi.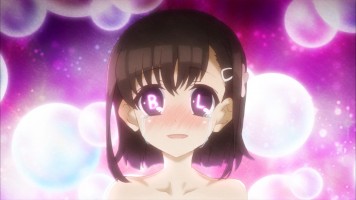 Mimi has always been the timid, shy girl of the group who is the most easily influenced. So for me, it was kind of tragic that these events beyond her control have caused her to not sleep, be bound up by Suzuka and her sister (Onee), and to think well beyond the scope of normal fujoshi girls.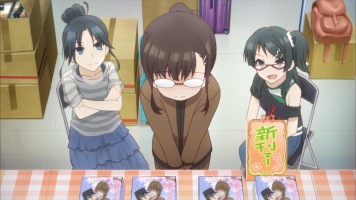 This continued trek of exploring the trend of fujoshi stuff in Japan is funnier to me, thanks to Genshiken Nidaime, where the subject is front and center of that manga. It is actually pretty sad that I know so many of the terms associated with BL/yaoi works, but even I was educated to a new term fujoshi term, kufujin. Ilya freaking out about all these weird terms made things fairly funny.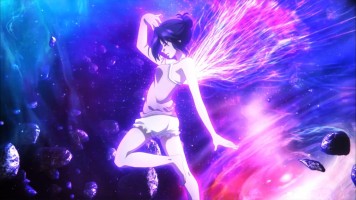 While we are on the "laugh out loud" track, Mimi's excited chat with Suzuka over that BL doujinshi made me laugh, simply because of the choice of audio censor sound effects, that of a toy train tooting its horn — Choo! Choo! That was pretty funny and clearly a case of where not going all vulgar makes things funnier than letting it all hang out in the wind (pardon the expression). It made me think of the upcoming Deadpool movie, where the "green band" trailer was really funny, but the "red band" (R-rated) trailer wasn't as funny, mainly because in was uninhibited vulgarity and profanity.  But I digress…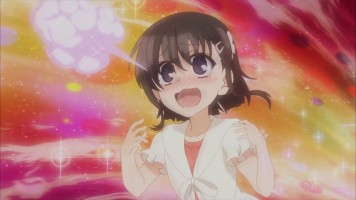 Also on the laugh out loud side of things was Ilya, Kuro, and Miyu getting their first experience with BL stuff.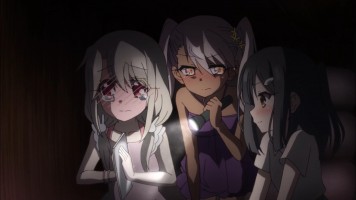 It was also funny how that while Ilya freaked out and Kuro wasn't into it, Miyu decided to keep reading. In fact, she kept reading it throughout the rest of the episode, which made that funnier.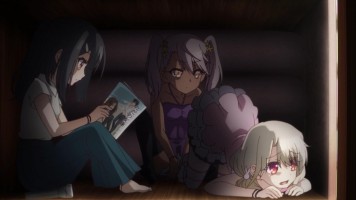 Suzuka's attitude about this comes off as odd. On one hand, she's obviously very happy to have a friend who's into BL like her and her sister. On the other hand, she's hoping Ilya and company can restore some sanity to Mimi when it comes to BL. Even in the end, Mimi's attitudes about BL were too extreme for Suzuka and her sister.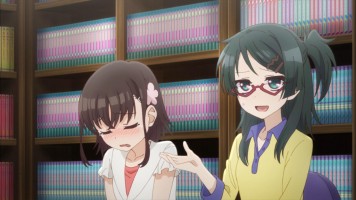 Animation-wise, I rarely speak of this, but when the girls were spying on Mimi's reactions to BL while being in the closet, I noticed that the animators actually bothered to put in those dust particles floating around that we always see but take for granted. I know it is a small thing, but I really thought it was a nice touch.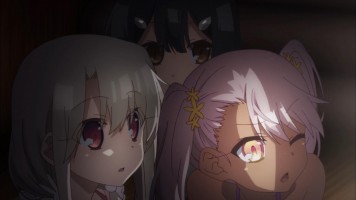 One side note, I found it interesting that Suzuka addresses her older sister as "onee" without the additional honorific. (As a further aside, it was funny how Miyu addressed Suzuka's sister as "oneesama", which then caused Ilya to react.)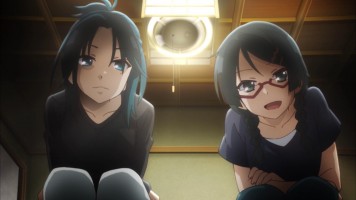 In the end, this was a very funny, but very, very wrong episode.