Ranma 1/2: Nightmare! Incense of Spring Sleep
らんま1/2 悪夢! 春眠香
It's a Rumic World Ranma 1/2: Akumu! Shunmin Ko
SPOILER Summary/Synopsis: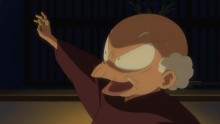 The elderly but nimble Happosai has stolen a ton of panties from the girls locker room, so Ranma uses cold water to transform into his female self, whereupon he exposes his breasts to Happosai. After knocking him to the ground, the girls beat him to a pulp, whereupon he vows revenge on Ranma. That night, he concocts a substance to put Ranma to sleep until spring, but Ranma discovers the plot. During the subsequent chase around the Tendou estate, Akane breathes in the fumes, but doesn't fall asleep. Ranma is relieved, but at school, Akane does fall asleep, incensing their teacher, Hinako-sensei. While still asleep, Akane hits Hinako-sensei, then knocks Ranma into a wall, followed by doing the same to Happosai.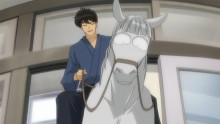 As the class reads the notebook from which Happosai made his concoction, Akane dreams she's a doting but poor servant of Ranma, who has a harem that includes Shampoo and Ukyo. When Ranma yells at her to wake up in the real world, she "wakes" to another dream, this time Shampoo's and Ukyo's fawning over Ranma in her house angers her. While attacking Ranma in her dream, she attacks him in reality as well. When Tatewaki arrives on a white horse to wake Akane with a kiss, she sends both man and horse flying. Akane starts rampaging through the school, so Ranma and the real Ukyo go after her to try to stop her. However, the sleeping Akane escapes, leaving a wake of destruction and Principle Kuno knocked out.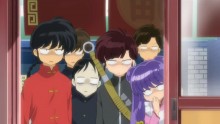 Following the path of destruction, Ranma, Ukyo, and fellow students come upon Akane's father Soun and Ranma's father Genma, who apparent fell victim to Akane. Shampoo arrives on the scene, making a ramen delivery from her family restaurant. Hearing Akane is at Shampoo's restaurant, Ranma fears the worst, only to discover her eating her 24th bowl of ramen as she dreams she's in the Jusenkyo Eating Contest in China. Happosai causes Akane to rampage again, where she trashes the place and flings a bucket of could water, causing Ranma to become a girl again, Shampoo to become a cat, and Mousse to become a duck. Ukyo manages to bind Akane with string attached to small spatulas, but while Hinako-sensei tries to wake her, Akane beats her with the spatulas.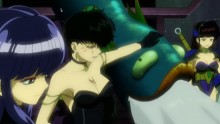 Akane dreams that she's captured by Shampoo and Ukyo to be brought before Kodachi, who has her put in a pit to be drowned. Akane hears the now male Ranma's voice, so the real Akane embraces him. Soun and Genma tell him to hold her, since she's content with him. However, Ryouga's arrival on the scene ends that as the jealous boy battles Ranma, causing Akane to dream she's in Journey to the West, with Ranma playing the part of Son Goku and Ryouga being Cho Hakkai. She knocks Ranma across the room, causing him to again transform into a girl and wonder how Akane is so strong. Cologne explains that this is Akane's latent potential, which she's tapping into since she's asleep and not awake.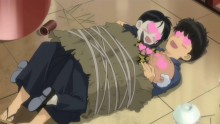 After Akane beats up Ryouga, Cologne provides an incense to wake her up. However, Akane deftly dodges having to take a whiff. Happosai frees himself from where he'd been bound to try to take over the job, but Tatewaki and Hikaru battle him instead, causing Akane to beat all of them up. They are under the influence of the Calogne's incense, so Mousse gives Ranma another incense, which causes the guys to see each other as Akanae and go nuts with each other. Ranma, using Cologne's incense, is supposed to kiss Akane to wake her, and she dreams of "Ranma-sama" doing so. However, he swallows the incense. When Akane's oldest (and pure) sister Kasumi arrives, Kasumi is able to easily wake Akane. Cologne plans to put Ryouga, Happosai, Tatewaki, and Hikaru to work fixing her restaurant while Ranma and Akane go home and return to their normal, bickering ways.
Thoughts/Review:
It has been quite a few years since I finished the Ranma 1/2 anime franchise and moved on to Takahashi-sensei's earlier classic anime adaptation, that being Urusei Yatsura. Ranma 1/2 will always be a series that I think of fondly, mainly because it was brand new and airing in the afternoon on TV when I lived in Japan. Although Ranma 1/2: Nightmare! Incense of Spring Sleep came out in 2008 as part of the It's a Rumic World celebration, it is only very recently that I got a chance to watch it. Thankfully, it was well worth the wait.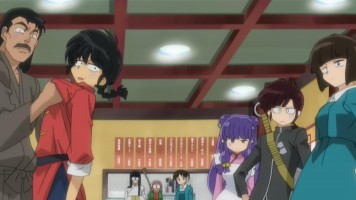 As with the Urusei Yatsura: The Obstacle Course Swim Meet special that was done for the Urusei Yatsura part of the It's a Rumic World celebration, the start of this episode has the very funny intro that features Ataru and Lum from Urusei Yatsura, the male and female versions of Ranma from Ranma 1/2, and then there's Inuyasha and Kagome from Inuyasha. Having completed all three anime franchises (save the Inuyasha episode for It's a Rumic World), I can't help but grin and chuckle at Ataru trying to hit on Kagome and female Ranma, much to the irritation of Inuyasha and Lum.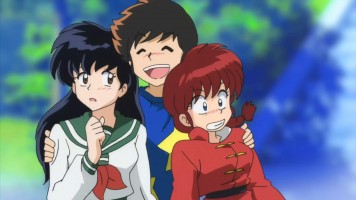 As to the Ranma 1/2: Nightmare! Incense of Spring Sleep OVA special, I believe this story was adopted from the 10th chapter of volume 34 of the Ranma 1/2 manga, though with some major modifications to take into account that this is a reunion special, celebrating all of the various major characters in the Ranma 1/2 franchise.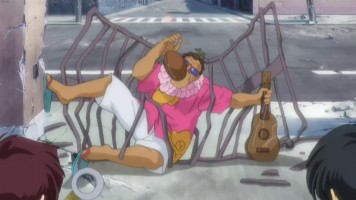 For fans of Ranma 1/2, you'll be pleased to know that Studio DEEN does a really good job of taking a single chapter and turning it into a well crafted, half hour episode. They managed to work in the major characters from the series and give them meaningful (and often very funny) things to do, even if only for a short time. Even Nabiki's cameo provided a laugh as she had her substance to sell to Ukyo and Shampoo to try to help them get Ranma.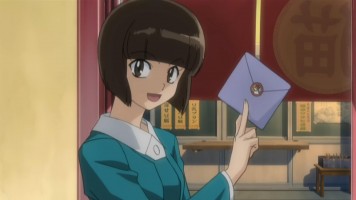 Adding to the delight of all these characters returning is the fact that I think all of the original seiyuu returned to voice their parts. It was just awesome, especially hearing HAYASHIBARA Megumi doing the voice of female Ranma. (She's been my favorite seiyuu since hearing her voice Lina Inverse in The Slayers.) Anyway, Studio DEEN made sure to hit the notes we expect with each of the characters.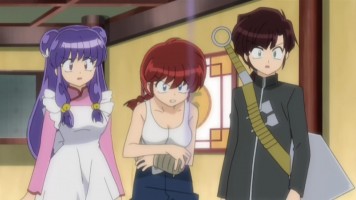 Much of the humor is slapstick, with Akane sleep-beating so many people, including her poor teacher.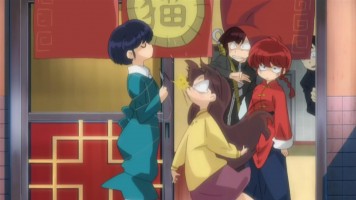 Of course, anytime Happosai got a beating, I was cheering since he's Takahashi-sensei's token, ultra despicable character of Ranma 1/2. Thankfully, he got quite a few beatings.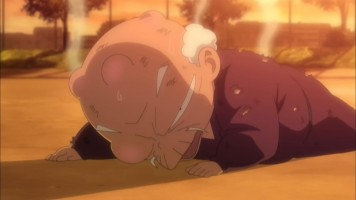 Although Ranma 1/2 is a shounen franchise, back in the day, some nudity was allowed in both the manga and the anime. I remember being shocked by this when I saw it on TV (female Ranma getting undressed to get into the bath). Studio DEEN made sure to get a scene in with female Ranma showing off rather large breasts in uncensored form.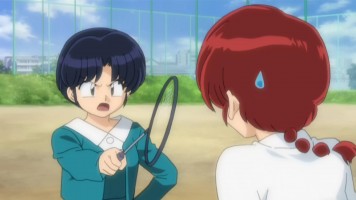 Studio DEEN also took a moment to give a nice nod to the other two Takahashi series that make up the It's a Rumic World tribute. The first was to Urusei Yatsura, where not only did Lum score a cameo in Akane's dream, but Ranma's harem actions were exactly what Ataru would do when given a chance in Urusei Yatsura.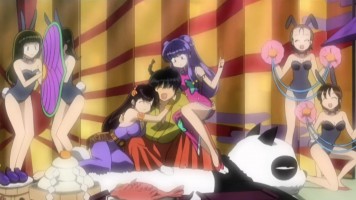 The second nod was to Inuyasha, where another of Akane's dreams show Inuyasha, Kagome, and Miroku all defeated. I thought that was a nice touch.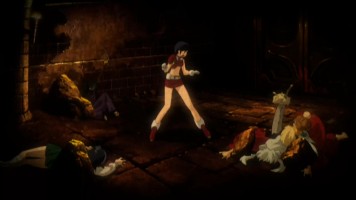 If you are not a fan of Ranma 1/2, the sheer number of characters may seem a bit much, especially since you aren't going to know exactly whom they are or what their relationship to the story is (such as Ukyo with her giant spatula on her back and small ones on her sash). However, there's enough here to still entertain non-fans and quite possibly tempt them into either reading the manga or watching the anime series.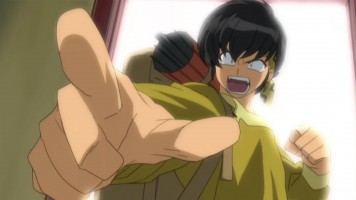 Speaking of Ukyo, I wouldn't have recognized her had it not been for her giant spatula. In the TV series, she always wore the traditional, Japanese restaurant cart vendor outfit and a bow in her hair. This time, she wore a male school uniform and no bow (though I think she had one in one of Akane's dreams).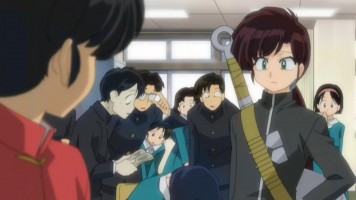 In the end, this was a fun, humorous, nostalgic trip back into the world of Ranma 1/2.