Fate/kaleid liner PRISMA☆ILLYA 2wei Herz! Episode 07 REVIEW
Fate/kaleid liner プリズマ☆イリヤ 2wei Herz!
Fate/kaleid liner Prisma Illya 2wei Herz! – 07

SPOILER Summary/Synopsis: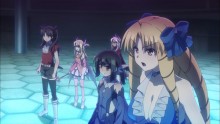 Ilya, Kuro, Miyu, Rin, and Luvia return to the beach at night and to the construction that Luvia made, where they proceed down to where the 8th card resides in the mirror universe. Bazett arrives just as it is time to traverse to the other universe, the trip to which Ilya notes takes longer than normal. Once there, they discover the 8th card's dark power. Enacting their plan, Luvia gets started by using gems to clear a path and cast a restraining spell. With Ilya and Miyu providing charge, Rin brandishes a dagger and gems, casting a massive spell, leading Ilya and Miyu to fire "Thor's Hammer" attack. The attack does not defeat the card, so Kuro, in her Archer gear, springs to action, knowing what to do and firing a replica of Excalibur. However, it too does not defeat the card.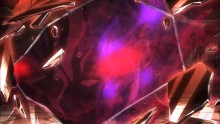 Luvia raises a barrier against the massive counter-attack with Ilya and Miyu protecting their flank. They are forced to retreat as Bazett leaps into action. However, she is technically killed in her assault, but her "death" activates her additional power. Elsewhere, Iri discovers her girls are out and Carnen gets a call to get into action. Back at the fight, Bazett uses all of the powerful attacks at her disposal as the card produces blade after blade to attack. Kuro uses Rho Aias to shield them, but it doesn't hold. Bazett charges the rain of spears and blades and is nearly killed, but is saved by Kuro. Bazett appears to get the card from its body, but ultimately fails. The body produces a hand held weapon as the group barely escapes to the real world.  Rin scolds the girls for not retreating earlier and Bazett reveals the 8th card is Archer class. While they talk, the 8th card begins breaking through.
Thoughts/Review:
Well, the plot goes into high gear with this episode, and when we go into the plot, that is where the Fate/kaleid liner Prisma Illya franchise gets really good.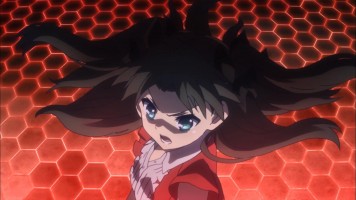 Bazett's arrival was humorous and predictable when she wasn't waiting for the group when they arrived at the beach. However, this bit of humor at the beginning belied the intensity of the rest of the episode once the group went into the mirror universe.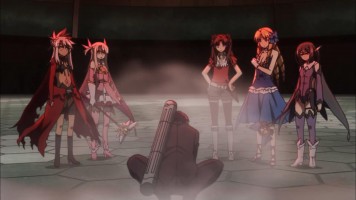 The other bit of humor was Ruby going off on Kuro being including in the henshin sequence because why should Kuro get to transform along with Ilya and Miyu when Kuro isn't a magic girl? 😆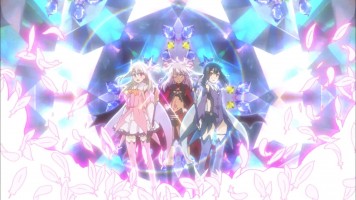 I did note that before the action started, the issue of Rin's curse on Kuro and Bazett came up. Rin's embarrassment was done for comedy, but what really made things interesting is how Ilya wondered why Kuro hadn't removed the curse when it could so easily be removed. I wonder if this will get explored more.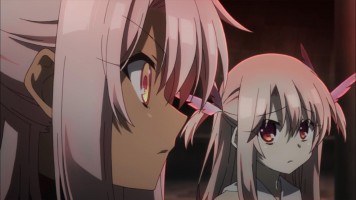 I like how the girls executed a well scripted plan of attack. Luvia doing her thing to contain the body of the eighth card, Rin using magic to basically construct a railgun, and then Miyu and Ilya joint firing through the magical railgun in order to attempt to get a one-shot kill.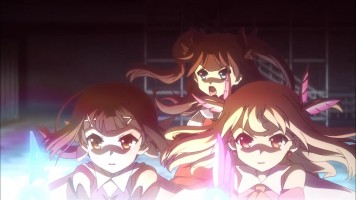 Kuro being the followup show by firing Excalibur at the card was pretty awesome as well. Indeed, while the power of all the girls was impressive, Kuro's power and her drawing on the abilities of her Archer card was even better.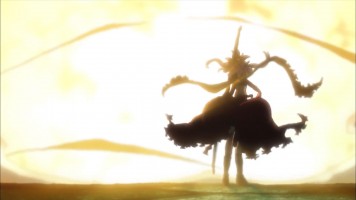 I liked seeing Bazett getting to go full power here. The last time we saw her in action, she was beating up little girls. Here, she's fighting an insane warrior of legend, so it was much more enjoyable seeing her in action.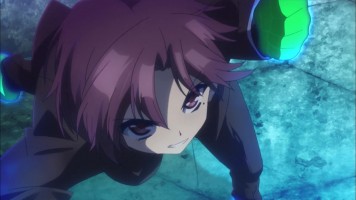 As to the 8th card, as I thought, it is the second Archer card, aka: Gilgamesh. The difference here is that this Gilgamesh comes off like Berserker, which in my mind, makes it more dangerous as an opponent. Then there's the fact that after they escaped the mirror world it resides in, Gilgamesh appears to break through to the real world, something none of the other cards ever did.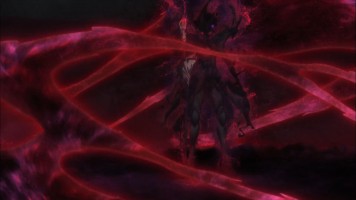 There were a couple of interesting things that happened in the episode that leave questions. The first is Iri discovering her girls are missing. No doubt, she figures they are out doing magical things.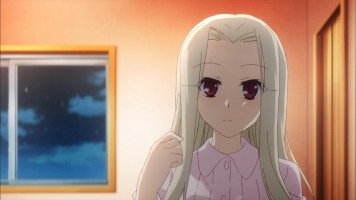 The second is Caren getting a call. The implication is that Iri called her, but we don't know that. We don't even know if she's being called regarding the 8th card, but I would be very surprised if she weren't being called for this.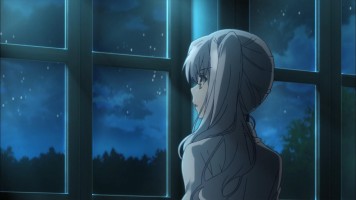 In the end, a very good, action packed, plot based episode. I can't wait to see more.