Here is some SPOILER info for the upcoming UQ Holder Chapter 94, courtesy of 2ch. (My review of UQ Holder Chapter 94 should come out late Tuesday night or Wednesday, U.S. time, depending on when Crunchyroll publishes the chapter.)
UQ HOLDER Chapter 94 SPOILERS
The UQ Holder Chapter 94 goodness begins.^_^
This looks to be Chapter 94's spoilers.
追い求める影

過去に干渉してしまい、時間の狭間に呑まれかけた刀太だったが
ダーナが剛腕一本釣りで救い出した
放っておいたらロストするところだった
キリヱたちにも"滅びの時"のことを考えておけと言い修行中断

刀太が目覚めるまで、キリヱたちはラザロと麻雀打ちつつ
地球が滅んだあとの話をする
三太は惑星消滅後も宇宙空間を漂う図を連想
九郎丸が想像したキリヱのその後はひどかった
地球が滅んじゃう!→なんとかしなkyドカーン→ の2コマループ
そもそも、あと50億年もすれば赤色巨星化した太陽に地球が呑まれるので
どうあがいても滅亡不可避、キリヱ涙目……ってそこまで生きる気か(汗

刀太は憑き物がおちたかのようにすっきりとした顔で
目を覚ますと九郎丸を誘い、二人で一心不乱に修行を再開
あの"わからず屋"に届かせるため、「最強」になり、その先に進む!
■思いを原動力に、最強への階段を駆け上がれ!
Looks like Touta has to be rescued by Dana. It seems like the group speculates on what would have happened to Earth if they'd not rescued Touta. Looks like Lazarus Laszlo (what I get for being dead on my feet when I wrote this) shows up in this chapter as well.  But, as always, we'll wait for some gracious person to provide a translation of this material. 🙂
Anyway, look for updates, as I'll be making them for more information and/or spoiler images.
Update #1: A translation attempt from DerGilga.
Some parts where to much for me. If somebody offers a better translation, pls use it instead

追い求める影
the pursuing shadow

過去に干渉してしまい、時間の狭間に呑まれかけた刀太だったが
Touta interfered in the past and was about to be swallowed by the time gorge, but
ダーナが剛腕一本釣りで救い出した
Dana rescued him with her strong arm using it like a fishing pole
放っておいたらロストするところだった
If he was left alone, he would have been been lost in that space
キリヱたちにも"滅びの時"のことを考えておけと言い修行中断
In the training break Kirie and the rest ponder about the matter of the "time of destruction"

刀太が目覚めるまで、キリヱたちはラザロと麻雀打ちつつ
Until Touta wakes up, Kirie and the rest are playing "Lazaro" and Mahyoung

(ANB: I think that Kirie, Laszlo, and the others are playing Mahjong, but I could be wrong.)

地球が滅んだあとの話をする
they talk about time after the earth is destroyed
三太は惑星消滅後も宇宙空間を漂う図を連想
Santa suggests a scene of drifting in the void of space after the planet's extinction
九郎丸が想像したキリヱのその後はひどかった
Kuromaru imagined the remains of Kirie to be very bad
地球が滅んじゃう!→なんとかしなkyドカーン→ の2コマループ
When earth is destroyed! -> It has to go with some kind of BANG -> with 2 shockwave rings
そもそも、あと50億年もすれば赤色巨星化した太陽に地球が呑まれるので
from the start, when after 5E9 years the sun changes into a red giant and engulfs the earth
どうあがいても滅亡不可避、キリヱ涙目……ってそこまで生きる気か(汗
no matter how they struggle -> unavoidable destruction, Kirie has teary eyes….. (to life until then) no idea

刀太は憑き物がおちたかのようにすっきりとした顔で
With a visibly refreshed face, Touta drops … no idea, something about dropping a demon
目を覚ますと九郎丸を誘い、二人で一心不乱に修行を再開
When he opens his eyes, he invites Kuroumaru. Together they resume the training with heart and soul
あの"わからず屋"に届かせるため、「最強」になり、その先に進む!
To get through to that "blockhead", I'll become the "strongest" and will reach my goal!

■思いを原動力に、最強への階段を駆け上がれ!
The driving force in his mind, dash forward and climb the stairway to the top!
I made one edit, but I could VERY easily be wrong there. So if anyone else wants a go to help the cause, feel free.
In the meantime, thanks to DerGilga for taking the time to make an attempt. 😀
Update #2: A clarification from Firlfoi.
刀太は憑き物がおちたかのようにすっきりとした顔で目を覚ますと九郎丸を誘い、二人で一心不乱に修行を再開

As if a cloud of madness had passed, Touta clears his head and opens his eyes, gesturing to Kuroumaru. They resume their training with heart and soul.

Note I made some liberal interpretations, trying to preserve the nuance of the Japanese text.
Thanks!
Update #3: Spoiler images from MK.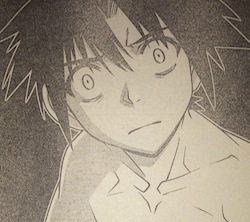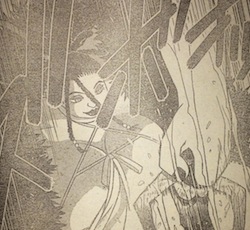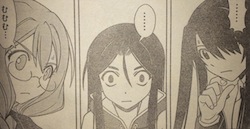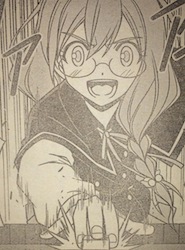 OK, here's hoping for no problems with Crunchyroll tomorrow. 🙂