ユーキューホルダー! Manga Review
UQ Holder Chapter 95
SPOILER Summary/Synopsis: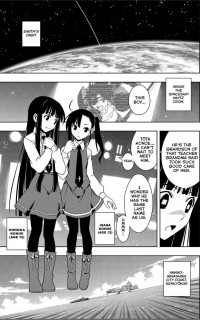 After an additional eight months of training, Dana gives Touta a graduation test to see whether she'll allow him to enter the Mahora Martial Arts Tournament. After a long, destructive battle, she approves of him entering the tournament and for them all leaving, even though her full training program would take ten years. Kirie is very excited by the prospect of leaving.
Touta asks whether he's strong enough to beat Fate, so Dana bluntly tells him he'd lose every battle unless Fate made a mistake. Kirie is shocked by this, so Dana reminds her that they are leaving her training program very early without completing it. Touta isn't worried since he'll have his friends, but Dana knows Touta is trying to get stronger for Kitty/Yukihime (Eva). After Dana tells Touta to take care of Eva, Touta and company leave, Touta planning to stop off at UQ Holder HQ to see Eva (Kitty/Yukihime).
Elsewhere, at Shin Tokyo Station, Shinobu arrives and is attempting to contact Touta.
In Earth orbit on board the ship White Crow, KONOE Isana and KONOE Honoka watch a video of Touta and are looking forward to meeting the grandson of their grandmother's teacher, wondering why he has the same family name as them.
At UQ Holder HQ, there is great surprise that the elderly YUKIHIRO Ayaka, the android Chachamaru, and Ayaka's grand daughter (or great grand daughter) are there without an appointment to see Evangeline/Yukihime and Touta.
Thoughts/Review:
Well, the Negima bait continues, but obviously, I won't be complaining about that. 😉
I hadn't expected us to get one more training arc chapter, but I'm glad we did, only because it properly sets things up so that we know that Touta and company didn't even complete 10% if the training Dana would have them do. As such, assuming Akamatsu-sensei doesn't just end UQ Holder, I'd guess we'll have Touta at the very least return to see Dana sometime in the future.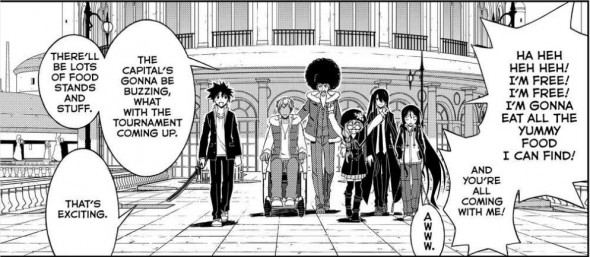 I'm a little disappointed that we didn't get to see Sayoko's message to Santa. I wonder what she had to say.
Surprisingly, we get to see Shinobu again. It does appear that Shinobu is a girl, though chapter 2 of the manga never specified that.
I have to admit that I got a big old smile, seeing mini-Setsuna (Isana) and mini-Konoka (Honoka). It won't surprise me at all if Isana is a pure clone of Setsuna and Honoka is a pure clone of Konoka. Further, it wouldn't surprise me if their cloning was related to the ultimate use of magic to create a clone-homunculus that became Touta.
I also got a big old smile seeing the elderly Ayaka show up to see Eva. To be honest, seeing her using her pactio card was even more exciting for me that seeing Ayaka herself. That's because until now, Akamatsu-sensei has completely avoided the pactio system. Ayaka showing up with her card shows the pactio system is still in place.
With Chachamaru showing up as Ayaka's attendant, not only did that bring a smile to my face, but it made me eager to see her reunion with her former master (Eva).  There's so much that could be done with this, but unfortunately, other than fanservice and the apparent attempt to set up a harem for Touta, I'm afraid the meeting between Eva, Ayaka, and Chachamaru won't amount to much.
As an aside, I am hoping to discover why Eva decided she needed the Yukihime alias. After all, Ayaka knows Eva has shifted from her real first name of Evangeline to Yukihime.
As to the harem thing, I've long sensed that Akamatsu-sensei has wanted to establish one. After all, harems were a central part of A.I. Love You, Love Hina, and Negima. However, with him deciding to put Karin on the shelf (for now) and causing Kuroumaru to be gender-neutral, that only left Eva (as Yukihime) and Kirie. I don't feel there was a great deal of enthusiasm for the Touta x Eva thing, so really that only left Kirie until Kuroumaru becomes a lovely girl. As such, bring back Shinobu, then introduce Isana, Honoka, and mini-Ayaka, the later establishing her claim on Touta as a potential husband.
In the end, the chapter was quite enjoyable, but mainly because of the massive Negima ties.
Remember gang, no chapter this week (Wednesday in Japan).