境界のRINNE Review (Final Thoughts)
Kyoukai no RINNE Review

***SPOILERS***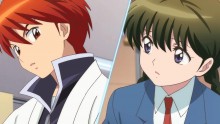 I've been a longtime follower of the major works of Takahashi-sensei, titles like Maison Ikkoku, Urusei Yatsura, Ranma 1/2, and Inuyasha. Urusei Yatsura was purely an anime-only affair for me (I keep saying I need to read the manga some day). For Ranma 1/2, I read some of the manga, but saw all of the anime. For Maison Ikkoku and Inuyasha, I read both series in their entirety, then watch all of the anime. With Inuyasha, I had grown bored and weary of Takahashi-sensei's works, but when RIN-NE came out as a manga, I did get the first nine volumes from Viz before growing weary of it. Despite my weariness, I took a chance on watching the RINNE anime. That ended up being a good choice.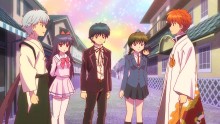 For those who don't know, Kyoukai no RINNE is the story of a part human, part shinigami teen male named Rinne, who's living on his own and barely making ends meet while paying off the massive debt put on him by his despicable father, Sabato. His classmate Sakura can see the supernatural, thanks to an incident as a child when she met Rinne's grandmother, and as such often accompanies Rinne on his exorcism jobs. Tsubasa is a transfer student who can also see the supernatural and is a Christian (though the anime downplays this) exorcist who is in love with Sakura after briefly attending elementary school with her. There's Ageha, the pure, shinigami ojousama who falls in love with Rinne and who's older sister is connected to Rinne's father. Then there's Rokumon, the black cat shinigami assistant to Rinne.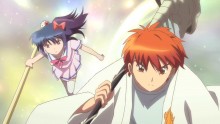 Long time readers of my blog (or other reviews) know that I'm usually a big stickler for an anime adaptation following the source manga and not try to go off on their own. I can point to quite a number of anime titles that aren't as good, or are totally unwatchable when compared to their original manga source material — Love Hina (inferior to the manga), Negima (terrible to the manga), Fruits Basket (good anime, but the ending kills it, more so when you've read the manga), etc. So when an anime goes well off from the source material, I usually go off the deep end because the result sucks. Kyoukai no RINNE goes way off the source manga, but this is one of those rare exceptions where the anime is superior to the manga.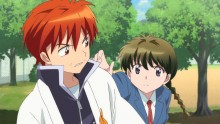 The RIN-NE manga (as Viz calls it) started off fairly fun, then became wearisome to me thanks to its random plodding from adventure to adventure. Takahashi-sensei usually opts to bring in new characters to add to the conflict rotation list rather than have characters actually develop and grow. This also added to the tiresomeness of the manga. Brain's Base, the production team in charge of the RINNE anime, correctly deduced that following the manga's plodding, meaningless path would not make for good storytelling, so after the introduction story for Rinne and Sakura, Brain's base reorganizes things, trashing the stupid stories and taking what's left to make something pretty nice.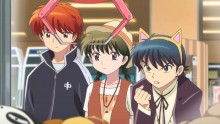 The flow of Kyoukai no RINNE works pretty well for the most part, which is more impressive when you consider that they literally took chapters from all over the manga and placed them in a completely new order. By doing this, stories no longer feel random, but instead progress one to another. That's not to say that all of the episodes are linked, but there is a natural feel to how things progress. Characters do have a feeling of growth in the anime, unlike in the manga, though the anime is somewhat limited by the constraints of the manga. Still, I applaud Brain's Base for doing the best they could, considering the circumstances.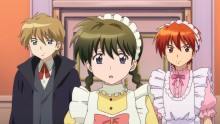 Another thing Brain's Base did is improve on the comedy aspects of the RIN-NE manga. While some things in the manga made me laugh, other things that I knew were supposed to make me laugh didn't. When animated, Brain's Base made these flat jokes from the manga turn into something actually funny or at the very least, amusing. Things I found funny from the manga, I actually found funnier in the anime. I think it was the improvement in the comedy aspects of the manga for the anime that really won me over. It let me know that Brain's Base was dedicated to finding those rough gems and making them something special.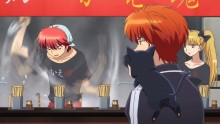 One of the things I dreaded while watching Kyoukai no RINNE was the introduction of Rinne's father, Sabato. Sabato continues the long line of despicable fathers/grandfathers in Takahashi-sensei's various manga titles, only I think he's the absolute worst. His character is supposed to be funny, but is so heinous, I never laughed. All I wanted to do was club the character like a baby seal (if you'll pardon the expression). Brian's Base deftly handles the character, still making Sabato detestable, but tolerable. Indeed, they have an episode (which did originate from the manga), where they caused Sabato to get his comeuppance, which was much more satisfying than the manga.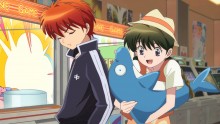 In the end, Kyoukai no RINNE ends up being a superior title to its source manga, due to the fact that Brain's Base able to take the lackluster efforts of Takahashi-sensei and turn them into something that han very good humor at times, characters that were better than they were in the source manga, and stories that while mostly based from the manga, were rearranged in such a way so as to make the anime series flow in a more natural way and make the characters feel as though they are actually growing. With all of this, I can highly recommend this anime series for those looking for something fun. I look forward to seeing the sequel series when it arrives.