ユーキューホルダー! Manga Review
UQ Holder Chapter 100
SPOILER Summary/Synopsis: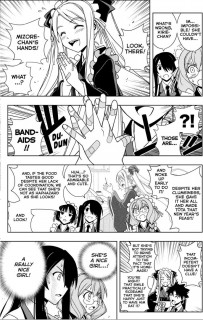 After having defeated Karin and paying a price for it, Shinobu shows off her pod racer to Touta, who gushes greatly over it and Shinobu's work on it. Kirie is spying on them and is startled when Karin and Kuroumaru join her. When Shinobu offers Touta some tonjiru soup from her magic thermos, Kirie is not happy that Shinobu is a mecha girl and can cook. Mizore arrives with a large bento, which she offers to Shinobu and Touta, who find it to be delicious. Kirie spots the bandages on Mizore's hands, indicating she made the bento herself. However, Mizore doesn't make mention of this to Touta, meaning she's a nice girl.
Kirie sinks in defeat as Kuroumaru sinks to a knee at the power of a human girl. Karin accuses Kirie of being in love with Touta, which she vehemently denies. Karin admits to being impressed with Shinobu and Mizore, citing how they are like fresh flowers while immortals are like artificial, plastic flowers. Ikkuu arrives, telling the girls of the legends of the annex on the Senkyoukan, whereby if a boy on the rebound from rejection gets his backed scrubbed with 50 strokes, the boy and girl will become a couple. As the girls start to absorb this information, Ikkuu says he will pass this information to the human girls.
Kirie decides to do this as a matter of honor as an immortal. Kuroumaru wonders whether to tell Touta the truth regarding not being male nor female.  After wondering whether or not to stop using masculine pronouns and whether or not to become a girl, Kuroumaru decides to try to be rational about things. As both Mizore and Shinobu ponder being with Touta, Karin finds an excuse to scrub Touta's back.
Touta and Santa are in the onsen when Karin shows up in a towel with a scrub brush, forcing Touta down with her foot and taking the brush by the handle to scrub him. Kirie jumps in to kick Karin aside, and as the two argue over the other being in love with Touta, Shinobu comes in and starts washing Touta's back to thank him. Mizore, in a school swimsuit, launches herself at Shinobu. She and Kirie arrive at Touta's back to rapidly wash it. Before they get to fifty, Kuroumaru leaps in and pulls Touta out of the fray.
Kuroumaru stands to defend Touta as Kirie and Mizore attack, causing Touta to fall off the roof Kuroumaru had taken him to and land in the onsen.  The girls stop battling when Yukihime arrives, wanting to know what the commotion is about. When Touta says it is over washing his back with 50 strokes, Yukihime decides to do this and succeeds. She then asks what scrubbing his back was about, but he has no clue.
Thoughts/Review:
Akamatsu-sensei really has to be feeling the pressure. For chapter 100 of UQ Holder, he produced a color page and four additional pages (20 total pages, vs the 16 pages that are normally produced). However, in the same magazine, Mashima-sensei does TWO chapters (459 and 460) of Fairy Tail — one clocking in at 24 pages, including THREE color pages, and one clocking in as 20 pages (his normal chapter length). 😆
I've been pretty resigned to the notion that UQ Holder is going to be random and shift to wherever Akamatsu-sensei wants to go. Once it was established that the group would remain at the Senkyoukan, I wanted to see the place in action. It is supposed to be an inn, so whom do they house? I've been annoyed that we didn't get to see Ayaka and Chachamaru visit Eva, but otherwise, I'm fine with the story being set at the Senkyoukan for now and I'm fine with the harem hijinks.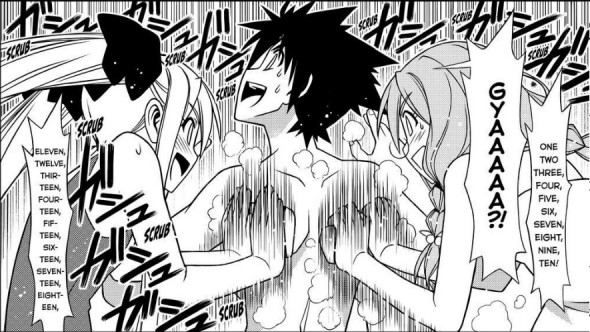 With Shinobu's pod racer being introduced here, one would think that this is so she can be in a race and have a chance to shine. The problem with that is that Touta is the main character, so assuming we see the pod race at all, I can't imagine Shinobu being allowed to take the spotlight from the MC. After all, Anakin is the chosen one Touta has to be the one to do it all. However, it would be nice for Akamatsu-sensei to put Touta on the shelf and let Shinobu have her race and do whatever, win or lose. She deserves that much.
With Shinobu showing signs of being like her Love Hina namesake in that she can cook, I was surprised to see that Mizore was allowed to be a good cook, even if she cut up her hands in the process (with small bandages that only show up when the plot demands it). Mizore further surprised me by not going down the usual route of making a giant bento for her beloved and not wanting anyone else to have any, but instead, she invited her rival Shinobu to partake as well. The fact that she didn't brag about having made it was also a nice touch.
I also liked that Mizore is continuing to show how well trained she is. She was able to easily hang in there with Kirie when it came to the battle for Touta's back. I know some of you guys don't like her, but I find her to be fun. There's a nice combination in Mizore's character, consisting of Su and Sarah from Love Hina as well as Ayaka from Negima.
Kuroumaru continues on the path to becoming a lovely girl. I so want this to happen so I can ship Kuro x Touta. 😉
The fact that Eva got to Touta's back and did the fifty strokes means nothing to me. After all, in Love Hina, while the Hinata Inn's sealed annex with its legend about couples being together proved true, the spell that linked the "wrong" couple together got broken. In Negima, the legend around the World Tree and people becoming a couple was true, but it was conditional. So assuming the legend Ikkuu told here is true, I'm guessing we'll having something happen to make sure things don't play out as expected.
In the end, fanservice stuff aside, I have to admit that I rather enjoyed this lighthearted chapter. I'm hoping the story stays in the