ユーキューホルダー! Manga Review
UQ Holder Chapter 102
SPOILER Summary/Synopsis: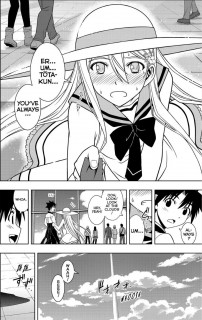 Kuroumaru braces herself to face the truth that she'll have to tell Touta everything as Kirie panics over Touta apparently seeing through Kuroumaru's disguise. Kuroumaru is shocked to see her normal self show up and introduce the disguised Kuroumaru as TOKISAKA Kuryuu, a distant relative. As the fake Kuroumaru leaves "Kuryuu" in Touta's hands, Ikkuu comes up to Kirie, scolding her for nearly doing a time reset when her plans seemed to go astray. He explains that the fake Kuroumaru is a robot.
Kuroumaru is amazed by getting a suite. After Touta explains a few things, he's about to leave, so Kuroumaru asks him to be her guide around Shin-Tokyo. Touta agrees and gets the yacht ready. He's happy to be able to get off the island and vows to be a good guide. When Kuroumaru (Kuryuu) asks what Touta thinks of Kuroumaru, Touta says Kuroumaru is his best friend and that they'll be together forever.
Kuroumaru and Touta ago around and have fun, leading Kuroumaru to wonder if this could be considered a date. She's not paying attention and trips, hurting her ankle. As he attends to her ankle, she finds her heart is racing. The two then make their way to the tower, were Touta says his goal is to go to the top. Kuroumaru (Kuryuu) decides to ask Touta if he's interested in a girl. He asks if she's referring to herself, which she denies, saying she's not pretty. Touta rejects that, saying she's beautiful. This causes Kuroumaru to think that maybe she can be with Touta as a girl and grabs his apron. She starts to say something, but is interrupted by people talking about the clouds.
As the two look at the clouds, CHAO Xinxai comes up behind Touta and puts a blade to his neck, but instinctively, Touta smashes him in the face. Xinxai is impressed, but has Touta trapped by using shadow magic. Kuroumaru pulls her sword and is attacked by a six-armed giant man and finds herself pushed down.
Thoughts/Review:
You know, I am going to be angry as all get out if this chapter is the excuse Kuroumaru uses to switch to male. When I read Kuroumaru's surprised thoughts in the final panel about not having strength, I could suddenly see Akamatsu-sensei writing that so as to give Kuroumaru the thoughts that as a girl, she won't be strong enough to stand by Touta and so must reverse things and become a male. That's the very last thing I want to see.
While it is true that the bulk majority of women will be weaker than men in terms of strength, in this case, that shouldn't matter. We've already seen in previous Akamatsu-sensei manga that the women of the Shinmeiryuu can kick most men's rear. It is true that a Shinmeiryuu girl falling in love can become flustered a bit (Motoko from Love Hina, for example), but they overcome and become even stronger in terms of their skills. What I hope for is that at the end of this combat (or arc, or whatever it is), Kuroumaru comes to realize she can be a girl, be strong in a whole other way, and still be by Touta's side.
Now that I've gotten that rant over, lets move on to the ever so convenient Kuroumaru-bot that Ikkuu just happened to have made. That really made me roll my eyes because it was clearly a McGuffin to prevent Touta from immediately learning the truth. There's no doubt in my mind that Touta realized who Kuroumaru was, but then the Kuroumaru-bot showed up with the "distant relative" excuse to muddy the waters enough for him to question himself.
Kuroumaru looked ultra cute on the "date" with Touta. Their time together was really sweet and it would have been awesome to have allowed things to continue. However, the cloud distraction to keep Kuroumaru from speaking was just so weak.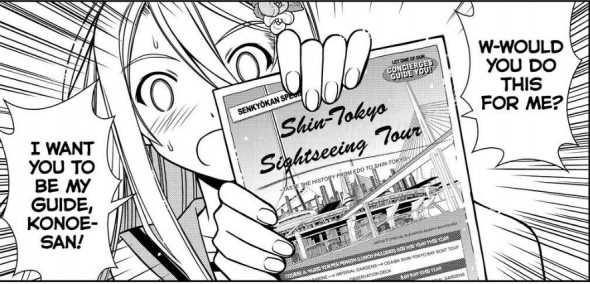 As for the return of Xinxai, isn't it convenient that his shadow magic covered Touta's eyes so he couldn't see Kuroumaru brandish a sword? I suspect that Kirie and Ikkuu could be somewhere nearby. Although they should be banned from leaving the island, if Ikkuu can make a Kuroumaru-bot, he can make one for Kirie as well. And we know he has a spare body of his own, all of which could be remote controlled or the like to mask their departure from the island.
Now that I think about it, we might see a situation where if Kirie came along and is forced to reset time, the whole date thing won't have happened. We could see Kuroumaru retaining her memories if she goes back with Kirie so that she retains the experience of the date, which then gives her something to lament over (and look for a reason to shift to become a male).
In the end, it is amazing how the final panel of the chapter put a massive negative light on what would have been a very enjoyable, very sweet, very romantic chapter. I really hope I'm wrong in my fears on what Akamatsu-sensei might do with Kuroumaru.