Here is some SPOILER info for the upcoming UQ Holder Chapter 105, courtesy of 2ch.  (My review of UQ Holder Chapter 105 should come out late Tuesday night or Wednesday, U.S. time, depending on when Crunchyroll publishes the chapter.)
UQ HOLDER Chapter 105 SPOILERS
The UQ Holder Chapter 105 goodness begins. This looks to be the chapter's spoilers. ^_^
時間停止で2人きり

みぞれどころか、刀太&キリヱ以外すべての時間が停止した世界
鳥も飛行機も雪姫が背筋を伸ばしたはずみで爆ぜた胸のボタンも宙にとどまり
夏凜の様子を見にいけばしのぶの髪を流すところ(当然二人とも全裸)
九郎丸は胸のサラシ巻き直す途中
一空が試し打ちしている散弾銃の弾を、刀太は「後ろに回り込んで」つまめる
この新能力…無敵だ!!5秒どころじゃない停止時間はぶっちぎりの超越者だ!!

自在に扱えるのであれば、だが

火を起こしたりはできるようなので、刀太たちは交代でシャワーを浴びる
お子さま呼ばわりされてカチンときたキリヱが刀太のお湯を煮えたぎらせると
……マッパで飛び出してきておちんちん見せつけられるハメになりました

その後二人で花火遊びしたりしたものの
刀太が気にしてるのはやっぱり…

■刀太の特別が誰なのか、その横顔から思い出す。
I think whatever happens is a new ability for Kirie, but I really can't make heads nor tails about what is going on in these spoilers. I get a feeling (and I could be very wrong) that everything with Kirie gets resolved this chapter.
Well, we'll have to wait for a gracious person to provide a translation. The usual updates to follow, as required.
Update #1: Translation from Gamen.
Alone together in stopped time

A world where not simply Mizore but everything's time is stopped other than Touta and Kirie
Birds, planes, even the button that popped from Yukihime's chest when she stretched her back is stopped in midair
Going to see about Karin, she is washing Shinobu's hair (of course, they're both naked)
Kuromaru is rewrapping her chest
The bullets from the shotgun Ikkuu is test-firing, Touta "Go around behind" grabs.
This new power… is invincible!! A time stop of not simply five seconds is (paraphrased) overpowered!!

If you can control it freely, that is

As it seems they can start a fire, they take turns showering
Kirie annoyed at being called a child boils Touta's hot water and
… he jumps out stark naked and his dick ends up being shown off

After that they play with fireworks together
Who Touta is interested in is like I thought…

*Who's Touta's special someone, she recalls looking at his face from the side.

(No, I don't think it get resolved in this chapter.)
Well, I did say I thought I could be very wrong about this being resolved. 😉 Thanks Gamen!
Update #2: Images from 2ch. (Sorry for the delay — my sleeping pattern is all out of whack, thanks to having to cover for India this last week as they are being flooded away.)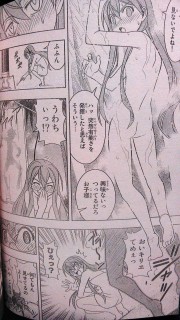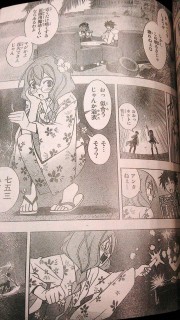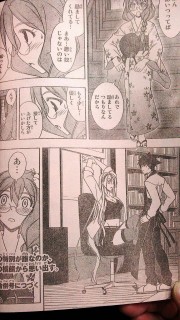 You know, there was a part of me that thought when the spoiler text came out, "I know Akamatsu-sensei could do this kind of tale, but it reads almost like a troll telling fans things to get them going in one direction or another." Well, it wasn't trolling at all, at least, not from some 2ch troll.
More updates, as needed.