Spotted Flower Chapter 17.5 (Manga)
Spotted Flower manga chapter 17.5 review

SPOILER Summary/Synopsis:
NOTE: For the purposes of this and future reviews, until the characters are given names, since these characters are obviously from Genshiken (or Genshiken Nidaime), I will call the "not-Saki" character !Saki, the "not Madarame" character !Madarame, and so forth for all other unnamed Genshiken characters.
!Hato decides to pay a visit to !Hato's and !Yajima's senpai's stand. The senpai isn't there, so !Hato exchanges doujinshi books with the person running the senpai's stand.
While there, !Sue shows up, cracking a joke at !Hato's expense on how her bra is getting tighter, then demanding !Hato's new book.
Thoughts/Review:
Another 2-page chapter. I suspect Kio-sensei does these when Genshiken Nidaime takes up more of his time. Plus, whenever he focuses on !Hato solo, the chapters seem to always come out at 2 pages.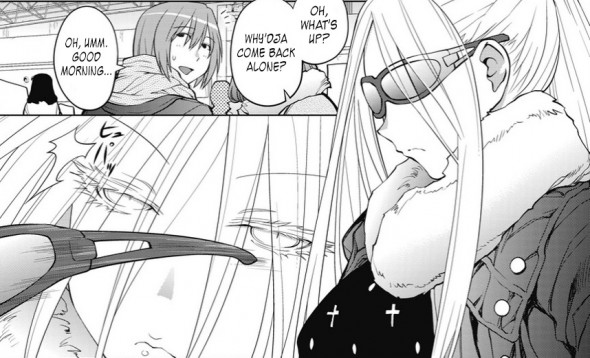 I'm guessing that !Hato was going to pay a visit to !Ogiue. She's the only one whom !Hato and !Yajima would address as senpai and have a doujinshi stand. I wonder if that is !Yabusaki there, but we never got to see her face so it is impossible to say.
As to !Sue, I laughed at how she's grown up. Kio-sensei is still subtly hitting on the old joke about how old Sue really is in Genshiken. I really want to see more of !Sue in Spotted Flower.
In the end, a short but still fun chapter, simply because of !Sue. ^_^