Lupin the Third PART4 16 Review
Lupin the Third (2015) episode 16
Lupin III / ルパン三世
SPOILER Summary/Synopsis: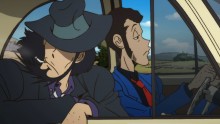 Lupin, Goemon, and Jigen are traveling through the Italian countryside en route to Sushi Bar Samurai in the port town of Messina. At Fujiko's request, Lupin is returning a runaway dog named Josephine, who belongs to a wealthy cruise shipmate of Fujiko's. Zenigata is on them, so they are forced to flee down dirt road to elude him. Arriving in a village, Lupin is going to get smokes for Jigen and take a wiz, but Zenigata is there. Lupin traps him in the bathroom and makes an escape, but his car runs out of gas. They push the car to a pay phone, where Lupin contacts Fujiko as Zenigata drives by. However, Goemon loses the dog, forcing them to do a massive search. A farmer in a truck happens along, so Lupin pays him a ton of cash for his gas and grapes, and the trio is back on the road and the freeway.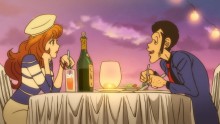 Zenigata is again in pursuit, but they lose him after Goemon frees a load of logs from an 18-wheeler, blocking traffic. Zenigata notes that the trio appear to be heading to Messina, and plays a hunch. Sure enough, he discovers Fujiko is on board a docked cruise ship and has a police welcome committee ready at the dock. When the trio is forced to stop in a town to allow Josephine to take a leak, Goemon takes the dog out and encounters three cute girls, who are smitten with the dog, whom they think is named Goemon. The youngest girl reports about the police in Messina, so when Lupin and company arrive, they see Zenigata and company. The cruise ship leaves, frustrating Fujiko and angering her companion. Lupin takes his car and drives off a cliff, landing on the deck of the ship to avoid Zenigata's forces. Lupin returns the dog, but she again escapes her owner, swimming to shore, where she encounters the three girls from before. Lupin and Fujiko agree to spend the day together while Jigen and Goemon get something to eat.
Thoughts/Review:
While this episode was much ado about nothing, it was quite enjoyable and entertaining all the way through.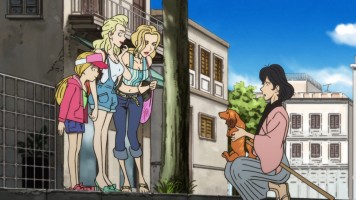 One of the humorous elements came up when Lupin kept trying to engage the other two in conversation about things not related to their normal line of work and lamented the fact that they didn't have anything in common but their work. Jigen's response that this wasn't some social club made me laugh.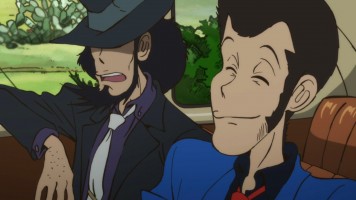 Another really funny moment is when Lupin locks Zenigata in the bathroom of the little grocery store, then steals a lot of cartons of cigarettes. Jigen complaining about them not being menthol cracked me up. When Lupin says they are cigarettes, Jigen's rebuttal of, "So you'd be happy if you ordered pork cutlets and got ginger-fried pork instead?" also cracked me up.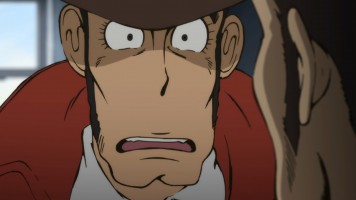 (As an aside, what did NOT crack me it is the poor Crunchyroll subtitles again. Clearly, whomever is translating this is not watching the anime, merely reading a script. The subtitles have Jigen complaining that the cigarettes Lupin stole AREN'T menthol, but the green and white Marlboro cartons with the English word "Menthol" on all of them mean that Jigen is NOT complaining about the lack of menthol, but that these have menthol in them. Hearing what Jigen said, the accurate translation would be, "These are menthol, aren't they?")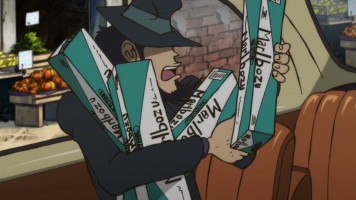 Fujiko getting stuck with the fat, wealthy woman who obsesses over her mop of a dog struck me as funny. Just one of the many things she'll do for money.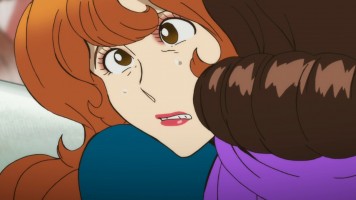 Goemon's repeated insistence that one does not eat snacks before going to a 5 star sushi restaurant was also amusing to me.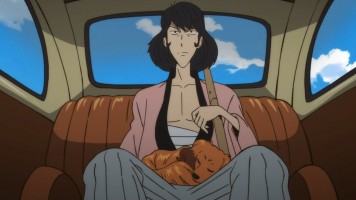 The road trip itself, with Lupin running out of gas and them constantly being found by Zenigata seems like it would be boring, but it never is. Somehow, the production team manages to pull off a nice mix of things to keep the trip entertaining and engaging, even if it has nothing to do with a job of heist.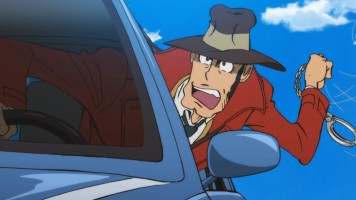 The Lupin Physics came into full play this episode with Lupin driving his car off the cliff and onto the deck of the cruise ship. However, I just shook my head and smiled since the episode advertised this was going to happen well in advance of Lupin arriving at the top of the hill in Messina. (I refer to when Geomon was supposed to be steering the car as Jigen and Lupin pushed, but when it went down a hill and off the side through a billboard, that's when I figured Lupin would end up driving his car and getting it to land on the deck of the cruise ship.)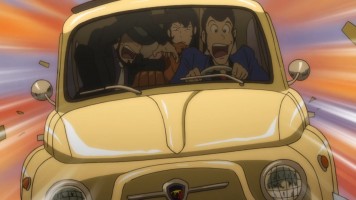 In the end, Lupin the Third PART4 16 was an amusing, entertaining episode where Lupin and company attempt to take a day off.