Nurse Witch Komugi-chan R 04 Review
ナースウィッチ小麦ちゃんR episode 04
SPOILER Summary/Synopsis: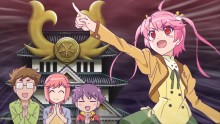 Komugi decides she wants to enter the Miss Kunoichi Contest, and since it is held at the Shitamachi Edo Mansion theme park where Komugi's parents had their first date, it becomes a family outing affair. Komugi gets permission from her agency to enter the contest, so she begins her ninja/shinobi training as a kunoichi. Yuuta, Tsukasa, and Kokona do their period piece show, featuring ninja, after which Komugi enters the contest. She breezes through to the finals, where Kokona and Yuuta help her get past her nervousness since she's never done this well before. During the finals, where there is a ninja obstacle course, a Fan-C card monster attacks. Magical Maid and Magical Sister are powerless, so reluctantly, Usa-P allows Komugi to finish the contest, win, then become Magical Nurse to defeat the monster and capture the Fan-C card.
Thoughts/Review:
Though certainly nothing to write home about, this was a kind of cute episode in its own way.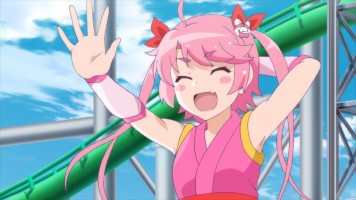 Komugi's dedication to ninja training was all done as an apparent joke, but I appreciated that in the end, all of her silly training actually did help her get through the final obstacle course.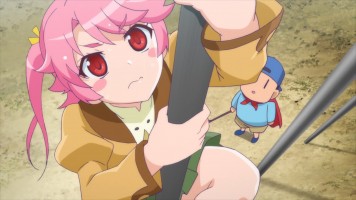 I was also glad to see that the episode allowed Komugi to win, even though being the model for the theme park for the next year was a gag joke. I suppose they had to do that since everyone is expecting some kind of joke of some kind. I actually expected that Komugi would be forced to choose between winning and defeating the monster, and thus would lose, probably through some comedic thing. I'm glad I was wrong.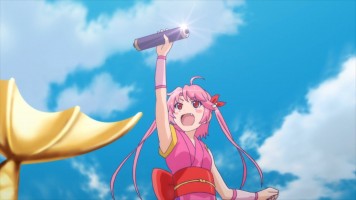 Komugi's parents getting all mushy over remembering their first date at this Shitamachi Edo Mansion theme park made me smile. However, my reactions as a kid the age of Komugi or her little brother wouldn't have been so supportive. It would have been more like, "Mom and Dad are getting lovey-dovey again 'cause we are at this place. It is so embarrassing." 😆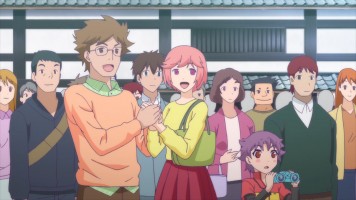 In the end, we had our token monster of the week, followed by our token win of the week. While Komugi becoming Miss Kunoichi may not have been all that great, I'm glad she got to win.