Lupin the Third PART4 09 Review
Lupin the Third (2015) episode 09
Lupin III / ルパン三世
SPOILER Summary/Synopsis: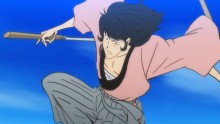 Sometime in the past, Goemon is summoned along with twelve other assassins by Leopoldo Fago, an up an coming Italian political figure. He wants them to assassinate a notorious African dictator named Samuel Decale, who is protected by the legendary sniper, Zora. The twelve assassins head into the African desert where Goemon ends up with a very young assassin woman named Belladonna, who has a bomb vest as a backup. Goemon vows to protect her so she doesn't have to kill herself to take out the target and teaches her yubikiri, the Japanese pinkie swear. The day Decale's convoy is passing through this desert arrives, but Zora takes out several of the assassins from a great distance in a vehicle. Goemon saves Belladonna, who does get injured after she returns the favor, but she manages to shoots Zora, allowing Goemon to kill Decale.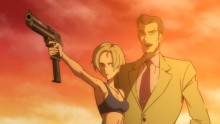 In the present, the surviving assassins are being being killed by a sniper, causing Goemon to suspect Zora is still alive and looking for revenge. He warns Belladonna, so they head to Rome to find their last surviving companion. The survivor is killed, but he has a picture of what they believe is Zora's hideout. Heading there, Goemon discovers Zora is an old man in a wheelchair, but Belladonna kills him anyway. She turns her weapon on Goemon, but is unable to bring herself to kill him in order to protect Fago's secret. Returning to Fago, Belladonna turns him down for sex. Fago reminds her how he owns her, but then Goemon arrives, making it through Fago's guards, ultimately killing Fago. Since Belladonna has a bomb implanted in her chest by Fago as a means of control, Goemon uses his sword to stab it out before it blows. Goemon returns to Jigen and Lupin to tell the tale before Zenigata arrives, forcing Goemon to give them an avenue of escape.
Thoughts/Review:
After a lengthy absence, we finally get Goemon back, and he gets his own episode.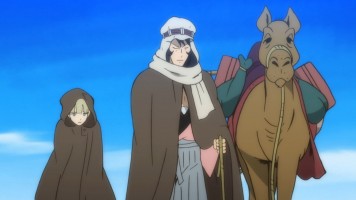 I had remembered the name Zora from a previous Lupin III title, so I was initially excited to think that a character from one of the old shows was making a comeback. Alas, that was not to be.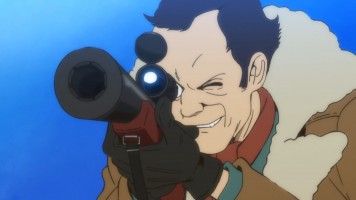 As with Jigen's solo episode and the Zenigata solo episode, Goemon gets a hint of romance with his relationship with Belladonna. She turns out to be another one of those street kids rescued by some powerful Italian, who then molds her to his purposes, this time both sexual and as a sniper-assassin. I liked how Goemon and Belladonna were looking out for each other. I could see them being a team, if the story wasn't set against that.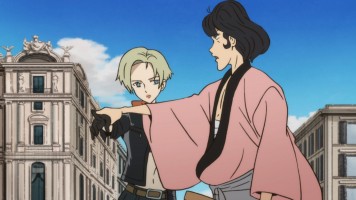 I was surprised that Belladonna ended up being the killer who was taking out the surviving assassins. However, since we didn't know of her connection to Fago, I suppose there was no reason to suspect her since she wouldn't have a reason to turn on her former teammates.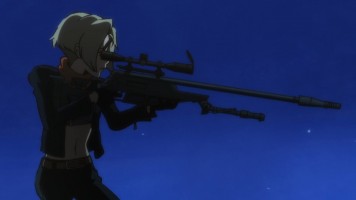 The problem I had with Fago's sudden desire to kill off the surviving assassins from a mission years ago is why now? I get that Fago's time to move to the top was now, but he was scheming to move up the ladder all along. So why not do off with the survivors right after their mission? First rule of assassination — kill the assassins after the job is done.
As to Goemon, normally his role in a Lupin III title is to either cut them into a place they can't otherwise get into, or to cover their escape. Here, he gets to be an assassin and actually kill the dictator as well as Fago. To be honest, I'd actually like to see him do more of this on some serious mission where Lupin and company are up against some really nasty folks.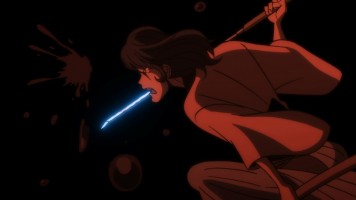 In the end, Lupin the Third PART4 09 is a pretty good episode that retouches on some of the themes of the corruption in Italy, which I am thinking will play a role in the overall story arc.