Nurse Witch Komugi-chan R 10 Review
ナースウィッチ小麦ちゃんR episode 10
SPOILER Summary/Synopsis: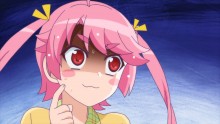 Tsukasa has Komugi and Kokona over for tea and learns of the White Day tradition of giving a rainbow cake to a person to become their friend forever. After promising Tsukasa that she won't tell anyone how Tsukasa likes sweets, Komugi finds herself in a spot when Yuuta asks Komugi what Tsukasa likes, so she suggests Yuuta buy something spicy. Later, Tsukasa manages to get a difficult shoot done on the first take and gets back to school in time for class to bake. Kokona and Komugi cover so Tsukasa can protect her masculine character while she rapidly prepares to make the rainbow cake. Their friends wonder if Tsukasa will give the cake to Komugi or Kokona.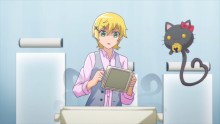 A monster attack happens in the school's training kitchen, causing Komugi, Kokona, and Tsukasa troubles since none of them are able to get away to transform in secret. Their teacher gives the monster a beating with lots of wrestling moves to help other female students. Tsukasa manages to get away long enough to become Magical Sister and defeat the monster. Tsukasa then returns to bake her cake. Yuuta decides to get Tsukasa squid ink shiokara. Tsukasa is unable to give Yuuta the cake, but later as Magical Sister, she is able to and is OK with being friends with Yuuta only as Magical Sister. Neko P finds that in the Ketsukarunen Region, giving this ink on White Day means they'll be friends forever. This cheers Tsukasa greatly.
Thoughts/Review:
And so we get another sweet Tsukasa love story episode. 🙂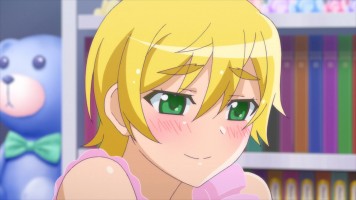 To date, the most interesting thing about Nurse Witch Komugi-chan R has been Tsukasa's story. She's the only character getting any development work.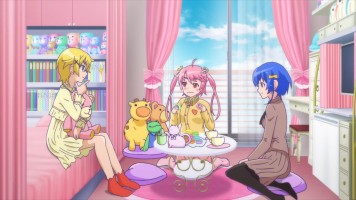 For this episode, Tsukasa is again having to struggle against her masculine idol character persona vs. her true self, which is quite girly. Since Kokona and Komugi have discovered Tsukasa's true self, it would be nice if Yuuta discovered it as well. He's kinda close since he has sensed that Magical Sister was in fact Tsukasa.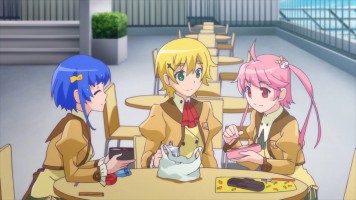 It was amusing to see Kokona and Komugi doing what they could to protect Tsukasa's character so that no one would suspect she would be good at baking and the like.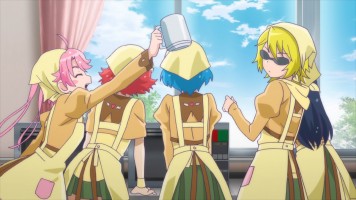 I had to laugh at the teacher's getting into the action for fighting the monster with her various wrestling moves. 🙂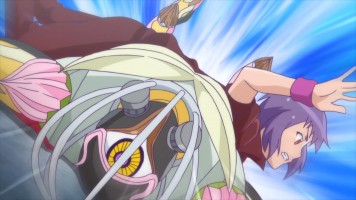 Beyond that, not a lot to say about this episode. In the end, it was OK, and the continued Tsukasa story is sweet.