Lupin the Third PART4 21 Review
Lupin the Third (2015) episode 21
Lupin III / ルパン三世
SPOILER Summary/Synopsis: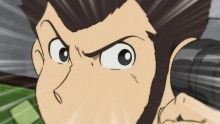 Lupin gets a frantic call from Fujiko in Japan, after which a disguised male voice tells him Fujiko is captive and that Lupin must steal a doll made by HIRAGA Gennai from the Nekogami family within a short period of time or Fujiko dies. Lupin immediately leaves Rome and flies to Japan, where he disguises himself as Zenigata to steal the doll.  Following instructions, Lupin goes to the Wisteria Room in the Sakuraya in Nekomachi with the doll, only to find Fujiko unharmed with Goemon, who set the whole thing up. Lupin knows Goemon is still in Rome, so the fake Goemon reveals himself to be a bombastic detective named Akechi Holmes Kousuke. Further, the entire, multistory, Japanese styled hotel is packed with cops.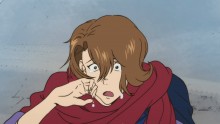 Lupin is captured, but Fujiko manages to break free after Akechi insults her and calls her small fry. Fujiko flees to an abandoned temple/shrine, where she's found by Jigen. Meanwhile, Zenigata shows up to take custody of Lupin in an armored, tracked vehicle, but Akechi has a hard time believing it is Zenigata despite the proof. After Zenigata leaves, another Zenigata is found tied up in a toilet (room), so Akechi pursues the armored vehicle and stops it. However, the driver is the real Zenigata, while Fujiko was in disguise as the captive Zenigata. The two escape in the armored car, assisted by Jigen who snipes a bomb detonator from Akechi's helper and causes an accident among the police cars. Akechi tries one last time to stop Lupin and Fujiko, but fails. Fujiko vows to never return to Japan, but when Lupin points out Mt. Fuji as the sun is setting, she decides Japan isn't all bad.
Thoughts/Review:
The bad thing about Crunchyroll titles is that the translator is not allowed to watch the episode. As such, not only do we get stupidity of a wrong name (Wataru vs. Kou), but newspapers headlines being displayed aren't translated either. 🙁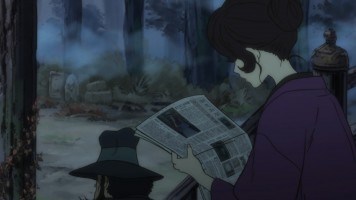 That aside, this episode was pretty fun as it gave Fujiko a chance to be the star of sorts. We got to see how she can imitate a man's voice (though how her small frame can fool anyone into thinking she's Zenigata is more of a mystery).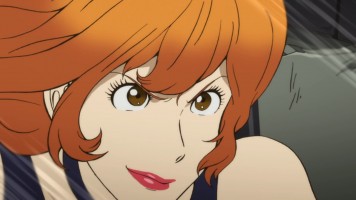 Fujiko is the kind of person who'd leave Lupin to it, but because the idiot Akechi insulted her and her pride, it gave Fujiko an excuse to not only save Lupin, but to put one over on Akechi. As Zenigata would later say, they underestimated the woman Lupin loves.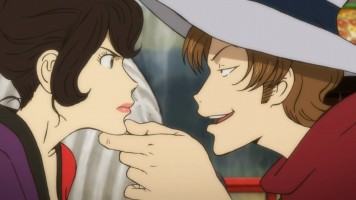 While I may have liked Fujiko coming to the forefront and doing something for someone else, the episode itself was fairly predictable. For some reason, everything seemed to be telegraphed from a mile away, from Goemon being a fake, to Zenigata actually being real.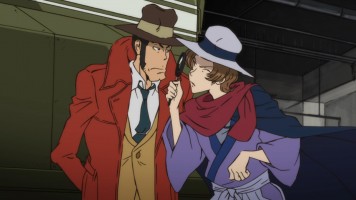 Don't get me wrong, I liked Fujiko's plan to be a failed Zenigata who'd been captured and put into a tiny toilet room. But it was pretty clear to me that this was either going to be Fujiko or Jigen.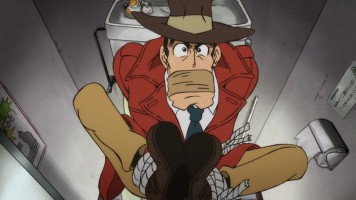 The end of the episode pushed the silliness factor quite a bit. An ancient Japanese cannon vs. a heavily armored tracked vehicle — yeah, right. It was hilarious, in a non-funny way, how this cannon didn't need to be reloaded with a cannon ball and powder after being fired, but could fire as rapidly as a crew manning a modern artillery piece. Not only that, but this rapid firing, ancient cannon heavily damaged the armored vehicle, to the point of knocking the top part of it off.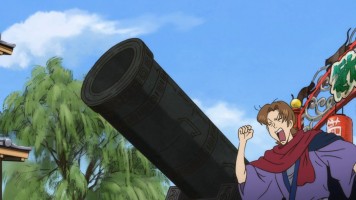 Yeah, yeah, I know. If Goemon can cut bullets and stuff, why not this? Well, some stuff I just smile and wink at, but other stuff makes me roll my eyes for whatever reason. 🙄 😉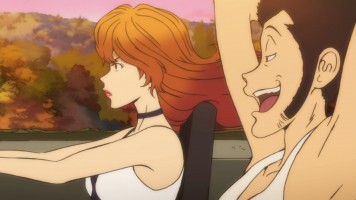 Still, except for the ending, Lupin the Third PART4 21 was a pretty enjoyable episode, allowing Fujiko to shine for a bit.